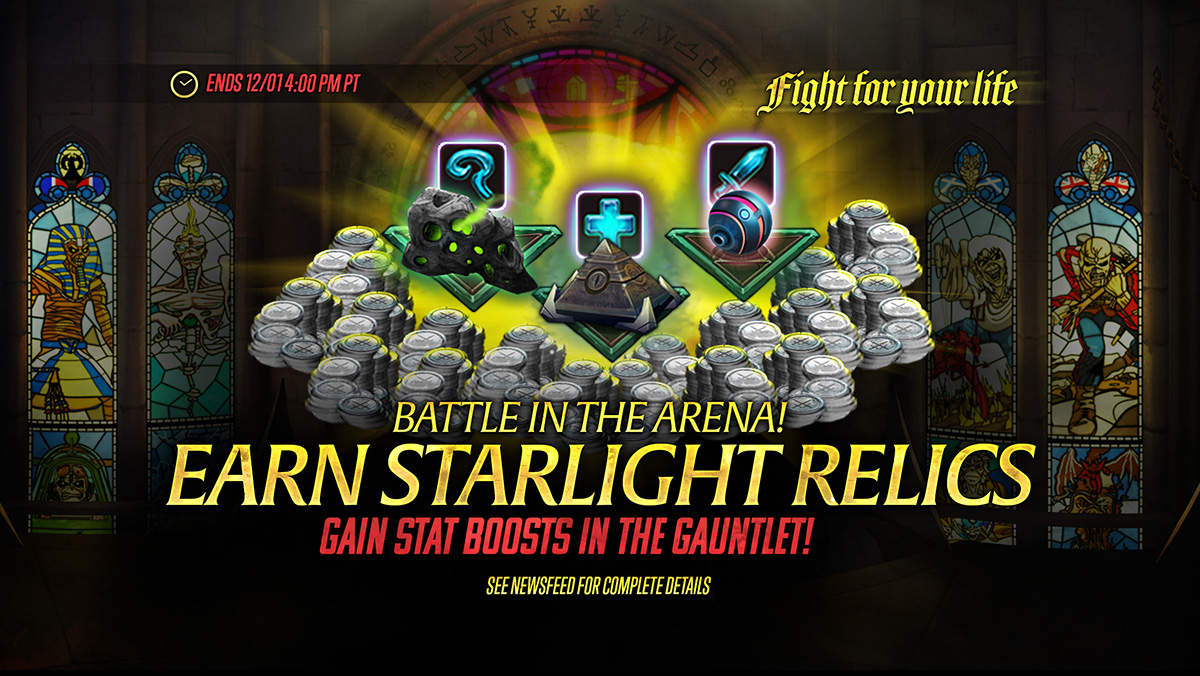 24 Nov

Earn Starlight Relics in the Arena! – New Event on NOW!

The Starlight Arena Event is on NOW!

From November 24th to December 1st at 4 PM PT earn Iron Coins, Gold, Starlight Relics and more by achieving milestones in the Arena!

Meet the event objectives below to earn the corresponding rewards:
Tier 1
10 Arena Wins
Tier 2
30 Arena Wins
Tier 3
50 Arena Wins
Iron Coins x100
Sands of Time x30
Iron Coins x300
Rare Soul x1
Gold x50,000
Iron Coins x500
Starlight Relic (Magic) x1
Gold x150,000
Tier 4
100 Arena Wins
Tier 5
200 Arena Wins
Additional Rewards!
**300 Arena Wins
Iron Coins x1000
Starlight Relic (ATK) x1
Gold x300,000
Iron Coins x2000
Starlight Relic (HP) x1
Gold x500,000
Legendary Soul x1
Skill Shard x2
**Keep on fighting! Every 100 wins past our Tier 5 reward will give you additional prizes. You can keep going until our reward cap of 500 wins.
Starlight Relics are a new type of relic which gives players a limited-time 50% boost to various character stats in the Gauntlet.
Please note: These Relics expire 2 weeks after being earned. These Relics will not increase stats in the Arena.
Track your Arena wins in the Event tab of the Challenge menu!
Go Ed to Ed now -> http://m.onelink.me/49d39710