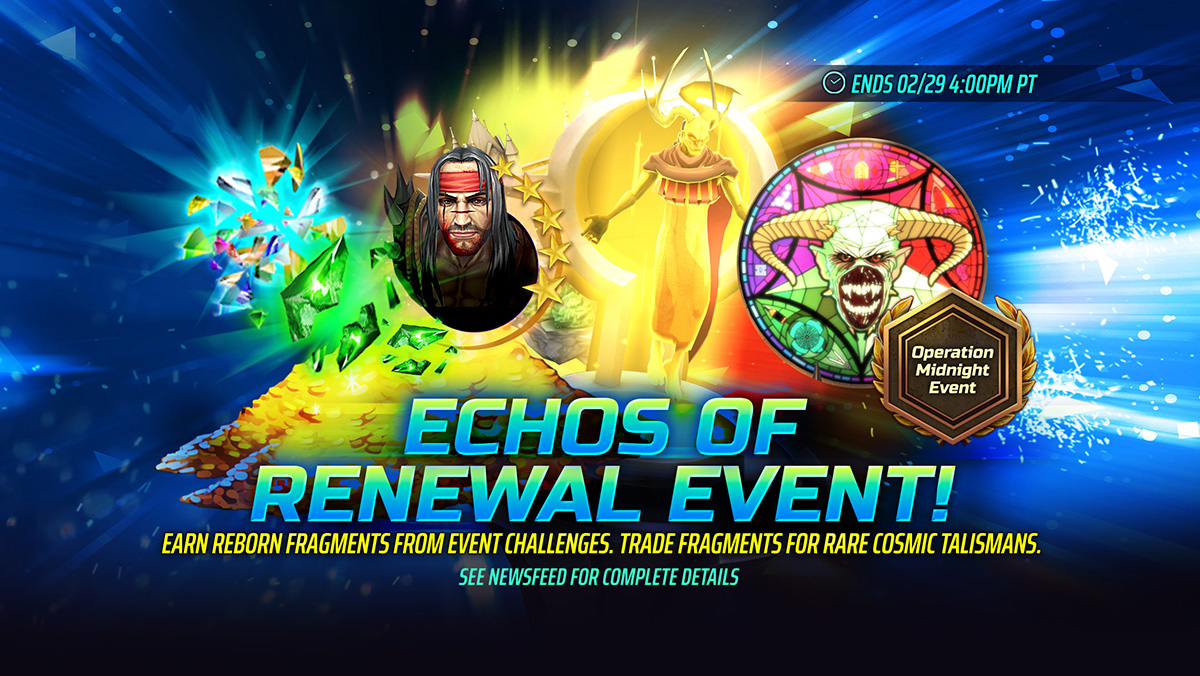 21 Feb

Echos of Renewal – Earn Fragments to trade for Cosmic Talismans!

Earn Reborn Fragments to trade for valuable rewards!

From now until February 29th at 4PM PDT, complete event challenges by participating in a variety of areas in the game to earn rewards such as Reborn Fragments, Explosive Fragments and more!

Reborn Fragments can be traded in store to obtain rare Cosmic Talismans! You can trade your fragments for the following items:
T1 Purple Cosmic Talismans (Resilience set bonus) x1 (750 Reborn Fragments, 1 per event)
T1 Red Cosmic Talismans (Life set bonus) x1 (1000 Reborn Fragments, 1 per event)
T2 Purple Cosmic Talismans (Heal set bonus) x1 (1250 Reborn Fragments, 1 per event)
T2 Red Cosmic Talismans (Tranquility set bonus) x1 (1500 Reborn Fragments, 1 per event)
Since Reborn Fragments are meant to be spent in store they will 'loop' if you claim a Reborn Soul (if claimed, a Reborn Soul will simply produce 500 Reborn Fragments, and 1 1* Gold Idol, thus returning the fragments used to create it, and the Gold spent to summon it). If you do not wish to spend these Fragments in store, you can always convert them into Precious Soul Fragments.
Since this event also features event challenges that require players to use a variety of currency types, we've added several items for purchase to the Event Store!
Explosive Fragments are the event currency of our overarching Operation Midnight event that is running through February.
Trade your Explosive Fragments in the Mega Store for rare rewards including Doomsday Apocalypse Eddie, the fully skill sharded special edition version of Doomsday Eddie.
You can learn more about this featured event in the Operation Midnight event post here!