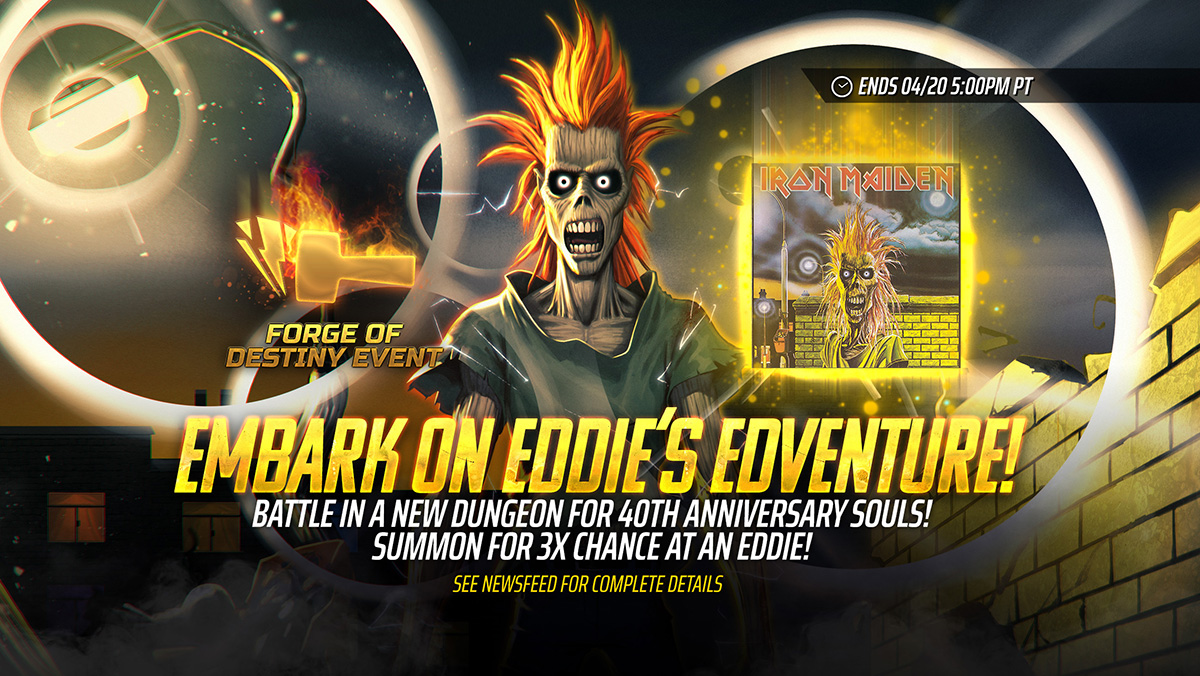 13 Apr

Eddie's Edventure – Earn 40th Anniversary Souls for a 3x chance at an Eddie!

Celebrate the 40th Anniversary of Iron Maiden's debut album!

From now until April 20, 5 PM PT, battle in a dungeon that is an ode to the Cart & Horses, the birthplace of Iron Maiden! This dungeon comes with 4 difficulty settings and is packed with awesome rewards!

The first time you complete Normal, Hard or Madness, you will earn set rewards including 40th Anniversary Souls and Purge Talismans, and your first Insanity run will grant T3 Cosmic Evo Runes and Talisman Epic Soul Fragments. All subsequent victories are guaranteed to provide 40th Anniversary Soul Fragments, and Dungeon Fragments, as well as a chance of up to 2 bonus rewards, including Brave Talismans.

40th Anniversary Souls can be earned in three ways:
Earn them as first time completion rewards in the Normal, Hard and Madness levels of the Eddie's Edventure Dungeon. You can continue to earn 40th Anniversary Soul Fragments as you play in the Dungeon!
Complete Event Challenges! Getting 200 fragments will earn you a 40th Anniversary Soul, with up to 10 Souls that can be earned from challenges over the course of the event.
Get 40th Anniversary Souls in store for Ironite in the usual bundle sizes of 1, 3, or 10.
In addition to 40th Anniversary Soul Fragments, completing event challenges will grant various other rewards. For instance, if you clear the dungeon 400 times, you'll earn a guaranteed 4* Iron Eddie! Most of these event challenges also grant Forged Soul Fragments!
40th Anniversary Soul Details!
The 40th Anniversary Soul is a limited time event soul which guarantees a 3★ to 5★ character of any class. This soul also has a 3x chance of summoning an Eddie!
Each 40th Anniversary Soul summoned will also grant the following bonus rewards:
10 Iron Maiden Soul Fragments
20 Talisman Gold Red Soul Fragments
Collecting 500 Iron Maiden Soul Fragments guarantees one 5★ Iron Maiden Eddie!
400 Talisman Gold Red Soul Fragments guarantees a Tier 1 to Tier 3 Gold or Red Cosmic Talisman and 5★ Gold Idol.
SPECIAL EVENT ADDITIONS:
Trade extra 40th Anniversary Soul Fragments for additional rewards in the Event Store!
You can trade these fragments for a variety of Souls and for character specific Cosmic Pharaoh Dog Talismans! These talismans provide exclusive bonuses to any Pharaoh Dog or Pharaoh Dog King.
When equipped these Talismans increase all stats in battle and reduce incoming damage. They also Transform silver effects into a random beneficial effect, and grant Immunity to Crave and all effects that cause damage to self when healing. These Talismans will also give 1 Power and 20% Fury to your team for each ally that is currently alive and revive your Pharaoh Dog with 30% HP and Perfect Heal Shield for 1 turn upon death.
Dungeon Fragment Details:
Dungeon Fragments will drop in event Dungeons. Use Dungeon Fragments to purchase items found within the Event Store Tab. You can continue collecting and building your stockpiles of Dungeon Fragments with each Dungeon event.
Please note that the items available for Dungeon Fragments disappear between dungeon events. They will reappear again with the same items available the next time a dungeon event is held.
Since these Fragments are meant to be spent in store, they cannot be converted to Precious Soul Fragments and will 'loop' if you claim a Dungeon Soul (if claimed, a Dungeon Soul will simply produce 1000 Dungeon Fragments, and 1 1★ Gold Idol, thus returning the fragments used to create it, and the Gold spent to summon it).