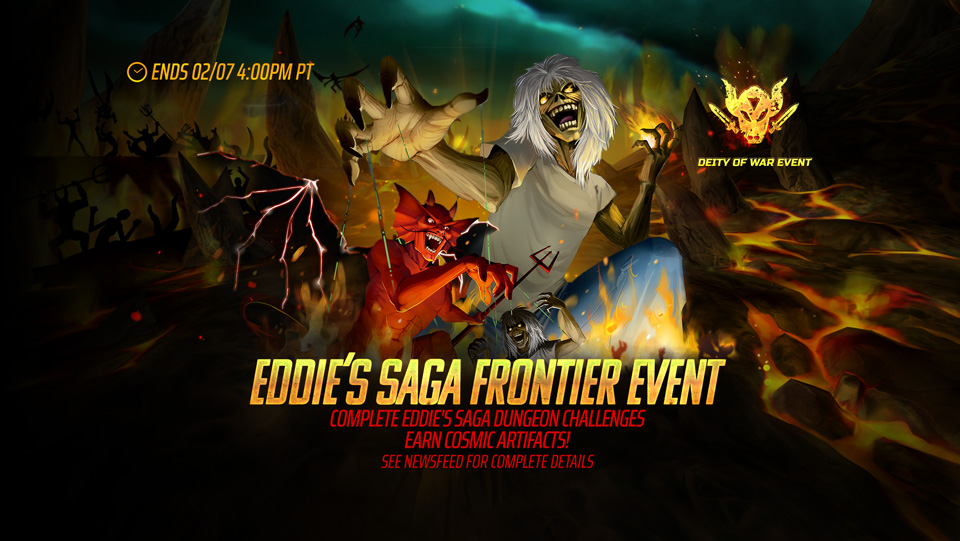 31 Jan

Eddie's Saga (Frontier Dungeon) – Earn Cosmic Artifacts!

From now until February 7th at 4PM PT, battle in the new Eddie's Saga Frontier Dungeon and complete Event Challenges to earn a variety of rewards, including Eddie's Saga Frontier Key Souls, Gold, Iron Coins, and more!

You can access the Eddie's Saga Dungeon by:
🔹Completing a repeatable event challenge (Spend 100 Sands of Time)
🔹Claiming 1 free Key Soul in the store
🔹Purchasing Key Souls with Frontier Coins

More details on the Dungeon below!

Recovered Records can be traded in store for Cosmis Artifact Talismans, Heroic Legendary Souls, Legendary Souls, and Epic Souls.

Note: At the end of this event, any unspent Currency will be automatically converted into Precious Soul Fragments at a 10% rate.

Gladiatorial Tokens is the event currency of our Deity Of War event running until February 28th 4pm PT.

Trade your Gladiatorial Tokens in the Event Store for rare rewards including Champion Of Olympus Eddie, Cosmic Icarus Talismans and more!

You can learn more about this featured event in the Deity Of War event post here!

Eddie's Saga Dungeon Details

This Frontier Dungeon and individual Battle names provided by PChamileon97! He proposed the idea of a frontier dungeon containing Cosmic Saga talismans. Also to have a battle per album with the enemy waves consisting of characters inspired by the corresponding album.

Once it is unlocked, the Eddie's Saga Dungeon will be open for 2 hours total and can be played an unlimited amount of times during that period.

The first time you complete each quest in this dungeon, you will receive set rewards including a T1 Cosmic Saga Talisman. All subsequent victories are guaranteed to provide Evo Shards, as well as a chance of bonus rewards, including Talisman Epic Gold Red Soul Fragments, Passionate and Strategic Awakening Shards.