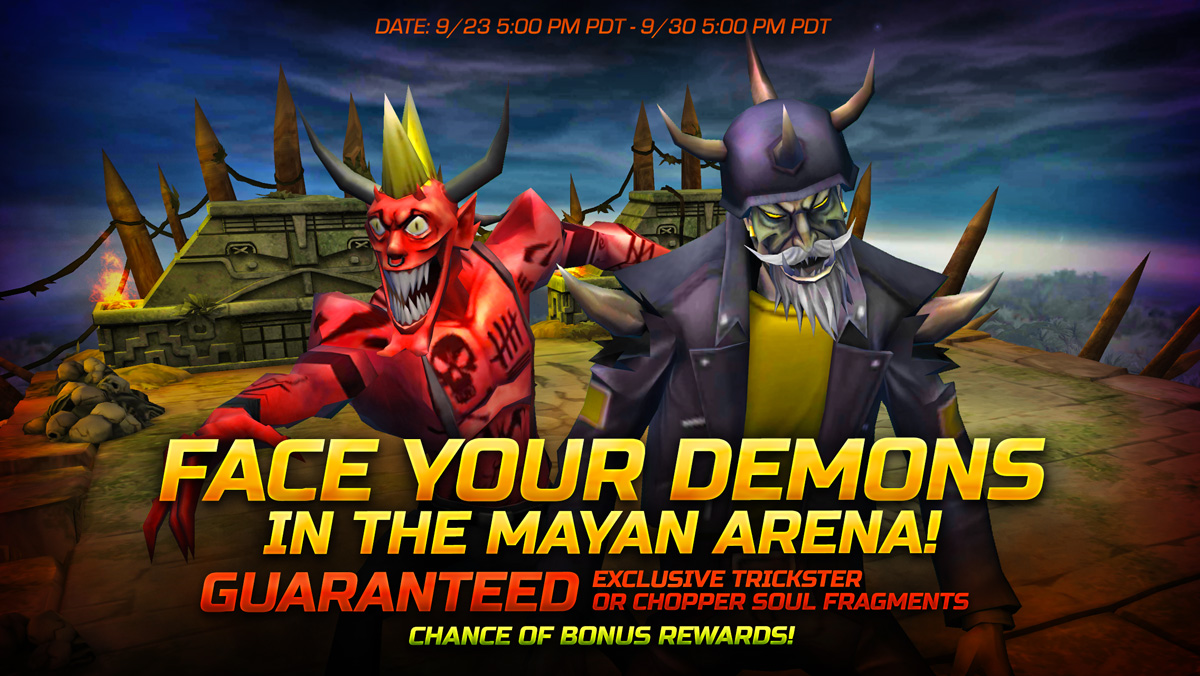 24 Sep

Enter the Mayan Arena & claim 2 new Event Exclusive Characters!

Battle in the Arena for 2 Event Exclusive characters!

Go Ed to Ed and earn fragments today to claim the 3⭐Warrior Trickster, and 4⭐Gunner Chopper.

Every Arena battle you win from September 23 to September 30 at 5pm PDT is GUARANTEED to drop either Trickster or Chopper Fragments.

Massacre your enemies! The Warrior Trickster is a single target attacker who can grant himself Revenge and Counterstrike!

Looking to disable your foes? The Gunner Chopper is for you! This demon pummels his enemies into submission by stripping their passives and applying Permadeath.

Collect 350 Fragments to claim the Warrior Trickster, and 500 Fragments to claim the Gunner Chopper.

The Warrior Trickster and the Gunner Chopper are not available in any other souls, so if you miss the opportunity to summon these two characters, it may be a very long time until you get another chance!

BONUS REWARDS! Every Arena battle you play also has the chance of dropping other rewards in addition to character fragments. Extra rewards include:
Ironite
Skill Shards
Rare Soul Fragments
Rare G/A Soul Fragments
Legendary Soul Fragments
Remember, only wins in the Arena will count for this event (draws and losses do not have a chance of getting rewards).