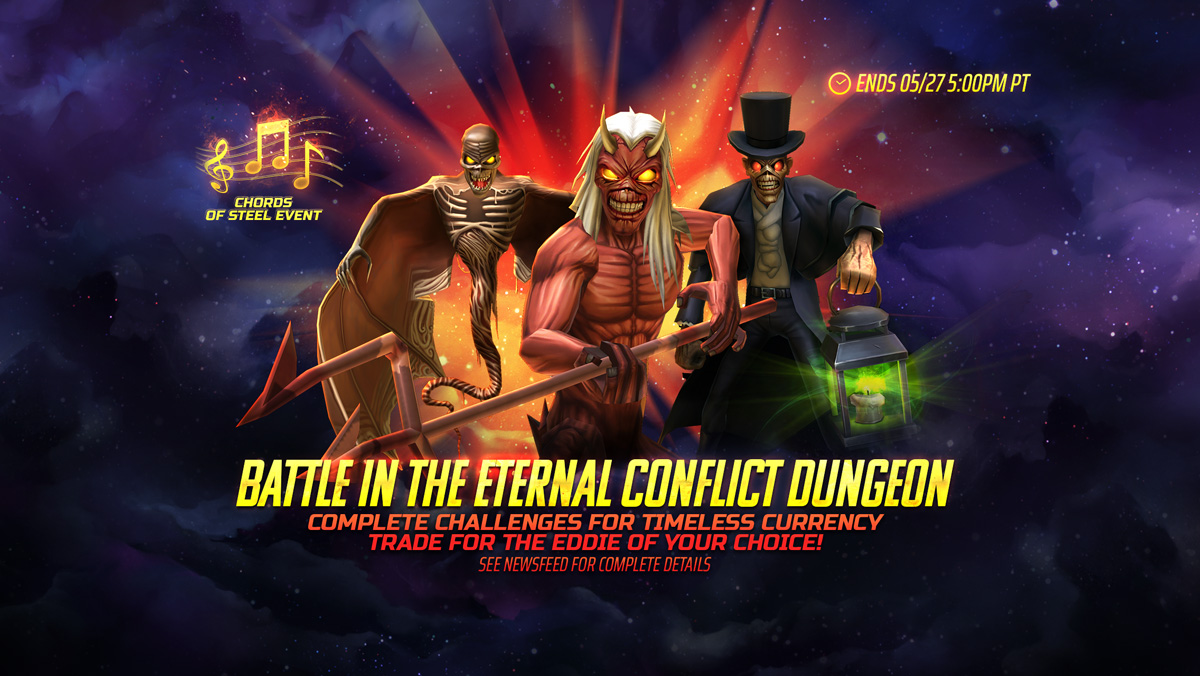 20 May

Eternal Conflict (Dungeon) – Trade Timeless Currency for the Eddie of your choice!

It's back! Our yearly Immortal Event is your best chance to earn an Eddie!

From now until May 27th, 5 PM PT, battle in a dungeon that comes with 4 difficulty settings and is packed with awesome rewards!

The first time you complete Normal, Hard or Madness, you will earn set rewards including:
Immortal Souls

Archer Talismans (Barrier Subtype)
Your first Insanity run will grant T3 2★ Cosmic Evo Runes and Talisman Epic Soul Fragments.
All subsequent victories are guaranteed to provide:
Timeless Currency

Dungeon Fragments

A chance of up to 2 bonus rewards, including: Wrathful Talismans (Barrier Subtype).
Timeless Currency can be traded in store for Immortal Souls in bundles of 1, 3 and 10, and FIVE Eddies. You're able to select from: Hellraiser Eddie, Crusader Eddie, Dark Road Eddie, Monsters Bat Eddie and Oni Eddie! 
Immortal Soul Details!
The Immortal Soul is a limited time event soul which guarantees a 3★ to 5★ character of any class. This soul has an increased chance of dropping 4★ and 5★ Eddies, INCLUDING some very rare Eddies such as King Arthur Eddie. False Gods Eddie, X Factor Eddie, Guy Fawkes Eddie and Cosmic Cyborg Eddie.
Each Immortal Soul summoned will also grant the following bonus rewards:
10 Mythical Immortal Soul Fragments

20 Talisman Gold Red Soul Fragments
500 Mythical Immortal Soul Fragments guarantees one 5★ Eddie out of the list available in the Newsfeed, in-game!