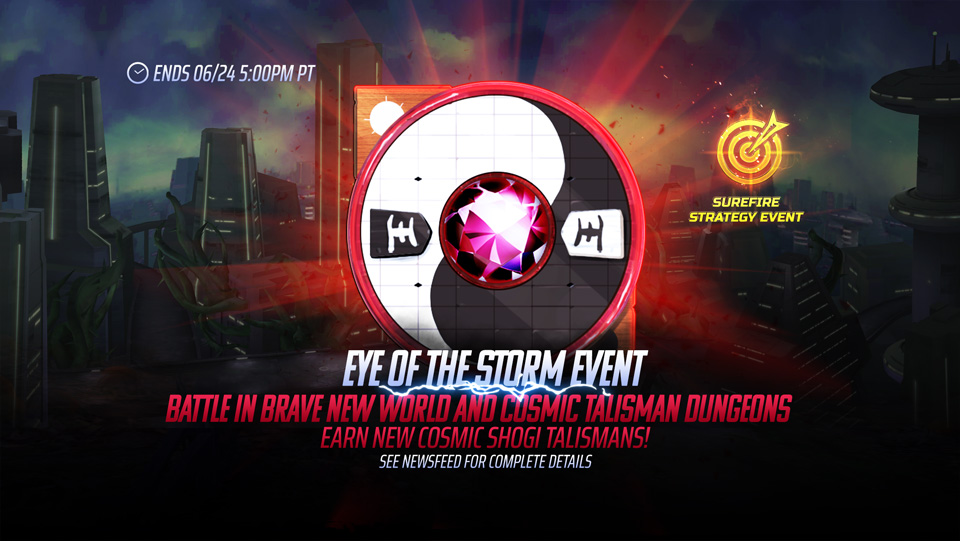 17 Jun

Eye of the Storm (Brave New World) – Earn new Cosmic Shogi Talismans!

From now until June 24th at 5PM PDT, battle in the Brave New World and Cosmic Talisman Dungeons for a chance of earning Revealed Treasures. If you battle in Brave New World, Revealed Treasures drop in amounts of 5, 10 or 25. If you battle in the Cosmic Talisman Dungeons, Revealed Treasures drop in amounts of 10, 20 or if you're really lucky, 50!

Revealed Treasures can be traded in store for Courage Talismans, bundles to power up your Cosmic Talismans, and new Cosmic Shogi Talismans.

The Cosmic Shogi Talisman increases your stats in battle and reduces incoming damage.

This Talisman's effects only activate when equipped to 'Stratego' named characters and 'of White' and 'of Black' named characters.

When equipped the Shogi Talisman will do the following:

50% Chance to take no damage when attacked. Immune to Permadeath Effects, Doom, Dark Ghost, Apparition, Mark Effects and Crave Effects. 50% Chance to remove a negative effect, including Silver effects, from self and 50% Chance to remove a beneficial effect, including Golden effects, from the attacker when you take damage. 50% Chance to counterattack when anyone on your team takes damage.

Note: At the end of this event, any unspent Currency will be automatically converted into Precious Soul Fragments at a 5% rate.

Shogi Pieces are the event currency of our Surefire Strategy event running until June 30th.

Trade your Shogi Pieces in the Event Store for rare rewards including the Silver General of White, Cosmic Musashi Talismans and more!