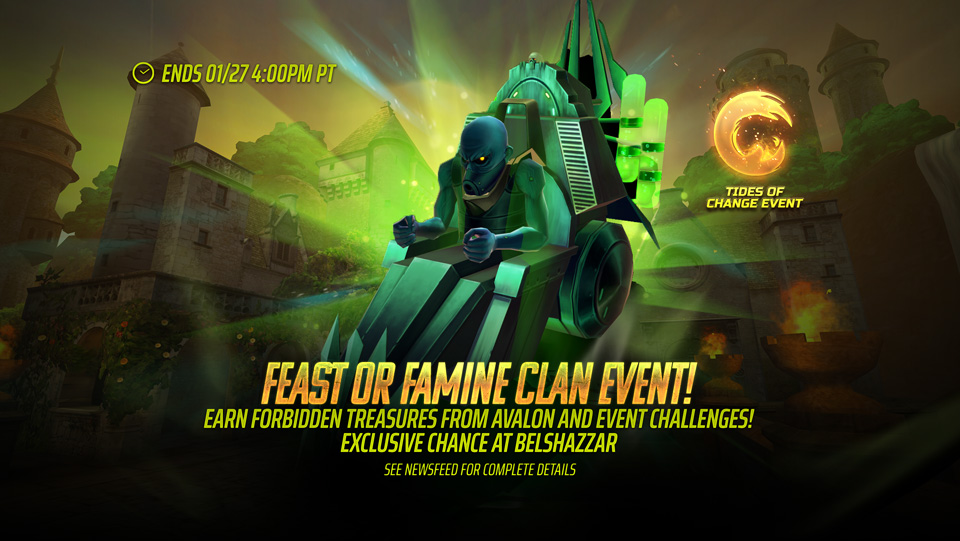 20 Jan

Feast or Famine (Variety) – Exclusive Chance at 5★ Belshazzar!

Calling out to the profane and insidious around the world, the feast of feasts is to be held at an non-disclosed location. Man or beast, heaven or hell, none will stop Belshazzar, a mysterious and formidable tyrant, from bringing the evils of the world together. For what reason, few can say, but this powerful ally will turn the tide in any battle- so long as you're willing to sell your soul. An incredible support character, Belshazzar can slot into any team to bring a boost, using the enigmatic Sinner's Throne to punish the enemy team and bolster your own.

From now until January 27th at 4PM PT, battle in the Isle of Avalon to earn Forbidden Treasures, the event currency for Feast or Famine.

All difficulties in Isle of Avalon will drop this currency:
Normal drops 4, 6 or 8 Forbidden Treasures
Hard drops 5, 7 or 9 Forbidden Treasures
Madness drops 6, 8 or 10 Forbidden Treasures

Forbidden Treasures can be traded in store for Unbalanced Souls, Cosmic Purity Talismans, and Belshazzar himself!

We also have a number of event challenges which will reward Unbalanced Souls, Forbidden Treasures, Warrior's Bones Awakening Shards. Ritualistic Scripts and more.

Note: At the end of this event, any unspent Currency will be automatically converted into Precious Soul Fragments at a 10% rate.

Unbalanced Soul Details!

The Unbalanced Soul is a limited time event soul which guarantees a 3★ to 5★ character of any class. This soul has a 2x chance of summoning 5★ non-highlight characters, and has an exclusive chance of summoning 5★ Magus Belshazzar.

Each Unbalanced Soul summoned will also grant the following bonus rewards:
10 Belshazzar Soul Fragments
10 Mythical Soul Fragments
20 Talisman Gold Red Soul Fragments

750 Belshazzar Soul Fragments guarantees 1 5★ Magus Belshazzar.

400 Talisman Gold Red Soul Fragments guarantees a Tier 1 to Tier 3 Gold or Red Cosmic Talisman and 5★ Gold Idol.

Ritualistic Scripts is the event currency of our Tides of Change event running until February 3rd.

Trade your Ritualistic Scripts in the Event Store for rare rewards including Storm-Rider Killers Eddie, Cosmic Storm Herald Talismans and more!