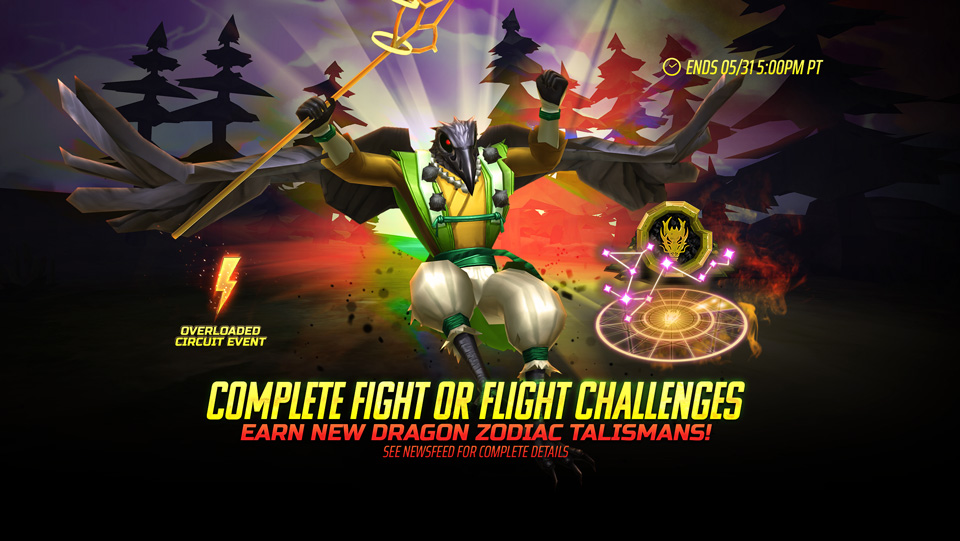 26 May

Fight or Flight (Variety) – Earn new Dragon Talismans, Sōjōbō Tengu King and more!

From now until May 31st at 5PM PDT, complete event challenges to earn rewards such as Dragon King Scales, evo materials, Conductive Cores and a 4★ character – Sōjōbō, Tengu King!

Dragon King Scales can be traded in store for Yellow Talisman Power up Packs, Hope Talismans, and new Zodiac Dragon Talismans.

Zodiac Dragon Talismans are yellow talismans with a 3-set effect. Equip this talisman set to get the following effects:

Immune to Stun Effects and Freeze Effects. Permanently increase MAX HP of all allies by 25% when you are healed.

Gain the following Ascendant Effect if any other Zodiacal Talismans are active on self:

Remove all beneficial effects, including Golden effects, from all enemies and inflict Stun and Passive Disable for 1 turn on them if an ally has a Passive Disable Effect at the start of battle and the start of your turn.

Note: At the end of this event, any unspent Currency will be automatically converted into Precious Soul Fragments at a 10% rate.

Conductive Cores is the event currency of our Overloaded Circuit event running until May 31st.

Trade your Conductive Cores in the Event Store for rare rewards including A Real Live Dead One Eddie, Cosmic Paranoia Talismans and more!

NOTE: This is the FINAL Overloaded Circuit event. Once this event is over you will no longer be able to earn Conductive Cores.