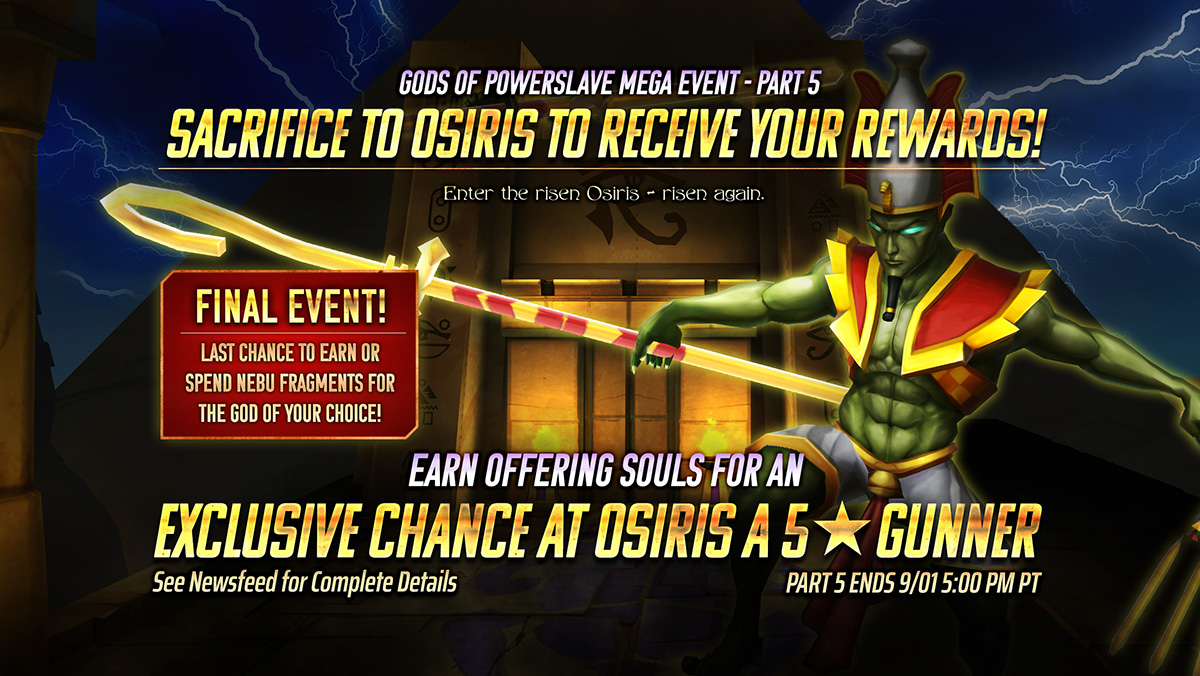 25 Aug

FINAL Gods of Powerslave Event – Exclusive Chance at Osiris – Starts Today!

Last Chance to Earn and Spend Nebu Fragments!

Osiris, Lord of the Dead, has arisen! This 5⭐ Gunner is an all-enemy attacker that can cleanse, heal, and revive allies, while automatically converting positive effects to their Golden counterparts.

Osiris is the fifth and FINAL God to be released as part of the Gods of Powerslave Mega-Event. The Gods of Powerslave Mega Event ends on September 1st at 5pm PT. This is your last chance to collect Nebu Soul Fragments, and spend them on the God of your choice!

After September 1st, the Gods of Powerslave will be moved to the Frontier Shop, and Nebu Fragments will ONLY be good for claiming Nebu Souls (which grant Gold Idols and Sacrificial Hearts).

Our final Gods of Powerslave event, Homage to Osiris runs from August 25th to September 1st at 5pm PT. During this time, all Tier VI, and Tier VII Sacrifices, plus Vortex Rewards will be GUARANTEED to grant you with a bonus of Offering Souls, in addition to normal sacrifice rewards.
Earn 5 Offering Souls from Tier VI sacrifices
Earn 10 Offering Souls from Tier VII sacrifices
Earn 5 Offering Souls from Vortexes
Offering Souls are limited time event souls which guarantee a 3⭐ to 5⭐ character of any class, with an exclusive chance of getting the God Osiris!
SPECIAL EVENT ADDITION: Earn Heroic Soul Fragments by completing Sacrifice themed Event Challenges! These new challenges will only be available until September 1st at 5pm PT.
Meet the requirements to earn up to 300 Heroic Soul Fragments! Collect these fragments from this and other events to get souls that have a special, rotating list of available characters!
Battle Gods and Monsters today -> http://m.onelink.me/49d39710