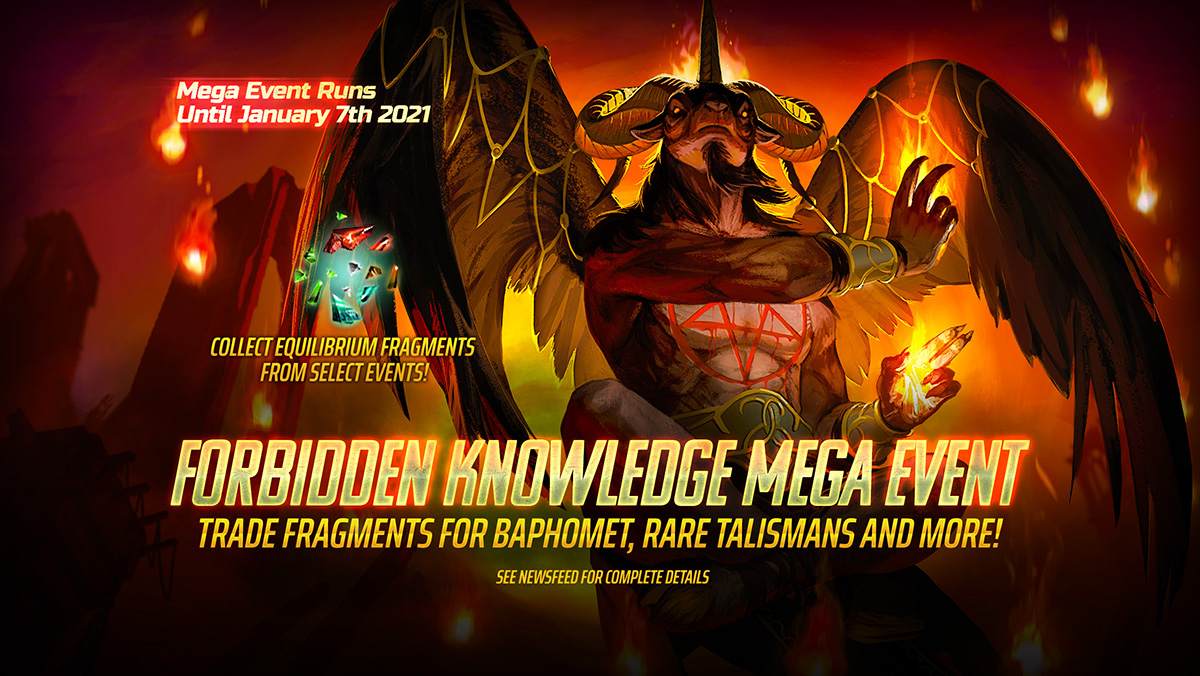 30 Sep

Forbidden Knowledge Mega-Event

The Forbidden Knowledge Mega Event is a series of events that will feature a number of incredible characters and epic rewards.

Throughout the course of this event you will be able to collect Equilibrium Fragments which can be traded in for unique items in the Mega Store such as various classes of Baphomet!

Forbidden Knowledge Associated events will be running from September 30th, 2020 to January 7th, 2021. Participate in these events to earn Equilibrium Soul Fragments!

You can trade these Fragments in the Mega store for a wide variety of rare rewards over the course of the event including newer 5 and 6 set Talismans (including Lust, Gluttonous and more), and 6 Classes of Baphomet!

Wield the power of the elder god Baphomet! At the beginning of the Mega Event, 2 Baphomets and 2 Rare Talismans will be placed in the store. As the Mega Event progresses other classes of Baphomet and talismans will be added to the store. See the full schedule below:

Forbidden Knowledge Store Schedule:
Early October: Warrior Baphomet, Magus Baphomet, Lust and Gluttonous Talismans added to the Event Store
Early November: Sentinel Baphomet, Gunner Baphomet, Peace and Prideful Talismans added to the Event Store
Late November/Early December: Assassin Baphomet, Cosmic Baphomet, Wrathful and new Cosmic Sinister Solstice Talismans added to the Event Store

Please note that the dates provided are meant to give you a rough idea of when to expect these items in the store.

Once the final 2 Baphomet's and talisman sets have been added, there will be no further changes to the Event Store.

All items in the Event Store will be available for purchase until January 12th at 4pm PT. Once the mega event is over, all Baphomets will still be earnable via participation in the Clans feature.

All 6 classes of Baphomet will be contained in the Clan God Soul. Clan God Souls will be earned from Raid Boss and Raid Boss events. Additional characters will be added to this Soul as time goes on.

Similar to the Eternity Soul or Trooper Soul, you will receive 1 random Raid Boss God from this soul, in addition to Clan God Soul Fragments. You will be able to save up the fragments you receive to purchase the specific class of Baphomet you want from the Clan store.

Mega Event Bonus! Throughout the Forbidden Knowledge Mega Event, battling Raid Bosses will drop Equilibrium Soul Fragments with every battle! Fragments will typically drop in bundles of 10 or 20, but there is a chance to receive 50 Fragments each battle!