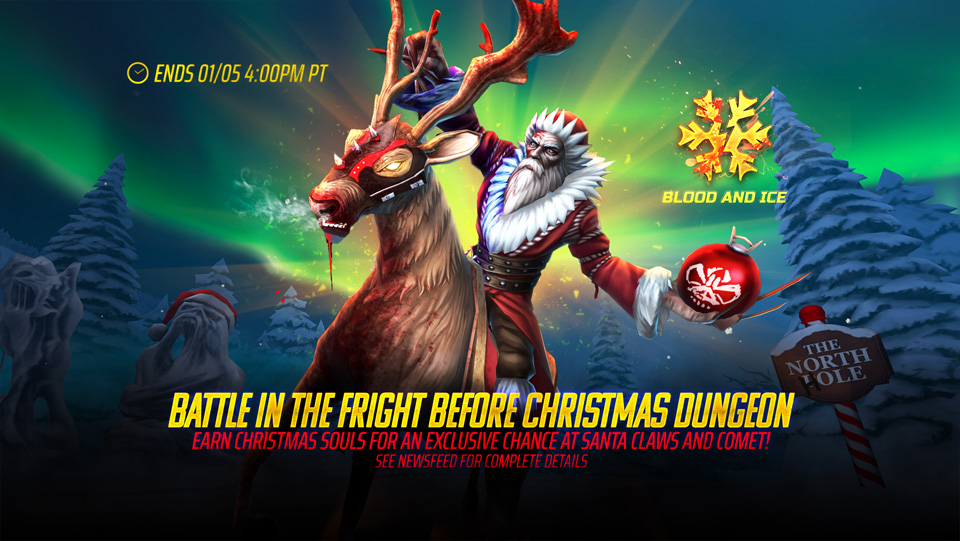 22 Dec

Fright Before Christmas – Exclusive Chance at Santa Claws and Comet

Old Santa got drunk on dark power
He shouted "I'll make the sinners on my list cower!"
"But what of the fate
Of the good children of late?"
"Perhaps they aren't worth flensing to devour!"

The dark forces that have invaded Christmas have altered poor dear Santa this holiday season! A powerful assassin-class character, this clawed ally will rend your foes limb from limb, able to instantly kill foes that meet the right criteria. Riding atop a once proud beast, Santa claws his way to victory, dishing out a variety of powerful effects to allies and enemies alike with his Season's Greeting.

Get full character details in the Compendium!

From now until January 5th, 4 PM PT, battle through 4 difficulty settings in the Fright Before Christmas dungeon!

The first time you complete Normal, Hard or Madness, you will earn set rewards including:

Christmas Souls
Greed Talismans (Mystical Subtype)

Your first Insanity run will grant T3 2★ Cosmic Evo Runes and Talisman Epic Soul Fragments.

All subsequent victories are guaranteed to provide:

Christmas Soul Fragments
Dungeon Fragments
A chance of up to 2 bonus rewards, including: Brave Talismans (Mystical Subtype)

Completing Event Challenges will grant various other rewards, including more Christmas Soul Fragments, Assassin Souls, Bloodied Snowballs and Parcel Talismans and more!

Christmas Soul Details!

The Christmas Soul is a limited time event soul which guarantees a 3★ to 5★ character of any class. This soul has an increased chance of summoning Christmas characters from years past, and has an exclusive chance of summoning 5★ Assassin Santa Claws and Comet.

Each Christmas Soul summoned will also grant the following bonus rewards:
10 Dark Advent Lilith Soul Fragments
10 Santa Claws And Comet Soul Fragments
10 Christmas Mythical Soul Fragments
20 Talisman Gold Red Soul Fragments

750 Dark Advent Lilith Fragments guarantees 1 5★ Assassin Dark Advent Lilith.

500 Santa Claws And Comet Soul Fragments guarantees 1 5★ Assassin Santa Claws And Comet

500 Christmas Mythical Soul Fragments guarantees 1 5★ Pre-2021 Christmas character.

400 Talisman Gold Red Soul Fragments guarantees a Tier 1 to Tier 3 Gold or Red Cosmic Talisman and 1★ Gold Idol.

Bloodied Snowballs is the event currency of our Blood and Ice event running until January 6th.

Trade your Bloodied Snowballs in the Event Store for rare rewards including Storm Rider Reaper Eddie, a T3 Cosmic Azusa Yumi Talisman and more!