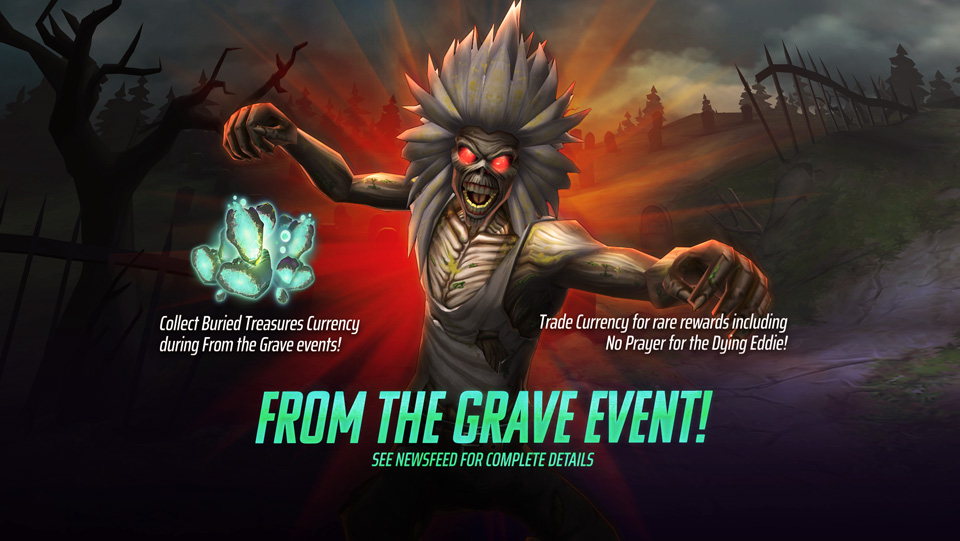 01 Feb

From the Grave – February Featured Monthly Event

From the Grave is a series of events that will run through the month of February. These events will all grant the exact same currency type – Buried Treasures!

There will be a total of 8 From the Grave associated events.

Events where you are earn Buried Treasures Currency are as follows:

Heavens Painted Red (Dungeon)**
Abundance of Wealth (Sands)
Tipping the Scales (Evolution)
Gunner Sphynx (Fragment)
Vital Strike (Boss Run)
Disturbing Sciences (Dungeon)
Assimilation (Arena)**
Humbled Outlook (Brave New World)

**Clan events! Extra event challenges will be available to players who belong to a Clan. Some of these Challenges will contain Solo or Group targets. Clan Solo event challenges count your progress alone (you still need to be in a Clan to see these challenges). Clan Group event challenges will count the efforts of all members of your Clan towards the ultimate goal!

BONUS: For the month of February, Buried Treasures will also be earnable through infinitely repeatable event challenges involving the Fallen Fortress, Airstrip and Cosmic Talisman Frontier Dungeons!

Trade your Buried Treasures in the Event Store for rare rewards including No Prayer for the Dying Eddie, Cosmic High Virtue – Purity Talismans, Cosmic Bounty Hunter Talismans and more!

Bursting through the ground, the prayers of the living are carried on deafened ears as an ancient power breaks free! No Prayer For The Dying Eddie crushes his foes with tremendous strength and promises a salvation that will never come.

From the Grave offers will be available in the Event store until 4PM PT ON March 4th 2022!

After this time, all Event store items will disappear and event currency will be automatically converted into Precious Soul Fragments at a 10% rate.