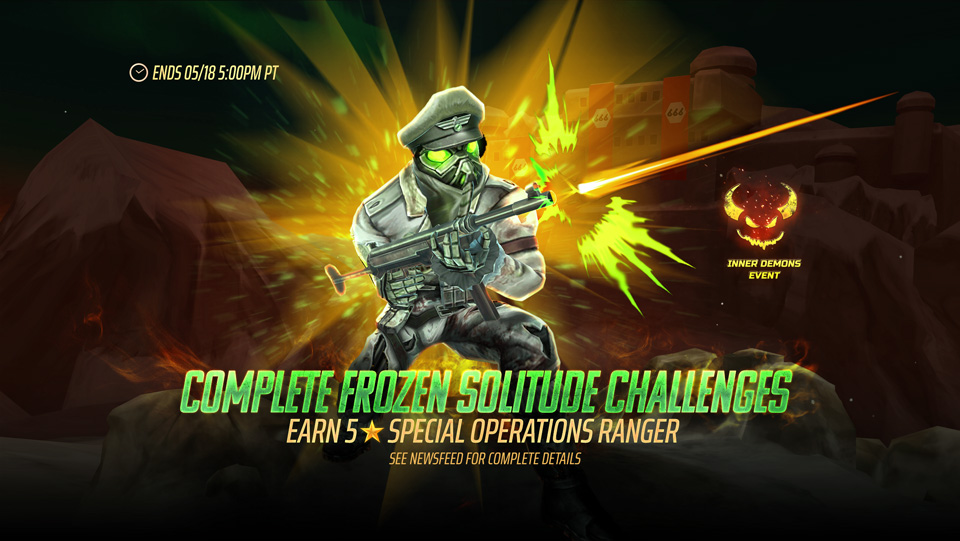 11 May

Frozen Solitude (Variety) – Exclusive chance at new 5⭐ Special Operations Ranger and more!

From now until May 18th at 5PM PT, complete event challenges to earn rewards such as Sheer Ice, various Awakening Materials, Beastial Insignias and more!

Sheer Ice can be traded in store for a 5⭐ Special Operations Ranger, Icebound Soul Packs and Cosmic Different World Talismans.

Note: At the end of this event, any unspent Currency will be automatically converted into Precious Soul Fragments at a 10% rate.

Icebound Soul Details!

Icebound Soul is a limited-time event soul which guarantees a 3⭐ to 5⭐ character of any class. This soul has a 2x chance of summoning 5⭐ non-highlight characters and an exclusive chance of summoning the 5⭐ Special Operations Ranger.

Each Icebound Soul summoned will also grant the following bonus rewards:
💠10 Mythical Soul Fragments
💠10 Special Operations Ranger Soul Fragments
💠20 Talisman Gold Red Soul Fragments

Collecting 750 Special Operations Ranger Fragments guarantees one 5⭐ Special Operations Ranger!

400 Talisman Gold Red Soul Fragments guarantees a Tier 1 to Tier 3 Gold or Red Cosmic Talisman and 5⭐ Gold Idol.

Beastial Insignias is the event currency of our Inner Demons event running until May 31st 5pm PT.

Trade your Beastial Insignias in the Event Store for rare rewards including 5⭐ Twisted Reflection Eddie, Cosmic Mask and Trooper Eddie Talismans and more!

You can learn more about this featured event in the Inner Demons event post!

Event Store Additions:

💠We have a number of limited time offerings for various in-game currencies available in the Event Store! Head to the store for the full list of offers.
💠Grab an additional boost of Event Currency to trade for more items in the Event Store. This pack also contains Talisman Soul Fragments, Frontier Coins, Ironite and more!