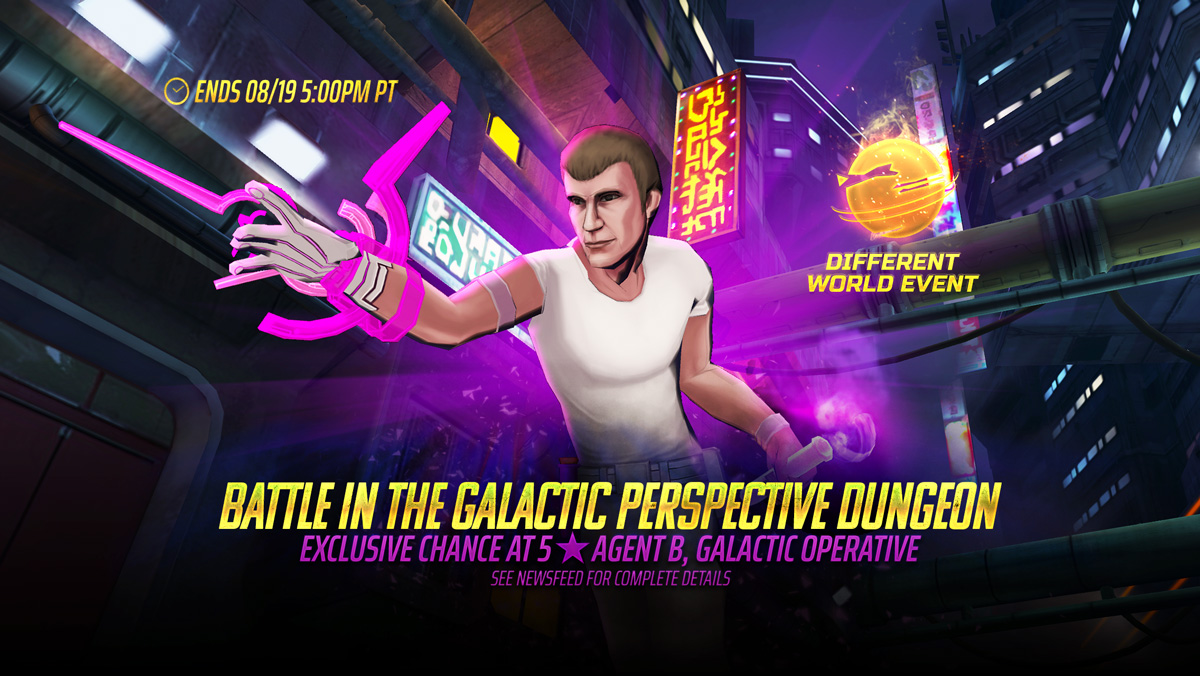 12 Aug

Galactic Perspective Dungeon – Exclusive Chance at 5★ Agent B, Galactic Operative

–Classified Information–
MISSION: Different World [REDACTED]
PRIORITY: Critical
BRIEFING: [REDACTED]

Agent B[REDACTED] is to be deployed to sector D[REDACTED]-6 aboard a Federation light frigate. Selected Agent has been briefed on the Mission Objective [REDACTED]. Note: psychoanalytical observations of deployed Agents show acute ability changes based on current Mission Objective. Recommendation: hold objective for Federation [REDACTED].

Get full character details in the Compendium!

From now until August 19th, 5 PM PT, battle through 4 difficulty settings in the Galactic Perspective dungeon for awesome rewards and an exciting new storyline!

The first time you complete Normal, Hard or Madness, you will earn set rewards including:

Different Souls
Archer Talismans (Shield Subtype)

Your first Insanity run will grant T3 2★ Cosmic Evo Runes and Talisman Epic Soul Fragments.

All subsequent victories are guaranteed to provide:

Oracle Orbs
Dungeon Fragments
A chance of up to 2 bonus rewards, including: Forge Talismans (Shield Subtype).

Oracle Orbs can be traded in store for Different Souls in bundles of 1, 3 and 10, Cosmic Beast Talismans, and Agent B, Galactic Operative himself.

Note: At the end of this event, any unspent Currency will be automatically converted into Dungeon Soul Fragments at a 10% rate. See our Event Currency guide here for more details on the system overall:

Completing Event Challenges will grant various other rewards, including more Oracle Orbs, Assassin Souls, new Justice Talismans (Onslaught Subtype) and Salvaged Technology!

Justice Talismans are gold talismans with a 5-set effect. Equipping this set will do the following:

Whenever another ally dies, permanently increase DEF and MR of self by 100% and deal a devastating hit of true damage to the attacking enemy. Inflict Punishment for 2 turns on a random enemy after every action. Transform all Revenge and Perfect Revenge on all allies into Perfect Titan Shield for 3 turns after every action. For each effect removed this way, inflict Stun for 1 turn and Punishment for the duration of battle on a random enemy.

Different Soul Details!

The Different Soul is a limited time event soul which guarantees a 3★ to 5★ character of any class. This soul has an increased chance of summoning Robo Scouts, Shardborne and Onyx Son characters, and has an exclusive chance of summoning 5★ Agent B, Galactic Operative.

Each Different Soul summoned will also grant the following bonus rewards:
10 Agent B, Galactic Operative Soul Fragments
10 Robo Scout Soul Fragments
10 Mythical Soul Fragments
20 Talisman Gold Red Soul Fragments

750 Agent B, Galactic Operative Fragments guarantees 1 5★ Assassin Agent B, Galactic Operative.

250 Robo Scout Soul Fragments guarantees either 4★ APMA, ROBO SCOUT, 4★ MACLO, ROBO SCOUT or 3★ SACRO, ROBO SCOUT.

400 Talisman Gold Red Soul Fragments guarantees a Tier 1 to Tier 3 Gold or Red Cosmic Talisman and 5★ Gold Idol.

Salvaged Technology Currency is the event currency of our Different World event running throughout August.

Trade your Salvaged Technology Currency in the Event Store for rare rewards including Different World Eddie, Cosmic Different World Talismans and more!