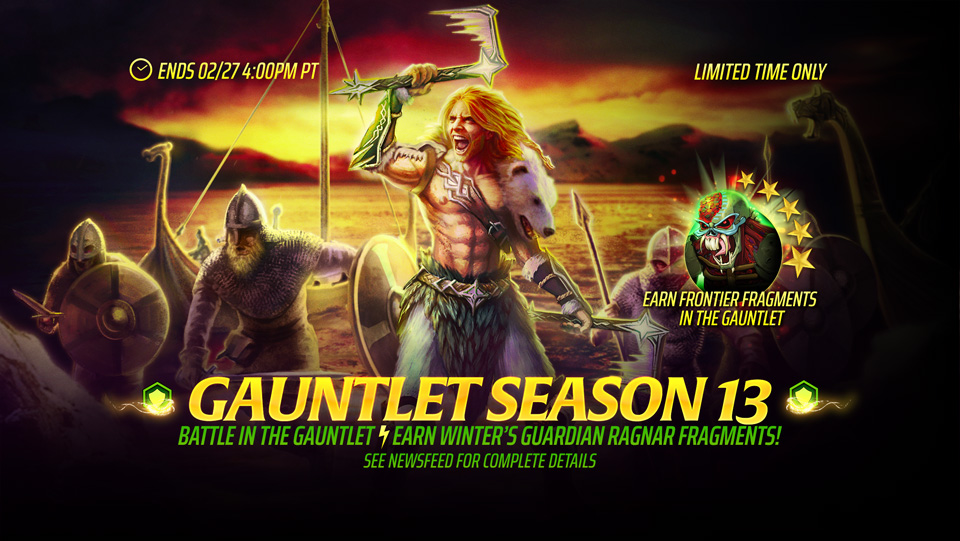 19 Dec

Gauntlet Season 13 – Win Battles in the Gauntlet to earn Winter's Guardian Ragnar!

Earn Winter's Guardian Ragnar Soul Fragments and other Rare Rewards in the Gauntlet.

Our Thirteenth Gauntlet season starts now and will run until February 27th at 4:00 pm PT. Battle through 11 Grades of Gauntlet, each presenting unique challenges and rewards to earn a place on our Ranked Leaderboard. The Ranked Rewards for Season 13 will feature Winter's Guardian Ragnar Fragments, in addition to other rewards.

You will have 10 weeks (until the end of Season 13) to earn enough Winter's Guardian Ragnar Fragments from the Gauntlet to summon him, after that he will be much more difficult to obtain, as he won't be featured in any other soul.

There once was a man named Ragnar
Solstice's protector and winter's avatar.
His battle prowess kept pace
Battling with a smile on his face –
Few could contest this rock star!

Ragnar, champion of the people, travels north to don the title of Winter's Guardian. With newly iced and sharpened axes, he cuts down the wicked with his Perfect Freeze status effect! It takes a different kind of individual to survive the winter without proper gear- yet Ragnar does so in style, surviving the frigid north with Snow and Blizzard Shields that not only protect him, but enable other parts of his abilities. His mother always did say his face would freeze if he didn't stop grinning!

Players who make it to Grade A and above will also be awarded Final Frontier Eddie Fragments!

Final Frontier Eddie Fragments can be collected over several Gauntlet seasons. Once you have 1,000 Fragments, you will earn a Guaranteed Final Frontier Eddie.

Final Frontier Eddie is a 5★ Sentinel that is only available by collecting Fragments in the Gauntlet.