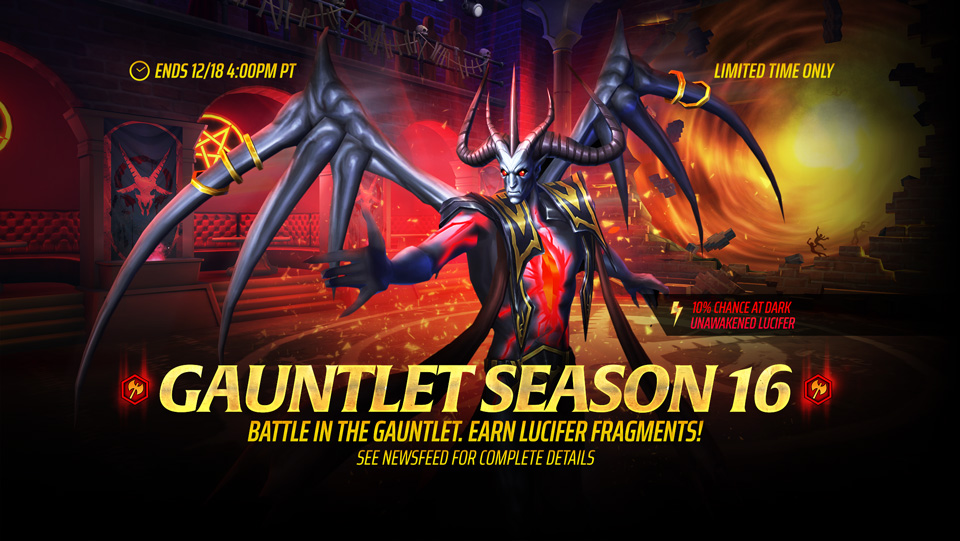 09 Oct

Gauntlet Season 16 – Win Battles in the Gauntlet to earn Lucifer!

Earn Lucifer Soul Fragments and other Rare Rewards in the Gauntlet.

Our Sixteenth Gauntlet season starts now and will run until December 18th at 4:00 pm PT. Battle through 11 Grades of Gauntlet, each presenting unique challenges and rewards to earn a place on our Ranked Leaderboard. The Ranked Rewards for Season 16 will feature Lucifer Fragments, in addition to other rewards.

You will have 10 weeks (until the end of Season 16) to earn enough Lucifer Fragments from the Gauntlet to summon him!

Lucifer, the Prince of Darkness, now has an alternative awakening! Now, when you open a soul containing Lucifer, it has a 10% chance to be Dark Unawakened Lucifer! The alternative Max Awakening of this character can be obtained by acquiring 6 Lord Of Light Awakening Shards and 6 Dark Unmaker Awakening Shards.

Max Awakening Dark Unawakened Lucifer will unlock the True Hellfire Passive Ability. This ability makes Lucifer immune to Passive Disable, Burn, Stun, Freeze and Sleep Effects AND reduces all damage taken by 99%. He will also be able to remove all positive effects from enemies after every action!

You can get Dark Unmaker Awakening Shards from the PVP Store during this Gauntlet season. Get 6 Dark Unmaker Awakening Shards for 600 Iron Coins! These Shards can be used for Lucifer or future Dark Unawakened characters. We recommend stocking up, as these shards are only available in the Arena store until the end of Gauntlet Season 16. After that time, they will only be resurfaced in various Awakening packs.

Important: Dark Unawakened Lucifer is at a 10% chance for the new and existing avenues of acquiring him. This means that if you get a Lucifer Soul from the current in-game Achievements, or via a pack there is a 10% chance you can get Dark Unawakened Lucifer when you open that Soul.

The Lucifer Soul Fragments you earn via Gauntlet are a new type of Fragment and cannot be combined with the ones earned via achievements or past events.

Players who make it to Grade A and above will also be awarded Final Frontier Eddie Fragments!

Final Frontier Eddie Fragments can be collected over several Gauntlet seasons. Once you have 1,000 Fragments, you will earn a Guaranteed Final Frontier Eddie.

Final Frontier Eddie is a 5★ Sentinel that is only available by collecting Fragments in the Gauntlet.