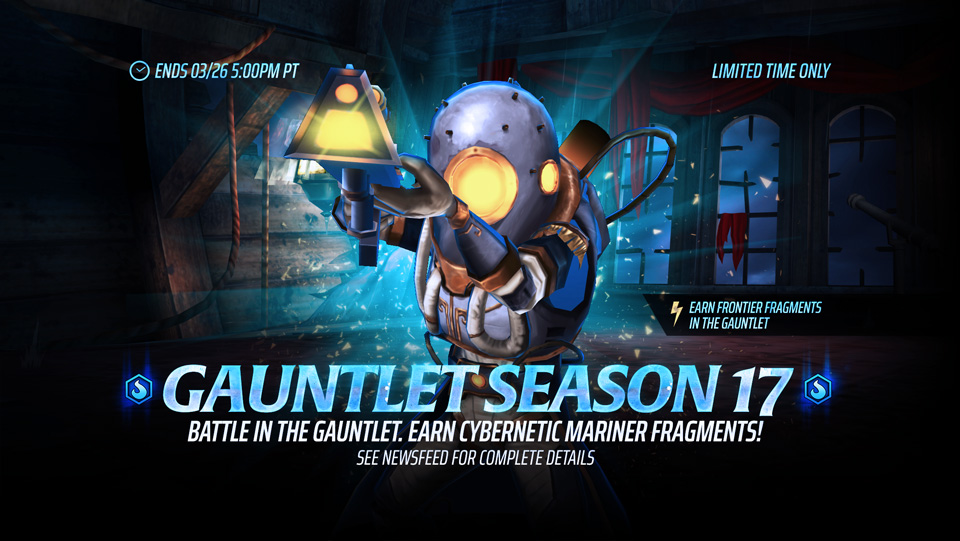 15 Jan

Gauntlet Season 17 – Win Battles in the Gauntlet to earn The Cybernetic Mariner!

Earn The Cybernetic Mariner Soul Fragments and other Rare Rewards in the Gauntlet.

Our Seventeenth Gauntlet season starts now and will run until March 26th at 5:00 pm PT. Battle through 11 Grades of Gauntlet, each presenting unique challenges and rewards to earn a place on our Ranked Leaderboard. The Ranked Rewards for Season 17 will feature The Cybernetic Mariner Fragments, in addition to other rewards.

You will have 10 weeks (until the end of Season 17) to earn enough The Cybernetic Mariner Fragments from the Gauntlet to summon him!

The future is calling! The Cybernetic Mariner spawns into Legacy of the Beast. This 5★ Magus grants his allies Void Shield at the start of battle and every turn. He inflicts Perfect Sleep, Stop, Exhaust and a variety of other Silver Effects with his attacks, and deals an additional hit of damage to each enemy for each Silver Effect they have after every action.

Players who make it to Grade A and above will also be awarded Final Frontier Eddie Fragments!

Final Frontier Eddie Fragments can be collected over several Gauntlet seasons. Once you have 1,000 Fragments, you will earn a Guaranteed Final Frontier Eddie.

Final Frontier Eddie is a 5★ Sentinel that is only available by collecting Fragments in the Gauntlet.