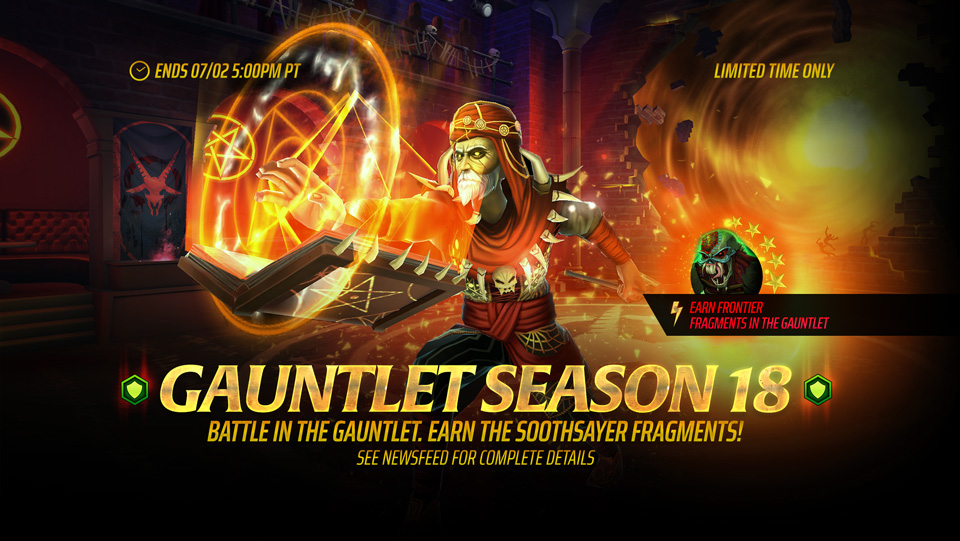 23 Apr

Gauntlet Season 18 – Win Battles in the Gauntlet to earn The Soothsayer!

Earn The Soothsayer Soul Fragments and other Rare Rewards in the Gauntlet.

Our Eighteenth Gauntlet season starts now and will run until July 2nd at 5:00 pm PT. Battle through 11 Grades of Gauntlet, each presenting unique challenges and rewards to earn a place on our Ranked Leaderboard. The Ranked Rewards for Season 18 will feature The Soothsayer Fragments, in addition to other rewards.

You will have 10 weeks (until the end of Season 18) to earn enough The Soothsayer Fragments from the Gauntlet to summon him!

The Soothsayer spawns into Legacy of the Beast. This 5⭐Sentinel follows a mysterious power and prefers to keep his strong abilities a secret. Utilizing the power of his crystal ball, this prophet uses his inner psychic strength to control the physical world and bend it to his will.

The Soothsayer can deal massive magical damage to attacking enemies but his greatest strength to a team is his ability to use his spiritual defensive powers to protect his allies from an assortment of damage types.

Players who make it to Grade A and above will also be awarded Final Frontier Eddie Fragments!

Final Frontier Eddie Fragments can be collected over several Gauntlet seasons. Once you have 1,000 Fragments, you will earn a Guaranteed Final Frontier Eddie.

Final Frontier Eddie is a 5⭐ Sentinel that is only available by collecting Fragments in the Gauntlet.