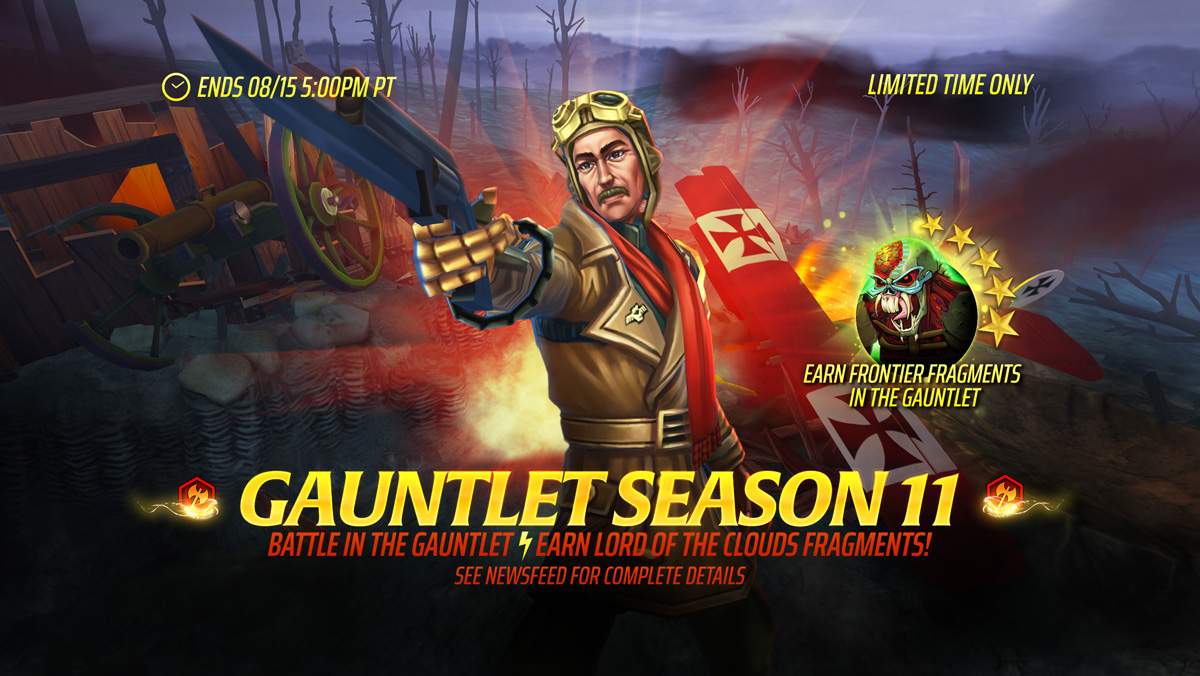 06 Jun

Gauntlet Season Eleven – Win Battles in the Gauntlet to earn Lord of the Clouds!

Earn Lord of the Clouds Soul Fragments and other Rare Rewards in the Gauntlet.

Our eleventh Gauntlet season starts now and will run until August 15th at 5pm PT. Battle through 11 Grades of Gauntlet, each presenting unique challenges and rewards to earn a place on our Ranked Leaderboard. The Ranked Rewards for Season 11 will feature Lord of the Cloud Fragments, in addition to other rewards.

You will have 10 weeks (until the end of Season 11) to earn enough Lord of the Cloud Fragments from the Gauntlet to summon him, after that he will be much more difficult to obtain, as he won't be featured in any other soul.

Ride the storm! The Lord of the Clouds is a 5 star Warrior hero-class ally that strikes enemies down with tactical precision by removing Immunity and applying destructive effects. 

Players who make it to Grade A and above will also be awarded Final Frontier Eddie Fragments!

Final Frontier Eddie Fragments can be collected over several Gauntlet seasons. Once you have 1,000 Fragments, you will earn a Guaranteed Final Frontier Eddie.  

Final Frontier Eddie is a 5★ Sentinel that is only available by collecting Fragments in the Gauntlet.