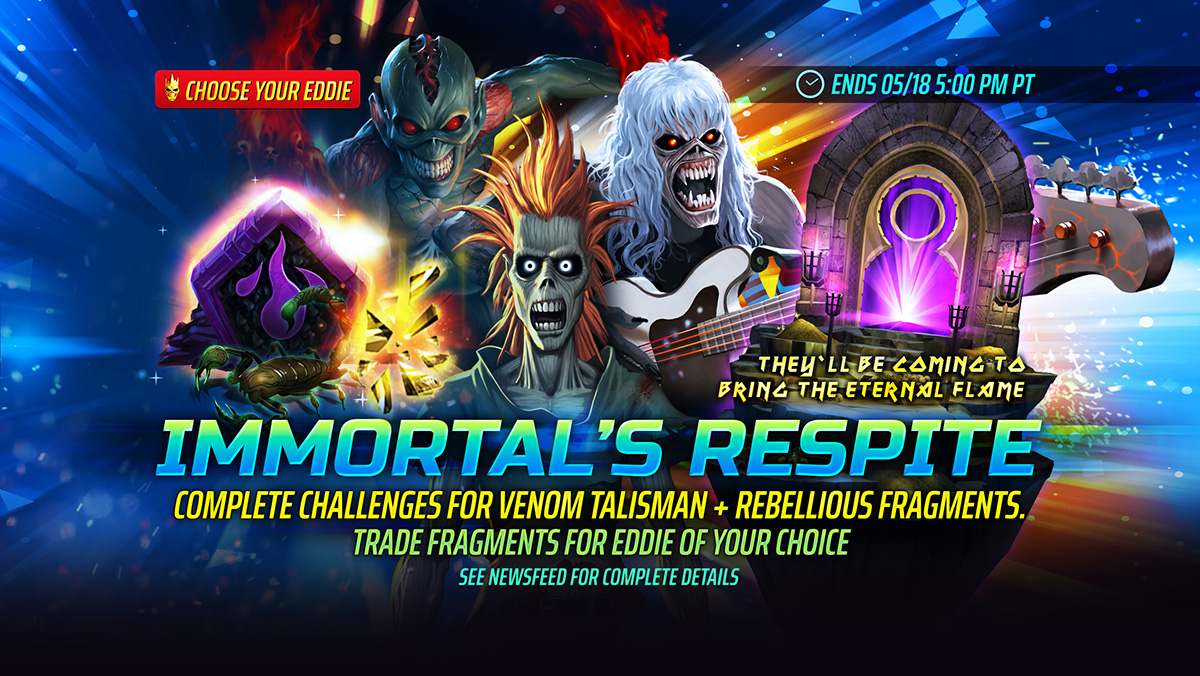 11 May

Get the Eddie of your Choice! Immortal's Respite Dungeon Event on NOW!

Choose your Eddie!

Collect Rebellious Soul Fragments and trade them for a selection of Eddies available in the Event Store!

From now until May 18th, 5 PM PT, complete Event Challenges in the Immortal's Respite Dungeon to earn a full set of Venom Talismans, and Rebellious Fragments.

Venom Talismans are purple talismans with a 3 set effect that is not available anywhere else! Equip a full set to have a 35% chance to deal additional true damage to all enemies on Perfect Attacks, with a 35% chance to inflict Crave, Exhaust, and Blood Lust for 2 turns!

Rebellious Fragments can be used in the Event Store to trade for a selection of 4 to 5⭐ Eddies!

Two Paths to Earn Eddies:

1) Rebellious Soul Fragments!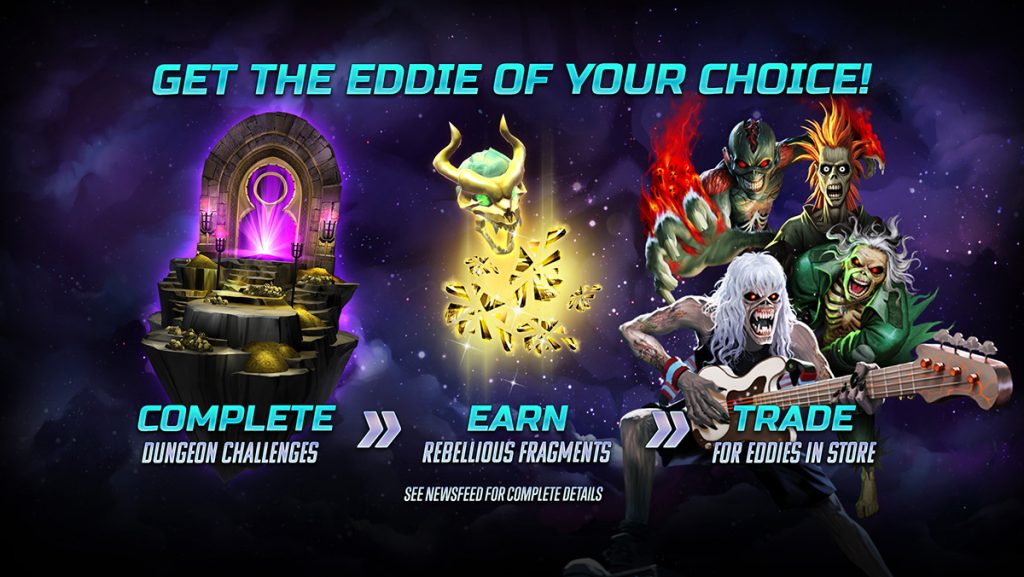 Complete event challenges to earn up to 1200 Rebellious Soul Fragments. Rebellious Soul Fragments are then traded in the Event Store for Eddies of your Choice! The following Eddies are available for Rebellious Soul Fragments in store:
Available for 500 Rebellious Soul Fragments:
Doomsday Eddie
Benjamin Breeg Eddie
Phantom Eddie
Available for 700 Rebellious Soul Fragments
Iron Maiden Eddie
Beast Eddie
Bass Eddie
Virtual XI Eddie
Clansman Eddie
2) Immortal Soul Fragments!
Battle through the Immortal Respite Dungeon! The first time you complete one of the 3 dungeon floors available, you will receive set rewards including Immortal Soul Fragments and Tomb Talismans. All subsequent victories are [b]guaranteed[/b] to provide more Immortal Soul Fragments, as well as a chance of up to 2 bonus rewards, including Oracle Talismans.
500 Immortal Fragments = 1 Immortal Soul
The Immortal Soul guarantees a 3-5⭐ Eddie. See the in-game newsfeed for list of possible eddies!
Battle in the Immortal's Respite Dungeon today: http://m.onelink.me/49d39710