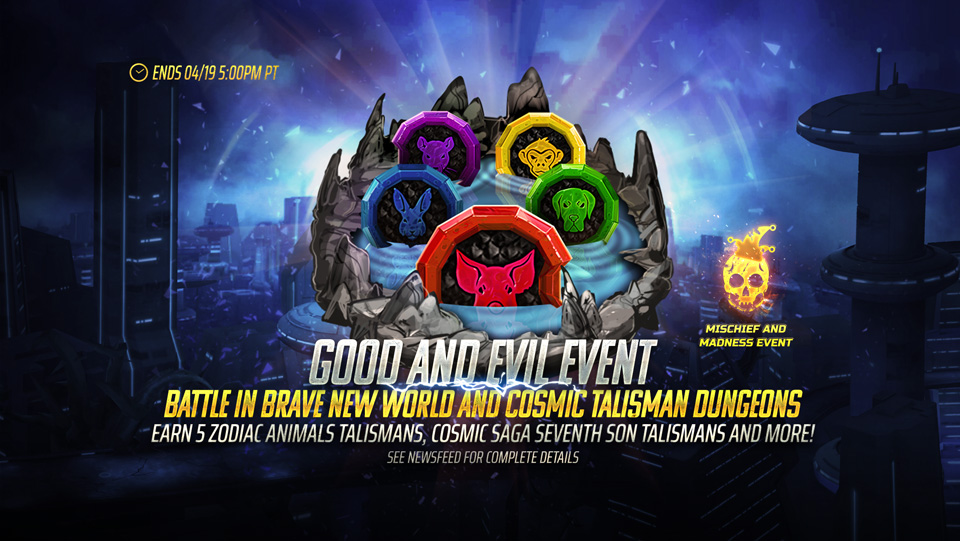 12 Apr

Good And Evil (Brave New World) – Earn Animal Zodiac Talismans, Cosmic Saga Seventh Son Talismans and more!

From now until April 19th at 5PM PDT, battle in the Brave New World and Cosmic Talisman Dungeons for a chance of earning Thawed Tablets. If you battle in Brave New World, Thawed Tablets drop in amounts of 5, 10 or 25. If you battle in the Cosmic Talisman Dungeons, Thawed Tablets drop in amounts of 10, 20 or if you're really lucky, 50!

Thawed Tablets can be traded in store for Cosmic Talisman bundles, Epic Souls, Cosmic Saga Seventh Son Talismans and the Wildlife Pack!

Note: At the end of this event, any unspent Currency will be automatically converted into Precious Soul Fragments at a 5% rate.

Alchemical Elixirs is the event currency of our Mischief and Madness event running until May 9th 5pm PT.

Trade your Alchemical Elixirs in the Event Store for rare rewards including 5⭐ Shattered Mind Eddie, Cosmic Saga Somewhere In Time and Senjutsu Talismans and more!

You can learn more about this featured event in the Mischief and Madness event post!

Event Store Additions:

💠Pick up the Inner Fire Pack to fully awaken The Clairvoyant! This bundle contains Magus Awakening Shards, Gold, Ironite, Frontier Coins, 3 Occult and 3 Avalon Awakening Shards! It also contains a T2 Cosmic Saga – Seventh Son Talisman!
💠Grab an additional boost of Event Currency to trade for more items in the Event Store. This pack also contains Talisman Soul Fragments, Frontier Coins, Ironite and more!