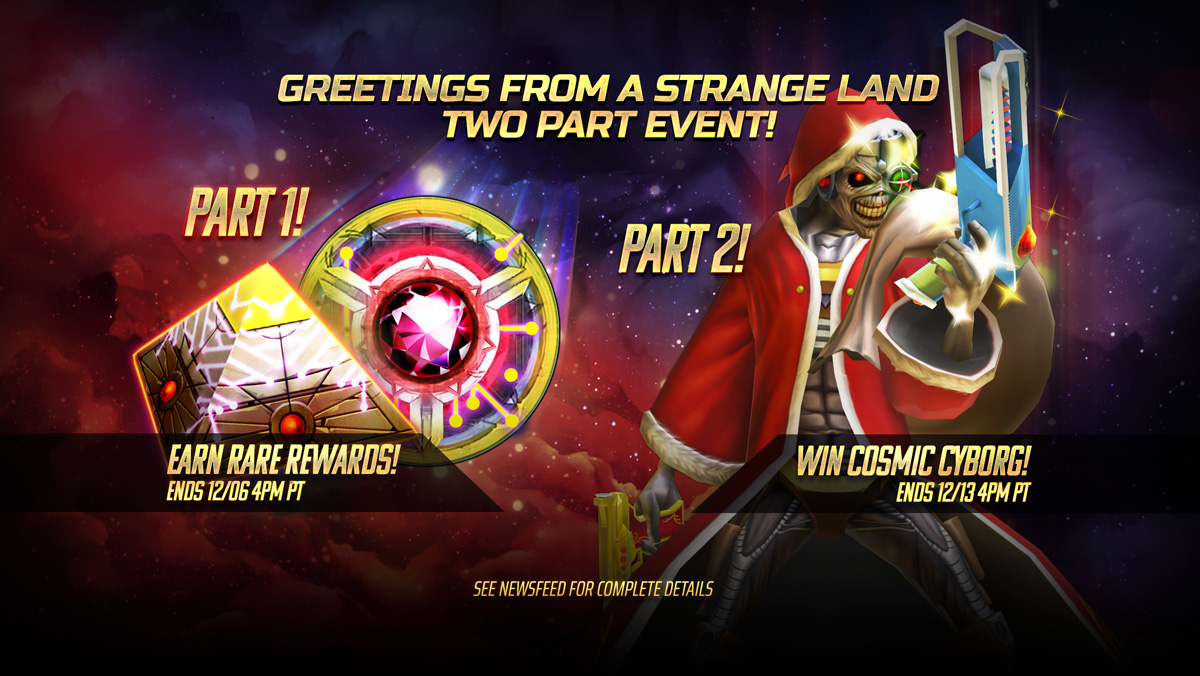 29 Nov

Greetings from a Strange Land (Variety) – Earn rare rewards in a 2 Part Event!

Greetings from a Strange Land starts now! This two part event spans 14 days and offers up rare and exciting rewards! Read on to learn how to Participate!

Part One – November 29th – December 6th at 4pm PT

From now until December 6th at 4PM PDT, complete both regular and Clan event challenges to earn rewards such as Cyborg Eddie Soul Fragments, Gunner Awakening Shards, Equilibrium Fragments, and more!

Collect 500 Cyborg Eddie Soul Fragments to guarantee 1 5★ Gunner Cyborg Eddie.

If you have extra Cyborg Soul Fragments, or already have a Cyborg and don't need another, you can trade these Fragments in store for Cyborg Awakening Shards, Cosmic Cyborg Talismans and more!

Please note the Cyborg Soul Fragments will not be obtainable after December 6th at 4pm PT.

Part Two – December 6th at 4pm PT – December 13th at 4pm PT

From December 6th until December 13th at 4PM PDT, complete both regular and Clan event challenges to earn rewards such as Strange Currency, various Talismans upgrade materials, Equilibrium Fragments, and more!

Strange Currency is traded in the Store for Cyborg and Festive Awakening Materials, new Unique Cosmic Evo Materials AND Cosmic Cyborg Eddie! You can see your current currency amounts by checking the Event tab in the Challenge menu and the Event tab in Store!

The Cosmic Cyborg is an awakenable seasonal character with no Talisman Slot restrictions, and Class Advantage over every enemy! This Eddie also comes fully skill sharded, and when he is Max Awakened will gain a unique passive – Stranger in a Winter Wonderland – that gives you a Blizzard Shield each turn and hits enemies with Freeze!

At the end of this event, any unspent Strange Currency will be automatically converted into Precious Soul Fragments at a 10% rate. See our Event Currency guide here for more details on the system overall:

Equilibrium Fragments are the event currency of our Forbidden Knowledge Clan Mega event that is running until January.

Trade your Equilibrium Fragments in the Event Store for rare rewards including Baphomet, Rare Talismans and more!

Notes on Clan Event Challenges:

Players can join a Clan part way through an event in order to obtain these extra Event Challenges.

If you are removed from your Clan, or choose to Leave a Clan during the event, you will no longer be able to participate in the Clan Event Challenges. After the 24 hour cooldown you can then join a different Clan. This will give you access to any active Clan Event Challenges, and any Clan Group Challenges will be updated to the current total for your new Clan. If the Clan has already completed and claimed a Clan Group Challenge, the new member will not be able to claim that reward. Players will not gain double rewards by Clan hopping.