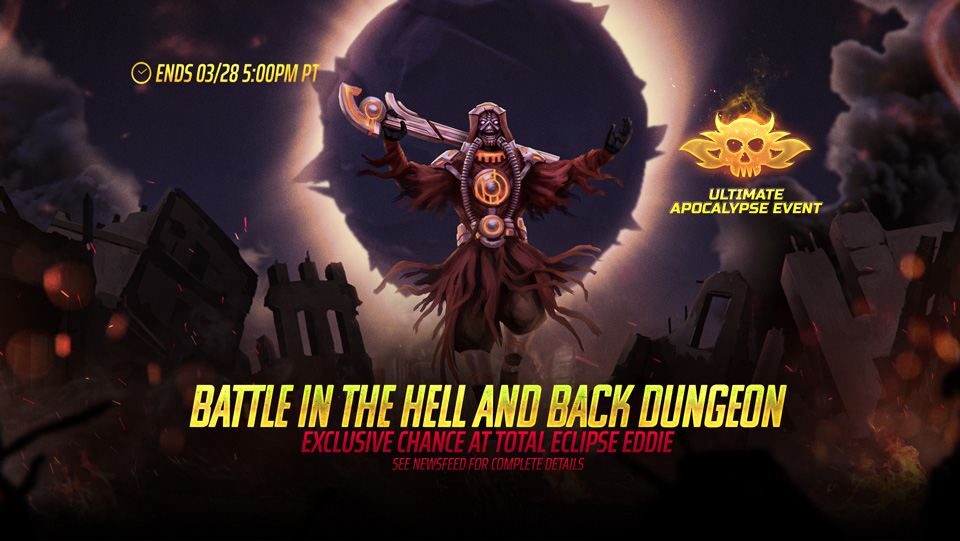 21 Mar

Hell and Back (Dungeon) – Exclusive chance at Total Eclipse Eddie!

Through the fog of crisis emerges Total Eclipse Eddie. This Eddie is a brilliant tactician and strategist, setting up pieces to fall long before his foes have time to comprehend his Master Plan. Total Eclipse Eddie is a toolbox of incredibly powerful effects, and it'll take an equally crafty player to use his abilities to their full potential!

We're celebrating the 40th Anniversary of the Number of the Beast album with the Hell and Back dungeon! From now until March 28th, 5 PM PT, battle through 4 difficulty settings and a new storyline!

The first time you complete Normal you will earn set rewards including:

Irredeemable Souls
Archer (Barrier) Talismans

Your first Insanity run will grant T3 2★ Cosmic Evo Runes and Talisman Epic Soul Fragments.

All subsequent victories are guaranteed to provide:

Master Plans
Dungeon Fragments
A chance of up to 2 bonus rewards, including: Forge Talismans (Barrier Subtype).

Master Plans can be traded in store for Irredeemable Souls in bundles of 1, 3 and 10, Cosmic Biker Talismans and Total Eclipse Eddie himself!

Note: At the end of this event, any unspent Currency will be automatically converted into Dungeon Soul Fragments at a 10% rate.

Completing Event Challenges will grant various other rewards, including more Master Plans, Gunner Souls, Prudence Talismans (Barrier Subtype) and Chaos Orbs!

Chaos Orbs is the event currency of our Ultimate Apocalypse event running until March 31st.

Trade your Chaos Orbs in the Event Store for rare rewards including Demon Prince Asmodeus, Cosmic Mask Talismans and more!

Irredeemable Soul Details!

The Irredeemable Soul is a limited time event soul which guarantees a 3★ to 5★ character of any class. This soul has an increased chance of summoning demon themed characters, and an exclusive chance of summoning 5★ Cosmic Total Eclipse Eddie.

Each Irredeemable Soul summoned will also grant the following bonus rewards:
10 Total Eclipse Eddie Soul Fragments
10 Mythical Soul Fragments
20 Talisman Gold Red Soul Fragments

1000 Total Eclipse Eddie Soul Fragments guarantees 1 5★ Cosmic Total Eclipse Eddie.

400 Talisman Gold Red Soul Fragments guarantees a Tier 1 to Tier 3 Gold or Red Cosmic Talisman and 5★ Gold Idol.