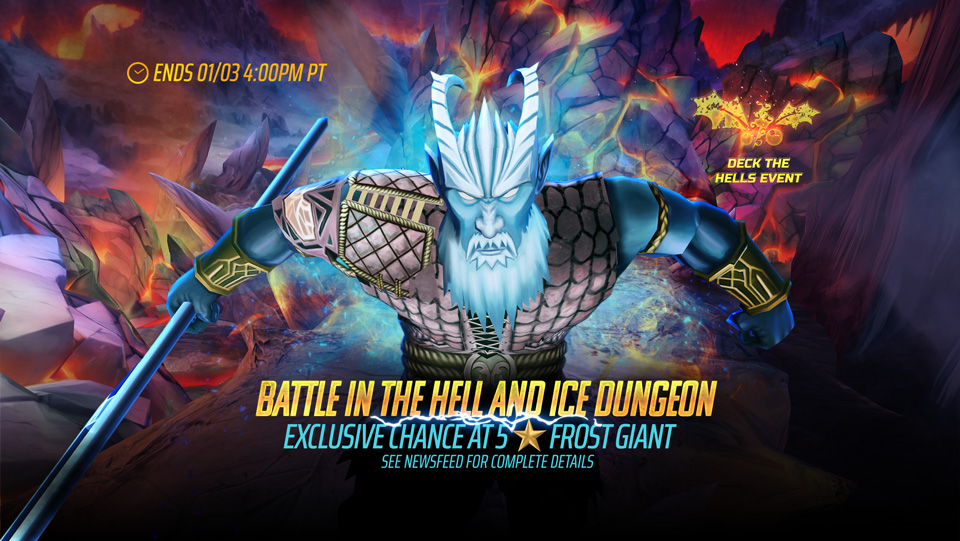 20 Dec

Hell and Ice (Dungeon) – Exclusive chance at a 5★ Frost Giant!

From now until January 3rd at 4 PM PT, battle through the Hell and Ice Dungeon! This dungeon has 4 difficulty settings and a brand new storyline!

The first time you complete Normal, Hard or Madness, you will earn set rewards including:

Christmas Souls
Snake (Shield) Talismans

Your first Insanity run will grant a Catalyst Soul, 3★ T3 Evo Runes, and Talisman Epic Gold Red Soul Fragments.

All subsequent victories are guaranteed to provide:

Christmas Soul Fragments
Dungeon Fragments
A chance of up to 2 bonus rewards, including: Courage Talismans (Fierce Subtype).

Christmas Soul Fragments can be traded in store for Cosmic Bounty Hunter Talismans, Heroic Souls and the Frost Giant himself!

Completing Event Challenges will grant various other rewards, including more Christmas Soul Fragments, Warrior Souls, Parcel Talismans, Bloody Icicles and more!

Bloody Icicles is the event currency of our Deck the Hells event running until January 3rd 4pm PT.

Trade your Bloody Icicles in the Event Store for rare rewards including Abominable Eddie, Cosmic Sinister Solstice Talismans and more!

Christmas Soul Details!

The Christmas Soul is a limited time event soul which guarantees a 3★ to 5★ character of any class. This soul has an increased chance of summoning Christmas characters from years past, and has an exclusive chance of summoning 5★ Warrior Frost Giant.

Each Christmas Soul summoned will also grant the following bonus rewards:
10 Frost Giant Soul Fragments
10 Mythical Christmas Soul Fragments
20 Talisman Gold Red Soul Fragments

750 Frost Giant Soul Fragments guarantees 1 5★ Warrior Frost Giant.

500 Christmas Mythical Soul Fragments guarantees 1 ★ Christmas characters from years past including Santa Claws and Comet, Dark Advent Angel, Ghost Of Christmas Spirit and more!

400 Talisman Gold Red Soul Fragments guarantees a Tier 1 to Tier 3 Gold or Red Cosmic Talisman and 5★ Gold Idol.