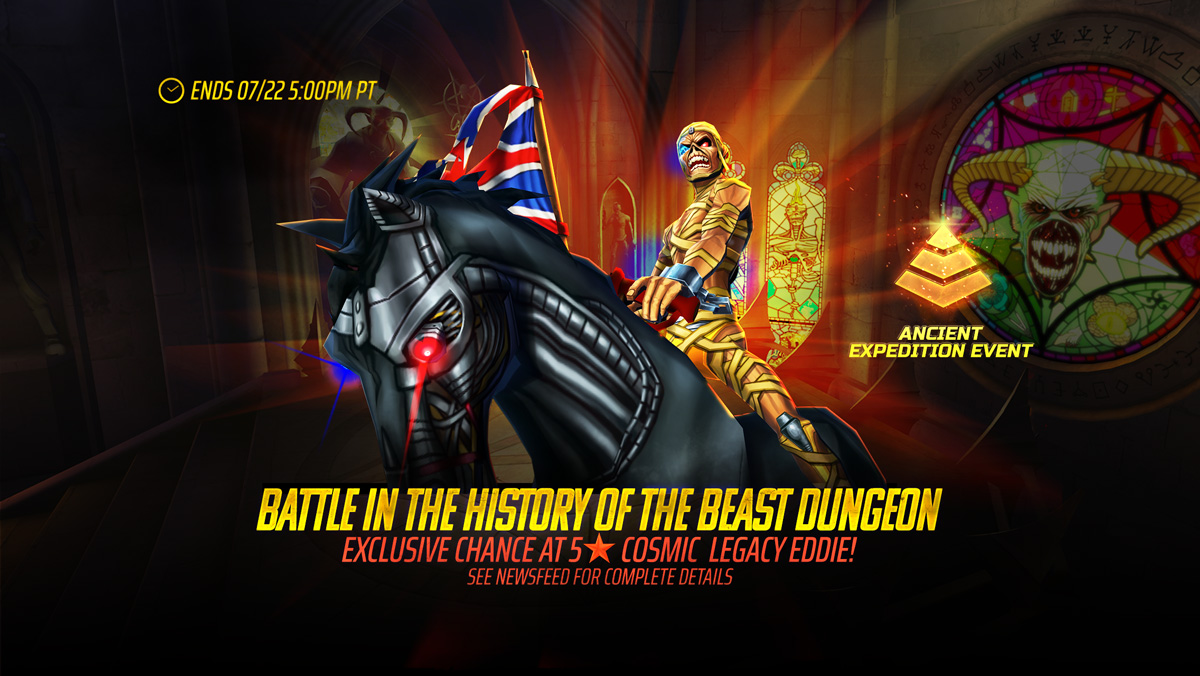 15 Jul

History of the Beast – Exclusive Chance at 5★ Cosmic Legacy Eddie

Riding forth, a figure of legend, Legacy Eddie takes to the field! An amalgamation of multiple shards of his own soul, Legacy Eddie rocks on, with various powerful abilities inherited by his predecessors. Being a Living Legacy himself, this Eddie will bring incredible tactical flexibility, while also providing superior Immunity to his allies.

Get full character details in the Compendium!

From now until July 22nd, 5 PM PT, battle through 4 difficulty settings in the History of the Beast dungeon!

The first time you complete Normal, Hard or Madness, you will earn set rewards including:

Historical Souls
Limbo Talismans (Power Subtype)

Your first Insanity run will grant T3 2★ Cosmic Evo Runes and Talisman Epic Soul Fragments.

All subsequent victories are guaranteed to provide:

Exhibit Tour Tokens
Dungeon Fragments
A chance of up to 2 bonus rewards, including: Slothful Talismans (Power Subtype).

Exhibit Tour Tokens can be traded in store for Historical Souls in bundles of 1, 3 and 10, Cosmic Celtic Talismans, and Legacy Eddie himself.

Note: At the end of this event, any unspent Currency will be automatically converted into Dungeon Soul Fragments at a 10% rate. See our Event Currency guide here for more details on the system overall:

Completing Event Challenges will grant various other rewards, including more Exhibit Tour Tokens, Assassin Souls, new Scorpio Talismans (Power Subtype) and Discovered Riches!

Scorpio Talismans are blue talismans with a 2-set effect. Equipping this set will do the following:

Enemies take random damage whenever they heal, based on the amount healed, until they die every turn. Whenever you are hit, inflict Cleave for 9 turns to the attacking enemy.

Gain the following Ascendant Effect if any other Zodiacal Talismans are active on self:

Perfect Basic Attacks grant Magic Penetration, Armor Penetration, deal additional true damage to all enemies and inflict Crave, Exhaust, Blood Lust and Smite for 2 turns to the target. Gain Accuracy Up, Echo, or Perfect Revenge for 1 turn at the start of battle and at the start of your turn.

Historical Soul Details!

The Historical Soul is a limited time event soul which guarantees a 3★ to 5★ character of any class. This soul has a 2x chance of summoning 5★ non-highlight characters, and has an exclusive chance of summoning 5★ Cosmic Legacy Eddie.

Each Historical Soul summoned will also grant the following bonus rewards:
10 Legacy Eddie Soul Fragments
10 Mythical Soul Fragments
20 Talisman Gold Red Soul Fragments
750 Legacy Eddie Fragments guarantees 1 5★ Cosmic Legacy Eddie.
400 Talisman Gold Red Soul Fragments guarantees a Tier 1 to Tier 3 Gold or Red Cosmic Talisman and 5★ Gold Idol.