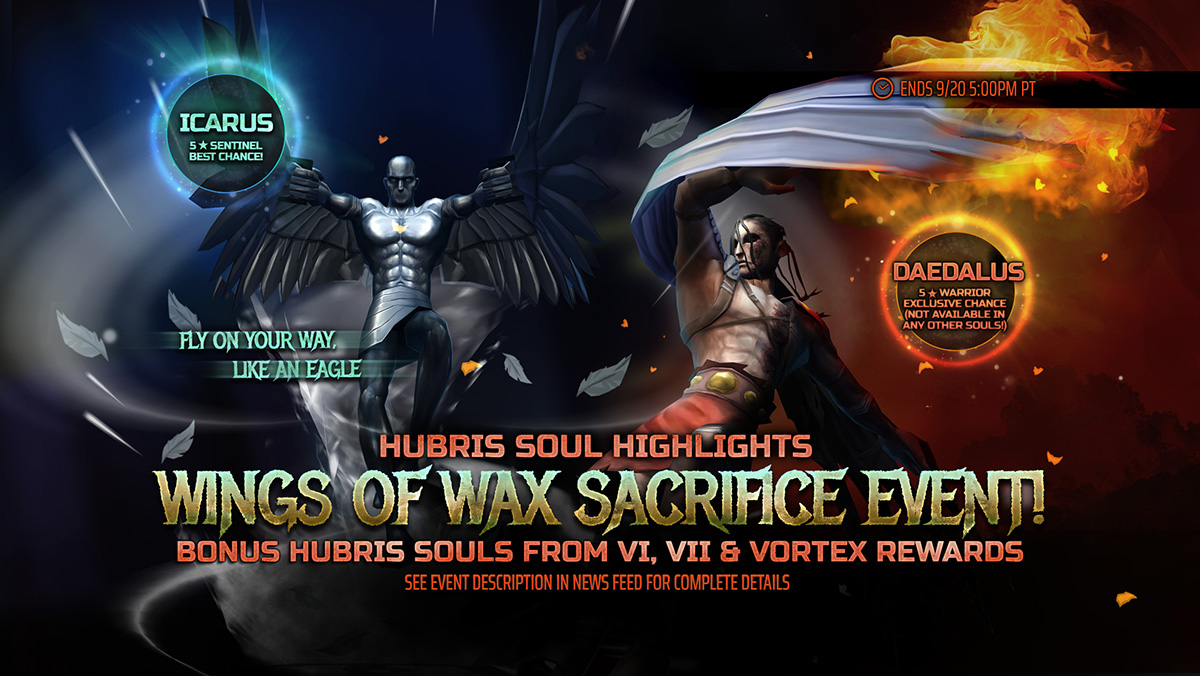 13 Sep

Icarus Soars into Legacy of the Beast – Wings of Wax Sacrifice Event Starts Today!

Earn Icarus and Daedalus from Sacrifice!

Singed by the hubris of mankind, Daedalus and Icarus descend from the heavens to join the cast of Legacy of the Beast!

Earn Hubris Souls for a chance of summoning:
Icarus, a 5⭐ Sentinel and a permanent addition to the Book of Souls.

This all-enemy magic attacker applies magic burns, steals effects based on the presence of burns and increases the Power and Fury Generation of all allies while healing them.

Daedalus, a 5⭐ Warrior who is ONLY available in the Hubris Soul.

While he will occasionally be featured in Heroic Soul Rotations, this character will NOT be added to any other Souls, making the Hubris Soul your best shot at securing this character.

This winged mad-man is a damage over time (DoT) attacker who applies a random number, type, and duration of burns to all enemies with each action.
Hubris Souls are available in packs of 1, 3 or 10 from the LOTB Specials Store. They can also be earned through Sacrifice!
From September 13th to September 20th at 5pm PT, all Tier VI, and Tier VII Sacrifices, plus Vortex Rewards will be GUARANTEED to grant you with a bonus of Hubris Souls, in addition to normal sacrifice rewards.
Earn 5 Hubris Souls from Tier VI sacrifices
Earn 10 Hubris Souls from Tier VII sacrifices
Earn 5 Hubris Souls from Vortexes
Hubris Souls are limited time event souls which guarantee a 3⭐ to 5⭐ character of any class, with an increased chance of summoning Icarus, and an EXCLUSIVE chance of summoning Daedalus!
SPECIAL EVENT ADDITION: Earn HEROIC SOUL FRAGMENTS by completing Sacrifice themed Event Challenges! These new challenges will only be available until September 20th at 5pm PT.
Meet the requirements to earn up to 300 Heroic Soul Fragments! Collect these fragments from this and other events to get souls that have a special, rotating list of available characters!
Battle Gods and Monsters today -> http://m.onelink.me/49d39710