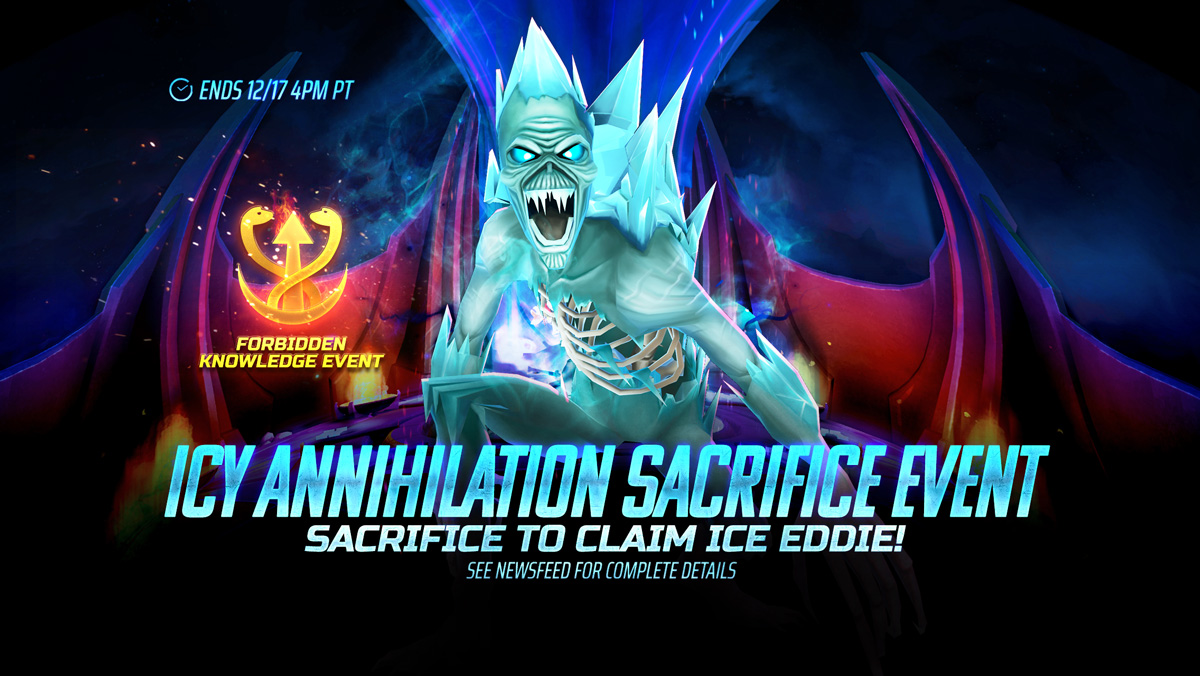 10 Dec

Icy Annihilation (Sacrifice) – Sacrifice for Ice Eddie!

Ice to meet you!

Freeze enemies in their tracks with Ice Eddie! This 5* Magus Freezes enemies and protects himself with Blizzard and Snow Shields. He also comes equipped with a Passive that prevents enemies from reviving and a Fury that inflicts Perfect Freeze and permanently decreases MR by 100%.

Get full character details in the Compendium!

From now until December 17th at 4PM PT, earn bonuses from each tier of Sacrifice, in addition to normal sacrifice rewards. 

Bonus rewards for each tier are as follows:
Tier I sacrifices have a bonus of either 2 Frozen Blood Currency

Tier II sacrifices have a bonus of 6 Frozen Blood Currency

Tier III sacrifices have a bonus of 20 Frozen Blood Currency

Tier IV sacrifices have a bonus of 60 Frozen Blood Currency

Tier V sacrifices have a bonus of 150 Frozen Blood Currency

Tier VI sacrifices have a bonus of 250 Frozen Blood Currency

Tier VII sacrifices have a bonus of 500 Frozen Blood Currency

Vortexes have a bonus of 750 Frozen Blood Currency
Frozen Blood Currency is traded in the Store for the brand new ICE EDDIE, various Souls, a series of packs that contain Sentinel Awakening Materials and more! These packs will give you the opportunity to get Sentinel Awakening Materials for every star tier! 
You can see your current currency amounts by checking the Event tab in the Challenge menu and the Event tab in Store!
At the end of this event, any unspent event currency will be automatically converted into Alchemist Soul Fragments at a 1% rate.
Complete Challenges to earn a variety of rewards including various Awakening Shards, Warrior Child of the Damned Fragments and Equilibrium Fragments.
Equilibrium Fragments are the event currency of our Forbidden Knowledge Clan Mega event that is running until January.
Trade your Equilibrium Fragments in the Event Store for rare rewards including Baphomet, Rare Talismans and more!
You can learn more about this featured event in the Forbidden Knowledge event post!
SPECIAL EVENT ADDITIONS:
Trade extra Alchemist Fragments, Rare or Common Souls for additional rewards! You can see the full list of items in the Event Store!
Did you know you can double or even triple your rewards for a sacrifice? Doing a sacrifice with a higher amount of essence than the minimum required gives you a chance of getting double rewards based on how much you've exceeded the essence requirement.