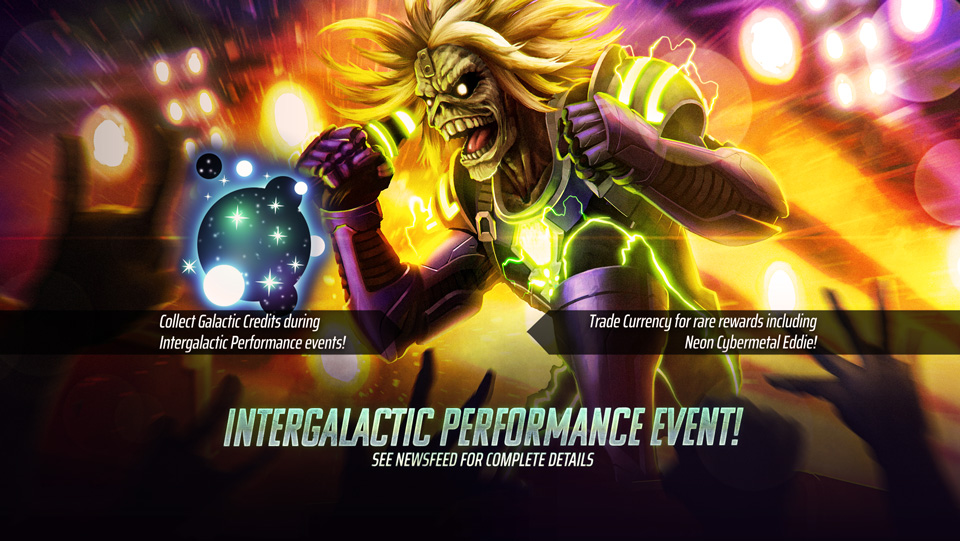 31 Oct

Intergalactic Performance – Info and Discussion

Intergalactic Performance is a series of events that will run through the month of November. These events will all grant the exact same currency type – Galactic Credits!

There will be a total of 9 Intergalactic Performance associated events.

Events where you are earn Galactic Credits Currency are as follows:

Refined Mechanism (Sands)**
The Vengeful Spirit (Brave New World)
Decisive Reprisal (Evolution)
Soul Transmission (Dungeon)
The Deadly Rose (Arena)
Korskal, A Stranger In Time (Fragment)
Sacrificial Boar (Book Of Souls)
Strange Times (Raid Boss)**
Shattered Seal (Frontier Dungeon)

**Clan events! Extra event challenges will be available to players who belong to a Clan. Some of these Challenges will contain Solo or Group targets. Clan Solo event challenges count your progress alone (you still need to be in a Clan to see these challenges). Clan Group event challenges will count the efforts of all members of your Clan towards the ultimate goal!

BONUS: For the month of November, Galactic Credits will also be earnable through infinitely repeatable event challenges involving the Labyrinth, The Haunted Boneyard and Raven's Altar Frontier Dungeons!

Trade your Galactic Credits in the Event Store for rare rewards including 5★ Neon Cybermetal Eddie, Cosmic Saga Final Frontier, Cosmic Vision and Cosmic Valhalla Maiden Talismans, plus more!

Neon Cybermetal Eddie takes the stage. This 5★ Warrior excels at controlling the pace of the battle by granting his team Extra Turns with his echoing screams. He also uses his futuristic tech to jam enemies attacks by applying Blind, Seal and Silence.

Intergalactic Performance offers will be available in the Event store until 4PM PT on December 3rd 2022!

After this time, all Event store items will disappear and event currency will be automatically converted into Precious Soul Fragments at a 10% rate.