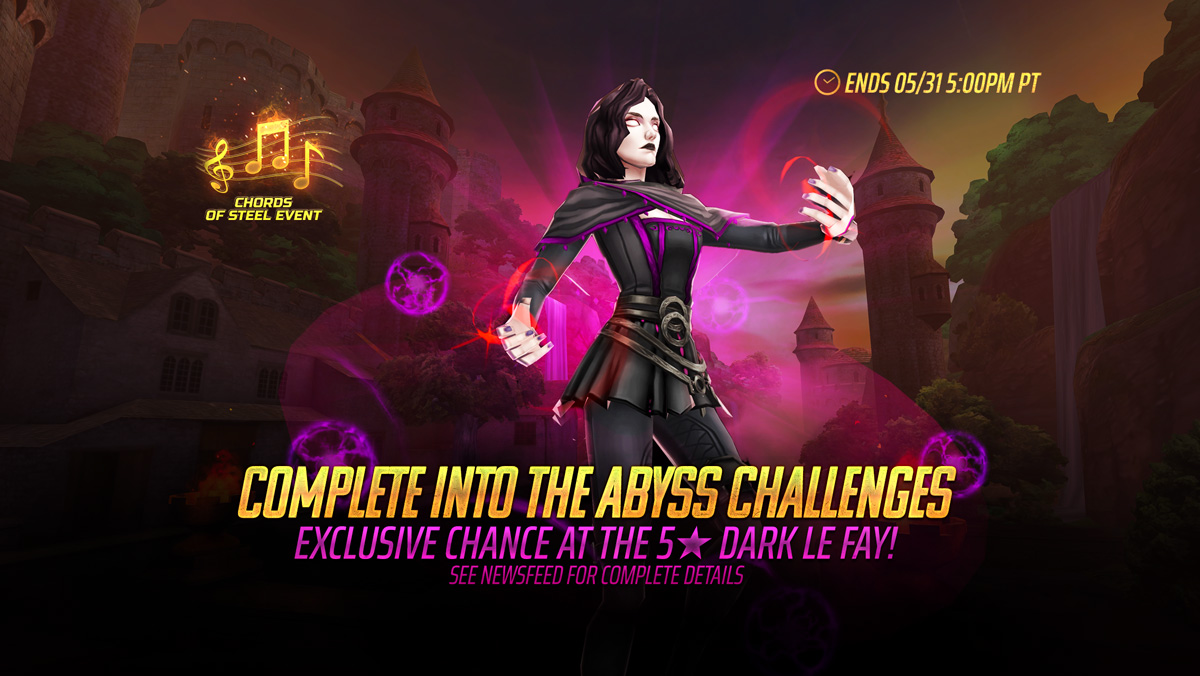 24 May

Into the Abyss (Sands) – Exclusive Chance at Dark Le Fay!

Corruption has driven Morgan to the brink! Dark Le Fay is a 5★ Assassin who specializes in dealing random damage to all enemies and decimating their stats. She further disadvantages enemy teams by inflicting Passive Disable and stunning her foes.

Get full character details in the Compendium!  

From now until May 31st at 5PM PDT, complete a mix of individual and Clan event challenges to earn rewards such as Eldritch Souls, new Taurus Talismans, Void Currency Night City and Nautical Awakening Shards, Disguised Currency and more! 

Void Currency can be traded in store for Gluttonous Talismans, Cosmic Lycan Talismans and various Cosmic Talismans Evo Materials.

Taurus Talismans are a green talisman with a 2-set effect. Equipping this set will do the following:

Remove all Immunity and Vanish effects, including Golden effects, from all enemies, inflicting a number of Cleave effects for 2 turns on all enemies for each effect removed this way at the start of battle and at the start of your turn. Grant Perfect Accuracy, Perfect Health and Increase ATK, MAGIC, DEF and MR for 1 turn after another ally takes damage.

Gain the following Ascendant Effect if any other Zodiacal Talismans are active on self: 

Steal all Golden effects and deal true damage to each enemy equal to the remaining number of Beneficial effects on them after each action. Once per battle, revive to MAX HP and gain Endure for 2 turns when you die.

Eldritch Soul Details!

Eldritch Souls can be earned via event challenges, and are also sold for Ironite in packs of 1, 3 and 10.

The Eldritch Soul is a limited time event soul which guarantees a 3★ to 5★ character of any class and a 2x chance of summoning 5★ non-highlight characters. It also has an EXCLUSIVE chance of summoning 5★ Assassin Dark Le Fay, and 5★ Fomorians (Gunner and Magus).

Each Eldritch Soul summoned will also grant the following bonus rewards:
10 Dark Le Fay Soul Fragments

10 Mythical Soul Fragments

20 Talisman Gold Red Soul Fragments
750 Dark Le Fay Soul Fragments guarantees 1 5★ Assassin Dark Le Fay.
400 Talisman Gold Red Soul Fragments guarantees a Tier 1 to Tier 3 Gold or Red Cosmic Talisman and 5★ Gold Idol.
Disguised Currency is the event currency of our Chords of Steel event running throughout May.
Trade your Disguised Currency in the Event Store for rare rewards including Iron Mask Eddie, Cosmic Mask Talismans and more!
You can learn more about this featured event in the Chords of Steel event post here!
IMPORTANT: Into the Abyss is the FINAL Chords of Steel associated event. Once this event ends you will no longer be able to collect Disguised Currency!