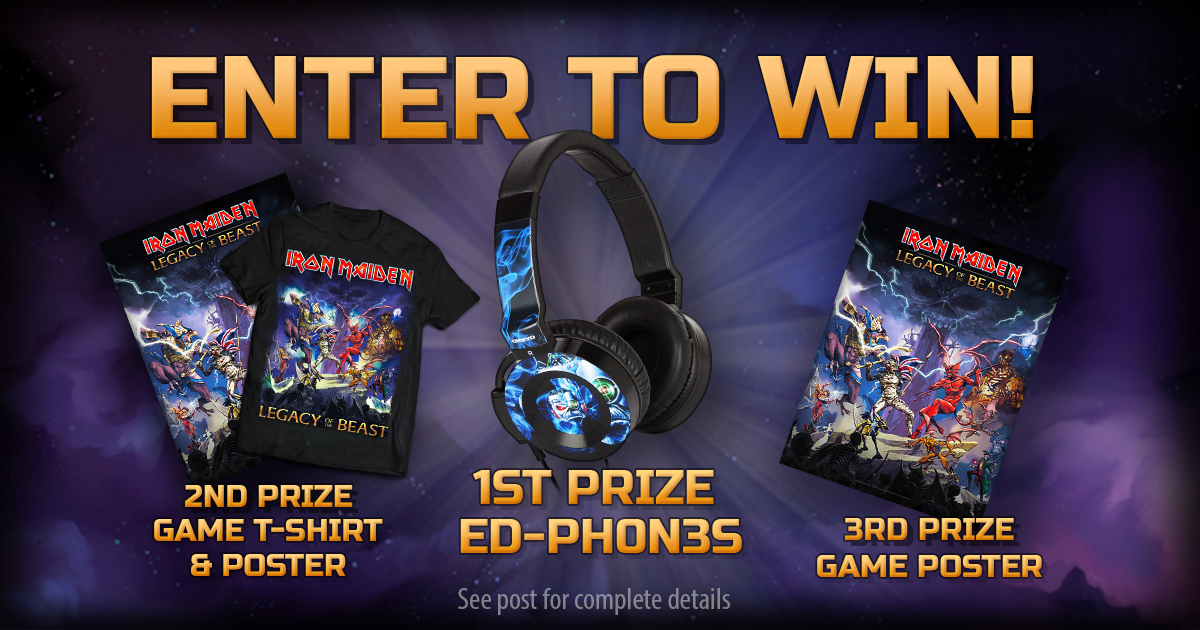 23 Feb

Iron Maiden: Legacy of the Beast Arena Team Building Contest

The contest is now closed! Thank you for your participation.

Win a pair of ED-PH0N3S and experience the incredible sounds of Maiden as you play!

We're holding a contest to celebrate the global launch of the PVP Arena!

To enter, submit the following:

4 SCREENSHOTS (1 PER CHARACTER) – featuring the Talisman buildout of each character on your top offensive Arena team. Simply go into the MY TEAM screen and tap the TALISMAN TAB on your Lead Eddie and 3 supporters!

A WRITTEN DESCRIPTION on why this specific combination of characters and talismans is best suited for battle in the Arena (max 250 words).

**Entries will be judged based on Arena viability, team synergy, and creativity!

All entries must be submitted via email to Nodding Frog at contest@noddingfrog.com

PRIZES!
First place: Onkyo ED-PH0N3S – appr. value – $299 USD
Second place: An Iron Maiden: Legacy of the Beast t-shirt, and an Iron Maiden: Legacy of the Beast poster – appr. value – $30 USD
Third place: An Iron Maiden: Legacy of the Beast poster – appr. value – $10 USD
Submit your entry no later than March 9, 2017.
Chances of winning will depend on the number and quality of the entries.
The Contest is open to all residents of Canada, the United Kingdom and the continental United States (excluding residents of Quebec, Canada, Northern Ireland and Rhode Island, USA)
Click the link below for full contest rules: https://ironmaidenlegacy.com/iron-maiden-legacy-of-the-beast-arena-team-building-contest-rules/
**Arena viability will be scored based on the submitted team's ability to attack and survive battles against a set number of adversaries commonly found in the Arena, as determined by the Judges. Each submitted team will be judged AS IF the characters and talismans are fully powered up (5* Level 100 for characters, 5* Level 50 for talismans).