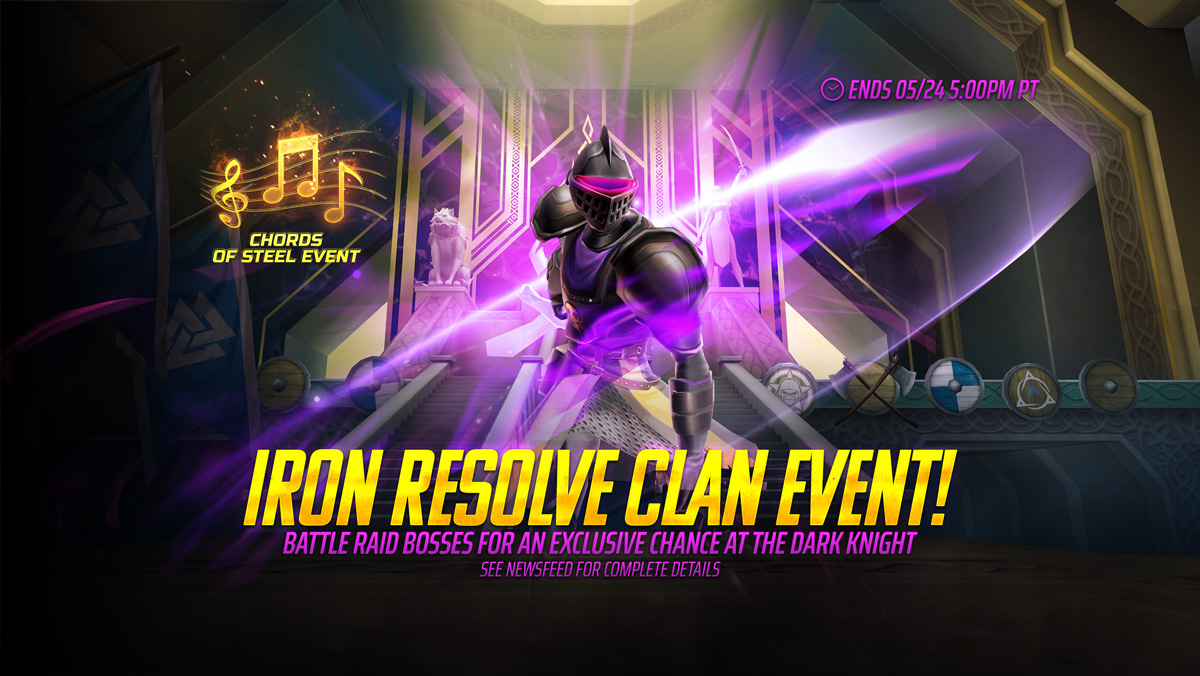 17 May

Iron Resolve (Raid Boss) – Exclusive Chance at The Dark Knight!

The Dark Knight is here to sow chaos! This 5⭐ Assassin has a 50% chance to Critically Strike his opponents and can inflict HP Drain and Block Beneficial Effects on enemies! 

Get full character details in the Compendium!

From now until May 24th at 5PM PDT, complete Clan event challenges in Raid Boss to earn rewards such as Clan God Soul Fragments, Fortified Souls, Sentinel Awakening Materials, Disguised Currency and more!

BONUS: Every Raid Boss battle is guaranteed to provide you with Fortified Soul Fragments! Fragments drop in amounts of 50, 100, 150 or if you are very lucky, 200!

Fortified Soul Details!

The Fortified Soul is a limited time event soul which guarantees a 3★ to 5★ character of any class. This soul has a 2x chance of summoning 5★ non-highlight characters, and has an exclusive chance of summoning 5★ Assassin Dark Knight.

Each Fortified Soul summoned will also grant the following bonus rewards:
10 Dark Knight Soul Fragments

10 Mythical Soul Fragments

20 Talisman Gold Red Soul Fragments
500 Dark Knight Soul Fragments guarantees 1  5★ Assassin Dark Knight.
Disguised Currency is the event currency of our Chords of Steel event running throughout May.
Trade your Disguised Currency in the Event Store for rare rewards including Iron Mask Eddie, Cosmic Mask Talismans and more!
You can learn more about this featured event in the Chords of Steel event post here!