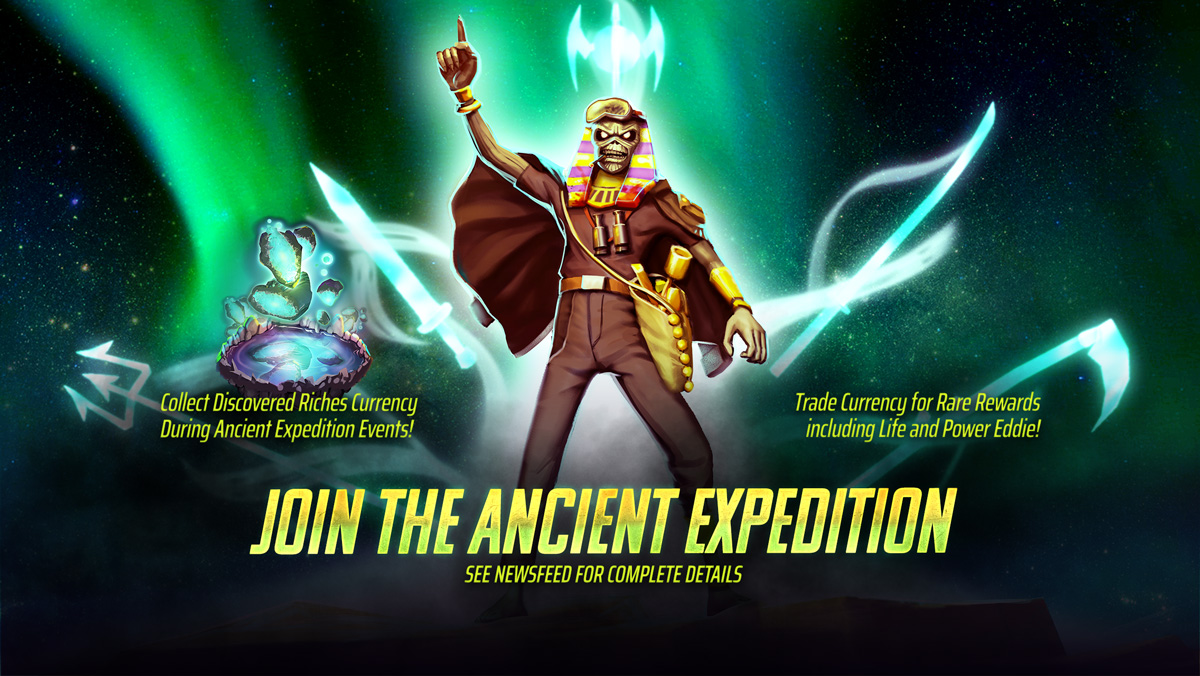 30 Jun

Join the Ancient Expedition

Ancient Expedition is a series of events that will run through the month of July. These events will all grant the exact same currency type – Discovered Riches!

There will be a total of 8 Ancient Expedition associated events.

Events where you are earn Discovered Riches are as follows:

Sharpened Steel (Frontier)
Ride or Die (Variety)**
5th Anniversary Celebration (Sands)
Encased in Armour (Evolution)
Blazing Tracks (Raid Boss)**
History of the Beast (Dungeon)
Somewhere in Time (Cosmos & Frontier)
Skull and Sword (Fragment)

**Clan events! Extra event challenges will be available to players who belong to a Clan. Some of these Challenges will contain Solo or Group targets. Clan Solo event challenges count your progress alone (you still need to be in a Clan to see these challenges). Clan Group event challenges will count the efforts of all members of your Clan towards the ultimate goal!

BONUS: For the month of July, Discovered Riches will also be earnable through infinitely repeatable event challenges involving the Trooper, Powerslave and Road to Valhalla Dungeons!

Spend your Discovered Riches in the Event store tab to get rare rewards including Life and Power Eddie, Cosmic Legacy Talismans and other exciting rewards!

Life and Power Eddie is a direct nod to some of the most iconic album cover Eddies! This 5★ Sentinel is equipped with the Golden Sons ability that removes all golden effects from enemies. The more effects stolen, the more powerful his Power ability, Preserving the Ages will be! His Fury, Legacy Weapons, is an homage to the other iconic Eddies found in Legacy of the Beast, and summons various ghostly weapons to do his bidding.

Get full character details in the Compendium!

The Cosmic Legacy Talisman provides an exclusive bonus when equipped to the upcoming Legacy Eddie, Life and Power Eddie, Piece of Mind Eddie, Trooper Eddie, Mummy Eddie, Cyborg Eddie, Seventh Son Eddie and Mystic Eddie characters. This Talisman increases stats in battle, and reduces incoming damage. Its wearers will also gain the following effects:

Immunity to Permadeath, Perfect Death and Doom. When you die for the first time, grant Perfect Revenge for the duration of battle to all other allies. After being killed in this way, at the start of your next turn, if at least one other ally is still alive, and hasn't died since the turn you died: instantly kill a random ally, revive self up to MAX HP, gain Ascension and Perfect Immunity for the duration of the battle, and permanently increase All Stats of self by 100%. Whenever another ally would die, take true damage equal to 25% of your MAX HP, revive that ally up to MAX HP and grant them Ascension for the duration of the battle. An ally that dies again before the start of your next turn is unaffected by this ability.

Currency can also be traded for Cosmic Desert Deity Talismans, as well as various Souls, currencies and powerup materials.

Ancient Expedition offers will be available in the Event store until 5PM PT ON August 3rd 2021!

After this time, all Event store items will disappear and Discovered Riches will be automatically converted into Precious Soul Fragments at a 10% rate.