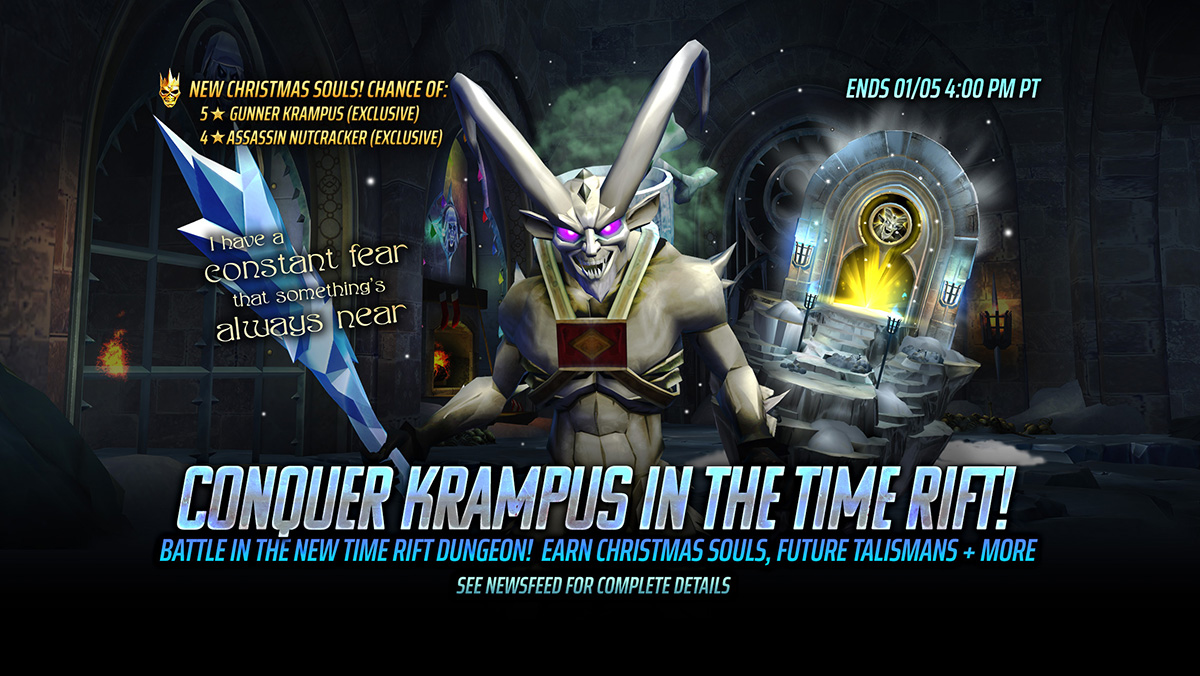 22 Dec

Krampus Night – Battle Coalgiver Eddie in a limited time Christmas Dungeon!

Earn Christmas Souls from our Krampus Night Dungeon Event!

From December 22nd at 4pm PT until January 5th at 4PM PT, battle in our newest Dungeon and complete event challenges for Christmas Souls, Snow Soul Fragments and rare Talismans!

The Christmas Soul is a special limited time soul with a wide variety of highlight characters, some new, some old! This soul guarantees a 3★ to 5★ character of any class, with an exclusive chance of seasonal Christmas characters, including Coalgiver Eddie and 2 NEW characters – Gunner Krampus and Assassin Nutcracker!

Christmas Souls can be earned in one of three ways:
Brave the icy chambers of our latest dungeon and duel against Coalgiver Eddie, Krampus and their army of killer Christmas characters. The first time you complete one of the 3 floors available, you will be granted set rewards including Christmas Souls and Future Talismans. All subsequent victories are guaranteed to provide Christmas Soul Fragments, as well as a chance of up to 2 bonus rewards, including Snow Soul Fragments and Eternal Talismans.
There are Event Challenges that will grant you Christmas Soul Fragments. Getting 200 fragments will earn you a Christmas Soul!
The store offers Christmas Souls for Ironite in the usual bundle sizes of 1, 3, or 10.
Christmas Souls contain the following highlights:
Exclusive Chance of:
NEW Krampus (5 ⭐ Gunner): This new Krampus is all about magic damage! Take down opponents one by one with single target attacks, and live to fight another day with the Hunger passive which automatically heals Krampus for every hit of damage he takes!
NEW Nutcracker (4 ⭐ Assassin): A Single-Target True damage assassin who can execute low HP enemies while self sustaining and extending negative effects on enemies!
Krampus (5 ⭐ Assassin)
Coalgiver Eddie (4 ⭐ Warrior)
Possessed Snowman (4 ⭐ Warrior)
Elf of the Damned (4 ⭐ Sentinel)
Cheering Wickerdeer (4 ⭐ Gunner)
Hunter Wickerdeer (4 ⭐ Assassin)
Festive Wickerdeer (3 ⭐ Sentinel)
Each Christmas Soul summoned will also grant bonus rewards of 10 Krampus Fragments, and 100 Snow Soul Fragments.
Collecting 750 Krampus Soul Fragments guarantees Gunner Krampus!
Snow Soul Fragments can be used on limited time items in the Specials Store (available until January 12!), or turned into a Snow Soul which guarantees a 4★ Magus Possessed Snowman!
Please note that after the conclusion of this event, collecting more Christmas Soul Fragments will not be possible, but any extras you have can be converted to Precious Soul Fragments.
Battle in the Time Rift today -> http://m.onelink.me/49d39710