13 Apr

Legacy of the Beast 2 Month Recap!

Quicker than you can say "Number of the Beast", another month has gone and passed. Here's all the BIG news you may have missed!

Legacy of the Beast Cinematic Trailer Dropped!

The official Legacy of the Beast trailer was released on Leap Day. Since then we've received awesome feedback from metalheads everywhere, and the video has topped over 200,000 views! Rock out to the trailer below. \m/ -_- \m/

More Characters Unveiled!

We've given our social media followers first looks at a number of incredible characters over the past month, including a look at 2 more of Eddie's forms!

The most popular reveal during this time was of Visions Eddie, our hard hitting crowd-control tank whose nearly indestructible body is composed entirely of liquid metal. Thanks to you, all our Visions Eddie posts were shared over 500 times and seen by over 1 million people!

Founders Packs Arrived!


We announced the arrival of Legacy of the Beast Founders Packs!
All 7 of our packages come with a personalized Digital Art book with over 120 pages of Legacy of the Beast concept art, PLUS forum access with EXCLUSIVE articles.
Check out all our offerings and pick the pack that best suits you.
Art Show Announced!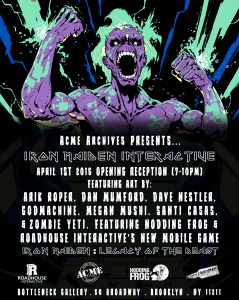 We made an electrifying announcement last week – the Iron Maiden Interactive Art Show opens April 1!
Do you live in NYC, or will you be there for the upcoming Iron Maiden show? Visit the Bottleneck Gallery between April 1- 8 and indulge in more Maiden art than you can shake a stick at!!
The art show will also feature incredible art from Iron Maiden: Legacy of the Beast, as well as work from artists such as Santi Casas, Megan Mushi, and Arik Roper.
You can see all this incredible content as it happens on our social channels. Be sure to follow us on Facebook, Twitter, Instagram and Google Plus today!