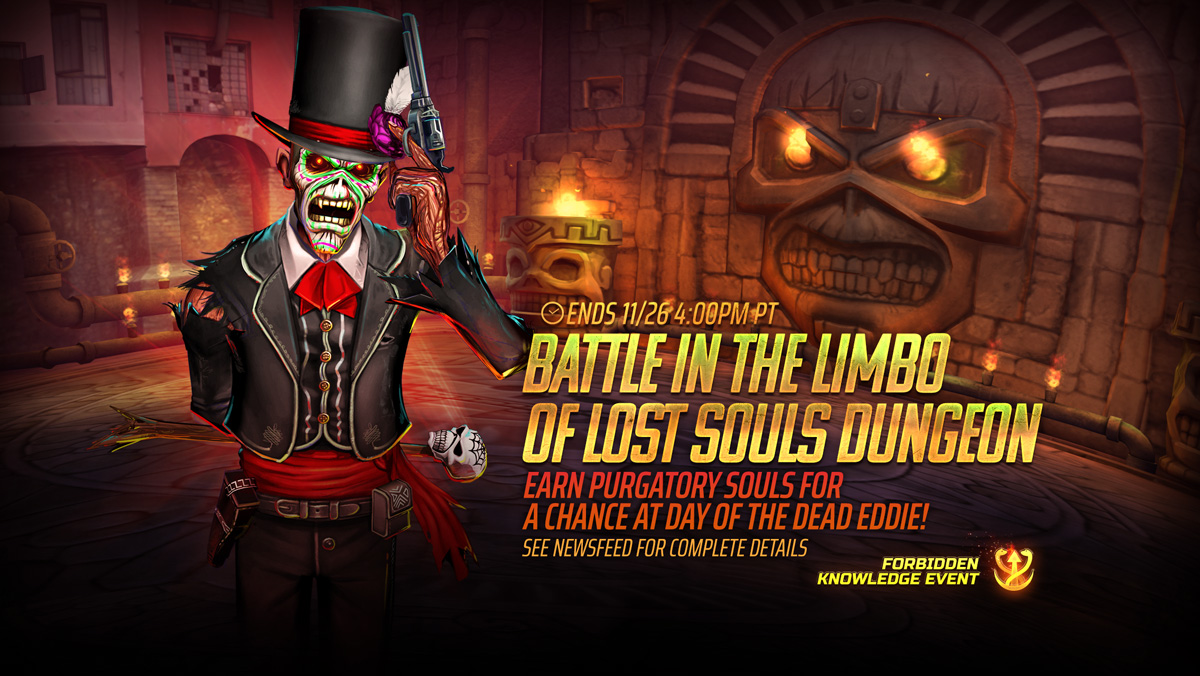 19 Nov

Limbo of Lost Souls – Battle to earn Day of the Dead Eddie!

Day of the Dead Eddie is the fully skill sharded special edition version of Shaman Eddie who comes armed with the Dead Man's Party passive, replacing the regular Dead of Nightmares fury attack. This incredible new character was inspired by the cover of Iron Maiden's new Live album, Nights of the Dead, "Legacy of the Beast" Live in Mexico City, available November 20th!

Get full character details in the Compendium!

From now until November 26th at 4PM PT, escape limbo and return to the land of the living! The Limbo of Lost Souls dungeon comes with 4 difficulty settings and an exciting new storyline!

The first time you complete Normal, Hard or Madness, you will earn set rewards including:

Purgatory Souls
Past Talismans (Mystical Subtype)

Your first Insanity run will grant T3 2★ Cosmic Evo Runes and Talisman Epic Soul Fragments.

All subsequent victories are guaranteed to provide:

Purgatory Soul Fragments
Dungeon Fragments
A chance of up to 2 bonus rewards, including: [B]Impulse Talismans (Mystical Subtype)[/B].

Purgatory Souls can be earned in 4 ways:
Earn them as first time completion rewards in the Normal, Hard and Madness levels of the event Dungeon.
Earn Soul Fragments every time you completed a dungeon run. The higher the difficulty, the more fragments you will receive.
Complete Event Challenges! Getting 200 fragments will earn you a complete Soul, with up to 10 Souls that can be earned from challenges over the course of the event.
Purchase them in store for Ironite in the usual bundle sizes of 1, 3, or 10.
In addition to Purgatory Soul Fragments, completing event challenges will grant various other rewards, including new Navigation Talismans (Arcane Subtype) and Equilibrium Fragments!
Navigation Talismans are a blue talisman with a 3-set effect. Equipping this set will do the following:
Remove All Beneficial Effects, including Golden effects, from a random enemy at the start of battle and at the start of your turn. Inflict 3 Marks on each enemy that lacks beneficial effects for 2 turns at the start of battle and at the start of your turn.
Equilibrium Fragments are the event currency of our Forbidden Knowledge Clan Mega event that is running until January.
Trade your Equilibrium Fragments in the Event Store for rare rewards including Baphomet, Rare Talismans and more!
Purgatory Soul Details!
The Purgatory Soul is a limited time event soul which guarantees a 3★ to 5★ character of any class and has an increased chance of summoning Shaman Eddie and Mayan Priestesses. It also has an exclusive chance of summoning Day of the Dead Eddie
Each Purgatory Soul summoned will also grant the following bonus rewards:
10 Day of the Dead Eddie Soul Fragments
10 Mayan Priestess Soul Fragments
10 Mythical Soul Fragments
20 Talisman Gold Red Soul Fragments
Collecting 750 Day of the Dead Eddie Soul Fragments guarantees a 5★ Warrior Day of the Dead Eddie!
Collecting 250 Mayan Priestess Soul Fragments guarantees 1 4★ Warrior, Sentinel, Magus, Assassin or Gunner Mayan Priestess.
400 Talisman Gold Red Soul Fragments guarantees a Tier 1 to Tier 3 Gold or Red Cosmic Talisman and 5★ Gold Idol.