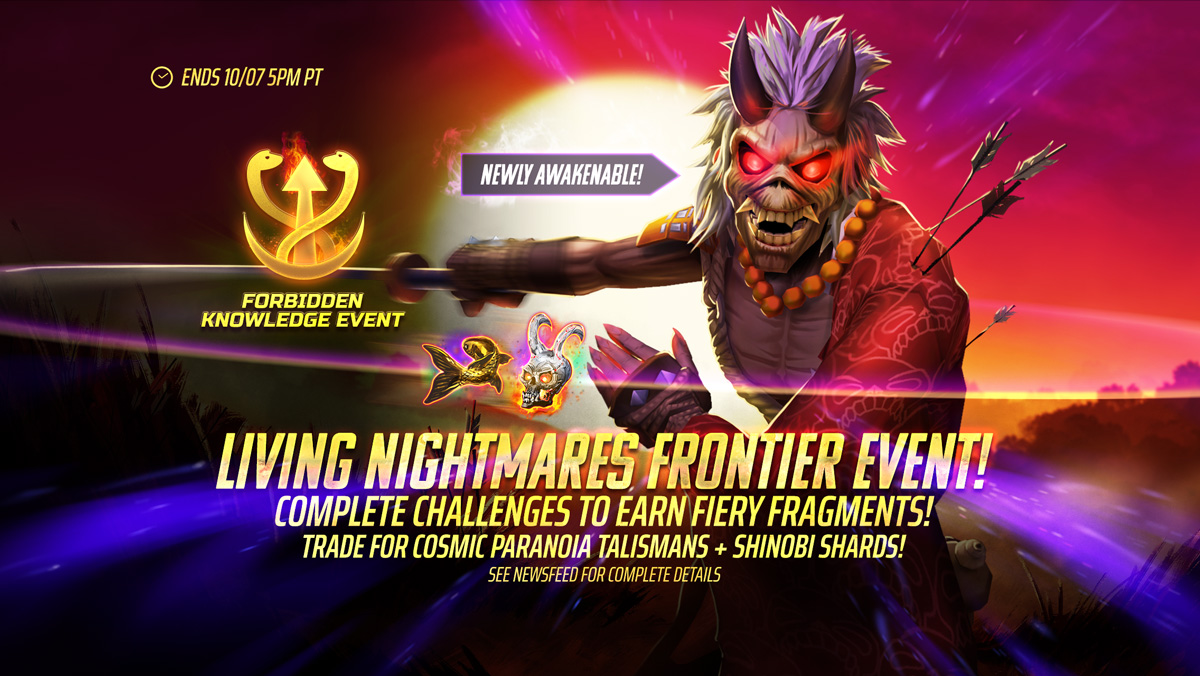 30 Sep

Living Nightmares – Earn Cosmic Paranoia Talismans + Shinobi & Hell Shards!

From now until October 7th at 5PM PT, complete Event Challenges in the Infernal Frontier Dungeon to earn a variety of rewards, including Fiery Soul Fragments, Evo Materials, Equilibrium Fragments and more!

You can access the Infernal Dungeon by:
Completing a repeatable event challenge (Spend 100 Sands of Time)
Claiming 1 free Key Soul in the store
Purchasing Key Souls with Gold (this event only)
Purchasing Key Souls with Frontier Coins.
br>
br>
Fiery Soul Fragments can be traded in store for Hell and Shinobi Awakening Shards, Cosmic Beast Talismans and new Cosmic Paranoia Talismans.
Shinobi and Hell Awakening Shards are the final material needed to fully Awaken Oni Eddie, our latest awakenable hero!
The Cosmic Paranoia Talisman provides an exclusive bonus when equipped to Fear of the Dark Eddie and upcoming characters: Dark Road Eddie, X-Factor Eddie and The Edless Horseman. This Talisman increases stats in battle, and reduces incoming damage. It will also make the wearer:
Inflict Paranoia on a random enemy until they die at the start of battle and at the start of your turn. Paranoid enemies cannot gain beneficial effects, miss all attacks unless they are Perfect Attacks and take a random amount of Additional Random Damage based on their MAX HP and MISSING HP every turn. This effect does not apply to bosses. Prevent all enemies from blocking incoming damage for allies until they die at the start of battle and at the start of your turn.
Equilibrium Fragments are the event currency of our Forbidden Knowledge Clan Mega event that is running until January.
Trade your Equilibrium Fragments in the Event Store for rare rewards including Baphomet, Rare Talismans and more!