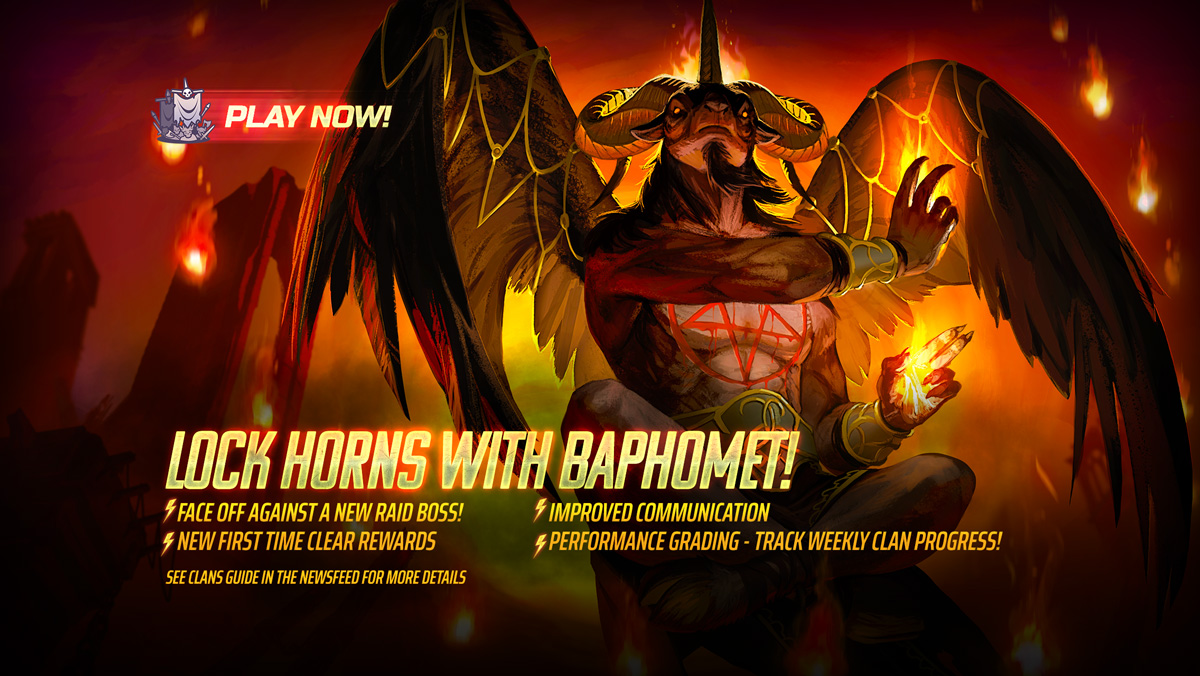 02 Jun

Lock horns with Baphomet for incredible rewards!

A new update is now available!

Our Second Raid Boss is Live!
Lock horns with Baphomet for incredible rewards!

The wall between worlds has started to crumble as the Beast shards wreck havoc across time and space. On this chaotic stage, Baphomet, a god of old, has emerged…

Battle our most challenging Raid Boss yet! Our second raid boss has been released and offers the ultimate test for your Clan to conquer.

Our most recent update has also introduced a number of feature upgrades and quality of life improvements to Raid Boss.

Weekly First Time Clear Rewards!

We've added a new set of rewards for Clan members! All members of the Clan will be granted first time clear rewards for every Raid Boss level completed once per reset. That means that each week, players stand to earn up to 20 First Time Clear Rewards!

Introducing Space Time Amulets!

Refresh 4 random characters with the Space Time Amulet in both Raid Boss and Gauntlet! Players can use these items to have 4 random characters rejoin their roster. Space Time Amulets drop as first time clear rewards in the 5th and final Raid Boss battles as well as in select Clan Events.

Visual Improvements and Performance Grading.

We have improved the health tracker to better showcase the exact amount of health a given raid boss has. We have also introduced a team take down tracker so your Clan can see how many times each level of Raid boss has been conquered.

A number of improvements have also been made to the Clan Lobby. You can now view the current amount of Raid Points your Clan has, as well as the time before the next reset lockdown. We've also added stats similar to what you would find in the Arena! Players can see their Clan's current, last week, and best all time Grade and Raid Point score, as well as the total number of attacks started against all bosses.

Finally, we have introduced performance grading to Raid Boss, to give players a better sense of how they performed during battle! Grades range from F to SSS!

See full details on how to participate in the Raid Boss feature in our in-game Clan guide!

In-Game Strategy Guide!

Need help tackling a challenging level? Try tapping our new Strategy button! You can view the teams and talismans of other players who have recently cleared that level. This button can be found in any level's character select screen. Please note this feature will not be available in PvP or Clan battles.

Please note that you may not see any (or many suggestions) right at launch, however, once a few successful runs of a level have been completed this menu will populate with the information you'll need!

Improved Support System

We've streamlined our support system! Tapping the Support button in the Settings menu now directs players to our help site. This site will provide a number of options for submitting bugs, and includes useful help articles. This system will also improve the support team's ability to filter tickets by specific issues and increase their efficiency in sending responses.

Purchase Resources on the Go!

Players will now be given the option to purchase an exact amount of required resources for Ironite while in the middle of various actions. For instance, if you are short the amount of Gold required to complete an upgrade, a pop up will appear offering the opportunity to purchase the remainder of the gold needed. This new feature allows for less friction during gameplay, letting you complete your upgrades and more without having to visit the store!

New Achievements

4 new Achievements that were previously called out in our tuning notes have been added to the Challenge menu.

New Awakenable Characters

Number of the Beast Eddie and Osiris are now awakenable! You can start powering up these characters to new levels as of this update.

New Store Additions and Improvements

We've revamped the store so you can find what you're looking for with greater ease. Here is the breakdown of the new tabs:
'Featured' tab: This will showcase select packs and a daily free item.
'New' tab: This will feature any packs that have been recently added. For example, event packs will appear here for 1 day before being moved to their own store.
'Event' tab: This will feature all packs related to live events
'Resources' tab: You'll find Ironite and Gold refills here!
Tap the 'More' button at the top right to access individual Stores including Trooper, PvP, Frontier and more.
Finally, as of this update, you'll be able to find a rotating banner pack on offer in store each week! This banner pack will change every Friday at 5pm PT.
Bug Fixes and Improvements
Fixed an issue where a hang could occur in various dungeons when certain talismans were equipped
Fixed the formatting and position of the Sands of Blood timer in the Clan Hub
Fixed an issue where in some cases rewards from some clan challenges were not being granted to players
Fixed an issue where sometimes the rewards popup would not display when attempting to show Gauntlet period rewards
Fixed some issues with the new talisman sorting and search functionality (specifically, Selecting a talisman while it is equipped to a slot will filter based on the talisman slot color instead of the equipped talisman that is present)
Book of Souls Changes
New characters added to the Book of Souls character pool:
Cursed Pharaoh Dog(4* Assassin)