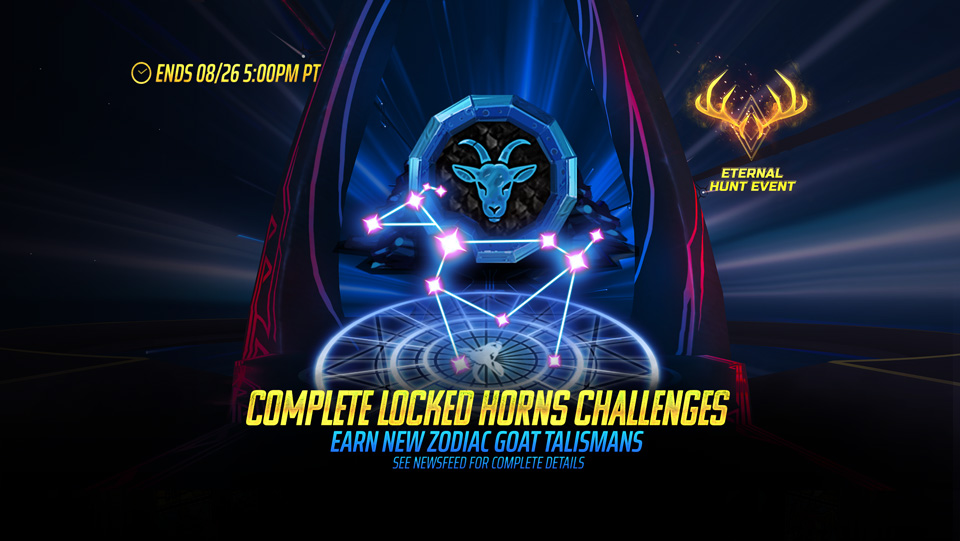 19 Aug

Locked Horns (Time Rift) – Earn new Zodiac Goat Talismans

From now until August 26th at 5PM PDT, complete event challenges in the Time Rift to earn rewards such as Priceless Relics, various Awakening materials, Wild Artifacts and more!

Priceless Relics can be traded in store for new Zodiac Goat Talismans, Evolution Shard Packs, Sands of Blood and more!

The Zodiac Goat Talisman is a blue talisman with a 3-set effect. Equip this talisman set to gain the following effects:

Cannot take more than 5% of MAX HP as damage from a hit for 1 turn if not inflicted with negative effects, including Silver, Unblockable and Innate effects, at the start of your turn. 25% Chance to permanently increase All Stats of self by 25% when you are healed.

Gain the following Ascendant Effect if any other Zodiacal Talismans are active on self:

Immune to being instantly killed.

Note: At the end of this event, any unspent Currency will be automatically converted into Precious Soul Fragments at a 10% rate.

Wild Artifacts are the event currency of our Eternal Hunt event running until October 31st.

Trade your Wild Artifacts in the Event Store for rare rewards including the Cernunnos, Zodiac Talismans and more!