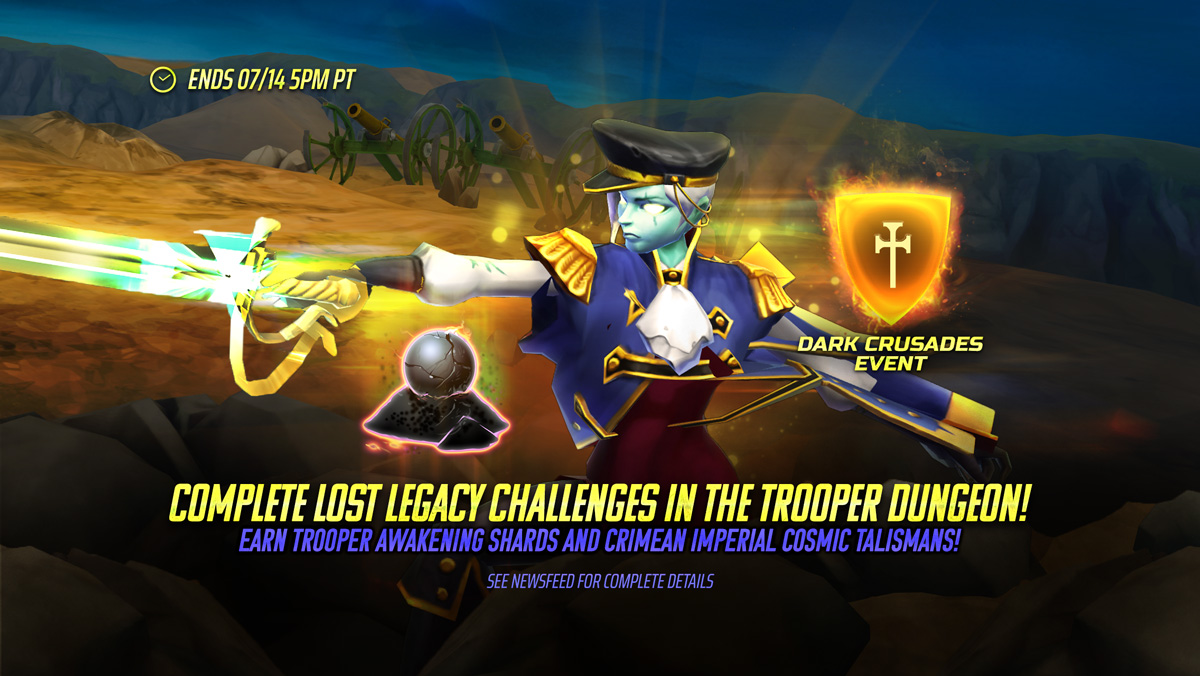 07 Jul

Lost Legacy – Battle for Trooper Awakening Shards and Martyr Fragments!

From now until July 14th at 5PM PT, complete Event Challenges in the Trooper Frontier Dungeon to earn a variety of rewards, including Empire Soul Fragments, Evo Materials, Martyr Fragments and more!

We have recently added a second difficulty setting to this dungeon, so you can now take on both regular AND Hard settings.

During your first playthrough of the Hard difficulty setting, you'll be led into battle by the great Empress Regnant Eupatoria! We've also added 2 new Achievements focused on this new difficulty setting, and you can now gain progress on all previous achievements on both Normal and Hard difficulties!

You can access the Trooper Dungeon by:
Completing a repeatable event challenge (Spend 100 Sands of Time)
Claiming 1 free Key Soul in the store
Purchasing Key Souls with Gold (this event only)
Purchasing Keys with Trooper Badges.
Purchasing Key Souls with Frontier Coins.
Empire Soul Fragments can be traded in store for new Trooper Awakening Shards, Valhalla Maiden Cosmic Talismans and Crimean Imperial Cosmic Talismans.
Trooper Awakening Shards are the final material needed to fully Awaken Baroness Redan, our latest awakenable hero!
The Crimean Imperial Cosmic Talisman provides an exclusive bonus when equipped to Lady Azov, Baroness Redan and upcoming characters Empress Regnant Eupatoria, and Empress Mother Russia, This Talisman increases stats in battle, and reduces incoming damage. It will also make the wearer:
Immune to all Freeze effects. Remove and Prevent all Counterstrike and Revenge effects, including Golden and Innate effects, on each enemy until they die at the start of battle. 50% Chance to inflict an Unblockable Freeze on a random enemy for 1 turn at the start of your turn. Deal Additional True Damage to frozen enemies equal to 25% of their MAX HP after every action.
Martyr Fragments are the event currency of our overarching Dark Crusades event that is running through July.
Trade your Martyr Fragments in the Event Store for rare rewards including Templar Crusader Eddie, Crusader Cosmic Talismans and more!