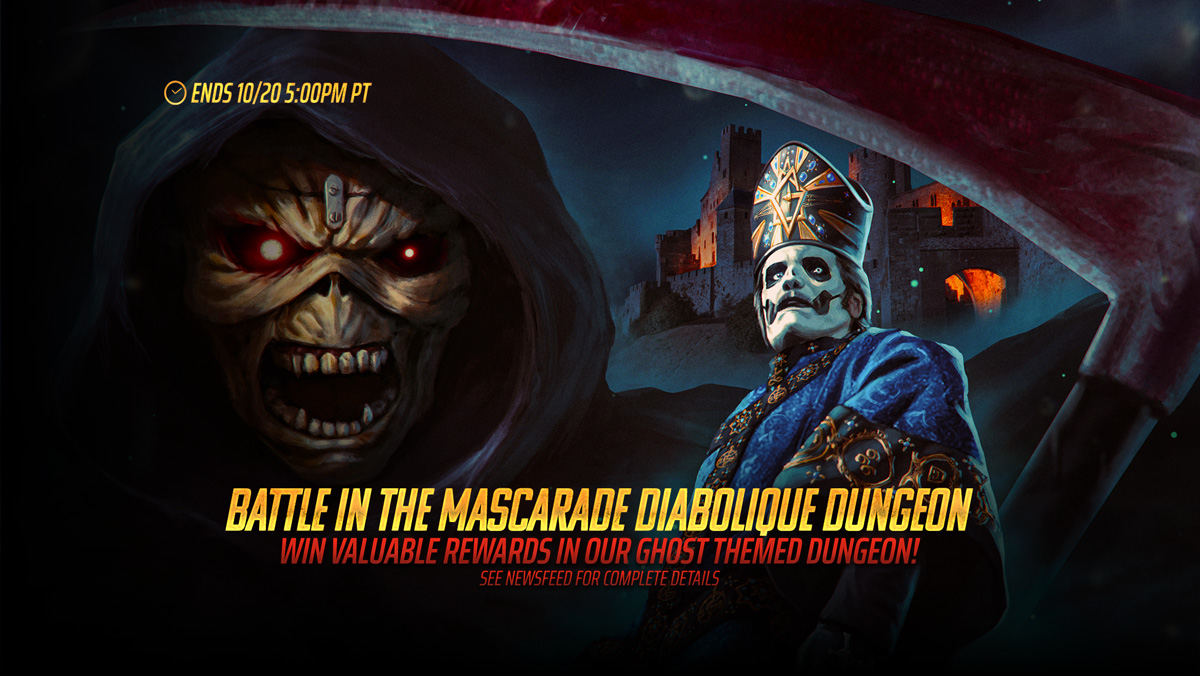 13 Oct

Mascarade Diabolique – Battle in our Ghost themed Dungeon!

You're invited to the Mascarade Diabolique! We're teaming up with Swedish metal band Ghost for another incredible in-game collaboration.

Papa Emeritus IV rises to power! This former Cardinal is a spell caster who pressures the enemy with his powerful magic and specialized synergy. His passive ability, Life Eternal, anoints his allies, blessing them with increased stats and bestowing a variety of powerful effects.

Get full character details in the Compendium.

You can earn the Papa Emeritus VI for free just by logging in! Log in any 7 days between October 13th and November 12th to earn awesome rewards including Papa Emeritus VI himself on the 7th day!

You can get a look at Papa Emeritus VI in action during the Mascarade Diabolique dungeon event. Available until October 20th 5PM PT this special dungeon draws upon themes from the cover of Iron Maiden's 2003 album "Dance of Death" and the video to Ghost's 2018 song, 'Dance Macabre,' an ode to each band's lore! Mascarade Diabolique features a Ghost themed script, 4 difficulty settings and is packed with valuable rewards!

A demonic power has arisen…and it's throwing a party! Grim Reaper Eddie leads the Dancer of Death and Papa Emeritus into battle at a deadly mascarade! All 3 characters will be permanent companions anytime you battle in this area, leaving you 1 character slot to bring the ally of your choice.

The first time you complete Normal you will earn set rewards including:

Moonlight Soul
Rare Soul

Your first Hard and Madness will earn set rewards including:
Moonlight Souls
Grail Talismans (Mystical Subtype)

Your first Insanity run will grant T3 2★ Cosmic Evo Runes and Talisman Epic Soul Fragments.

All subsequent victories are [b]guaranteed[/b] to provide:

Ritual Reagents Currency
Dungeon Fragments
A chance of up to 2 bonus rewards, including: [B]Amulet Talismans (Mystical Subtype)[/B].

Ritual Reagents Currency can be traded in store for Moonlight Souls in bundles of 1, 3 and 10, and the wicked imposter, Cardinal Immortus!

Note: At the end of this event, any unspent Currency will be automatically converted into Dungeon Soul Fragments at a 10% rate. See our Event Currency guide here for more details on the system overall:

Completing Event Challenges will grant various other rewards, including more Ritual Reagents Currency, Gunner Souls, Virgo Talismans (Mystical Subtype) and Heavenly Currency!

Heavenly Currency is the event currency of our Divine Origins event running from September to the end of November.

Trade your Heavenly Currency in the Event Store for rare rewards including Amaterasu, Zodiac Talismans and more!

Moonlight Soul Details!

The Moonlight Soul is a limited time event soul which guarantees a 3★ to 5★ character of any class. This soul has an increased chance of summoning a Hierophant, and an exclusive chance of summoning 5★ Sentinel Cardinal Immortus.

Each Moonlight Soul summoned will also grant the following bonus rewards:
10 Cardinal Immortus Soul Fragments
10 Hierophant Soul Fragments
10 Mythical Soul Fragments
20 Talisman Gold Red Soul Fragments

500 Cardinal Immortus Soul Fragments guarantees 1 5★ Sentinel Cardinal Immortus.

350 Hierophant Soul Fragments guarantees 1 Hierophant character.

400 Talisman Gold Red Soul Fragments guarantees a Tier 1 to Tier 3 Gold or Red Cosmic Talisman and 5★ Gold Idol.