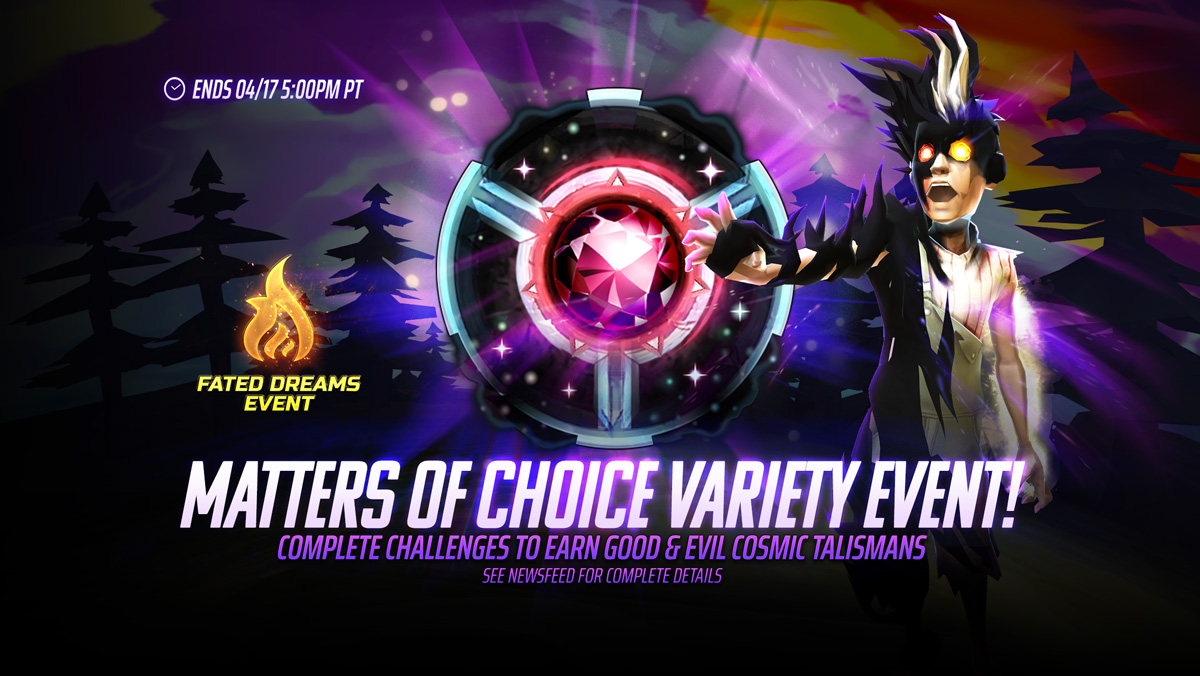 10 Apr

Matters of Choice (Variety) – Battle for Cosmic Good & Evil Talismans

From now until April 17th at 5PM PT, complete various solo and Clan Event Challenges to earn a range of rewards, including Unending Battle Currency, Evo Materials, Nightmare Currency and more!

Unending Battle Currency can be traded for Cosmic Upgrade Packs, Cosmic Oni Eddie Talismans and NEW Cosmic Good & Evil Talismans.

The Cosmic  Good & Evil  Talisman provides an exclusive bonus when equipped to Moonchild, Cosmic Good Moonchild and Cosmic Evil Moonchild . This Talisman increases stats in battle, and reduces incoming damage. Its wearers will also gain the following effects:

Reduce Healing on all enemies by -75%. Remove Endure effects including innate Endure effects at the start of your turn. Remove all innate HP stat increases at the start of your turn. Inflict Unblockable Stun to a random enemy for 1 turn after each action. Gain Physical, Magic, or True Block for 1 turn after each action. 

Note: At the end of this event, any unspent Currency will be automatically converted into Precious Soul Fragments at a 10% rate.

Nightmare Currency is the event currency of our Fated Dreams event running throughout April.

Trade your Nightmare Currency in the Event Store for rare rewards including Infinite Dreams Eddie, Cosmic Biker Talismans and more!

You can learn more about this featured event in the Fated Dreams event post!