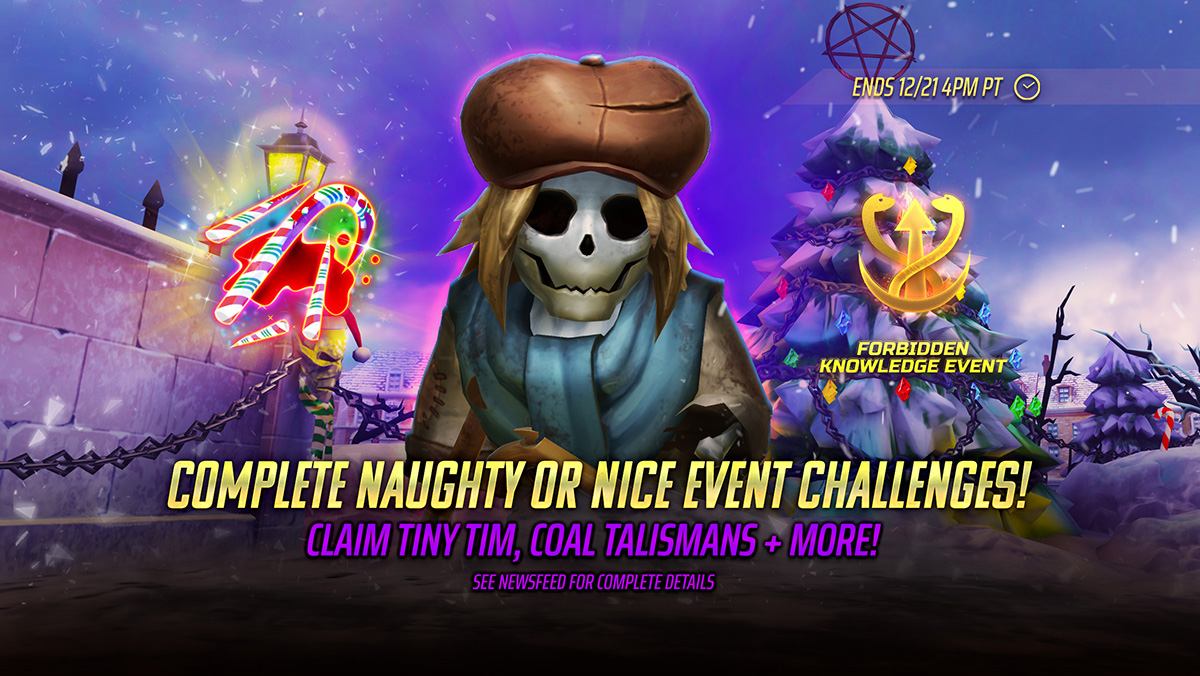 14 Dec

Naughty or Nice (Frontier/Cosmos) – Battle for Tiny Tim and Coal Talismans!

From now until December 21st at 4PM PT, complete both regular and Clan Event Challenges in Skull Quests and Frontier Dungeons to earn a variety of rewards, including Terrible Treasure Currency, Sentinel Awakening Shards, Festive Awakening Shards and more!

Terrible Treasure Currency is traded in the Store for rewards such as new Coal Talismans, Cosmic Upgrade Packs and Tiny Tim himself!

Tiny Tim was recently made awakenable! Max Awaken this character to unlock the formidable TERRIBLE TIM! If you don't have this 4* Sentinel, now is your chance to get him and pick up the materials needed to max awaken him!

Coal Talismans are a new purple talisman with a 2-Set Effect. Equip them for the following effects: 

50% Chance to Remove a Nice Effect, including Golden effects, from each enemy for each naughty effect on them at the start of battle and at the start of your turn. 50% Chance to gift a Random Naughty Effect, including Silver effects, to attacking enemies for 2 turns for each naughty effect on them whenever you are attacked.

Equilibrium Fragments are also earnable through Clan event challenges. 

Equilibrium Fragments are the event currency of our Forbidden Knowledge Clan Mega event that is running until January.

Trade your Equilibrium Fragments in the Event Store for rare rewards including Baphomet, Rare Talismans and more!

You can learn more about this featured event in the Forbidden Knowledge event post here!

During this event, Skull Quests will also be granting 1 bonus reward, in addition to normal level rewards. Bonus rewards include Precious Soul Fragments, Awakening Soul Fragments, Ironite, Heroic Soul Fragments, Fallen Fortress Key Souls and more!