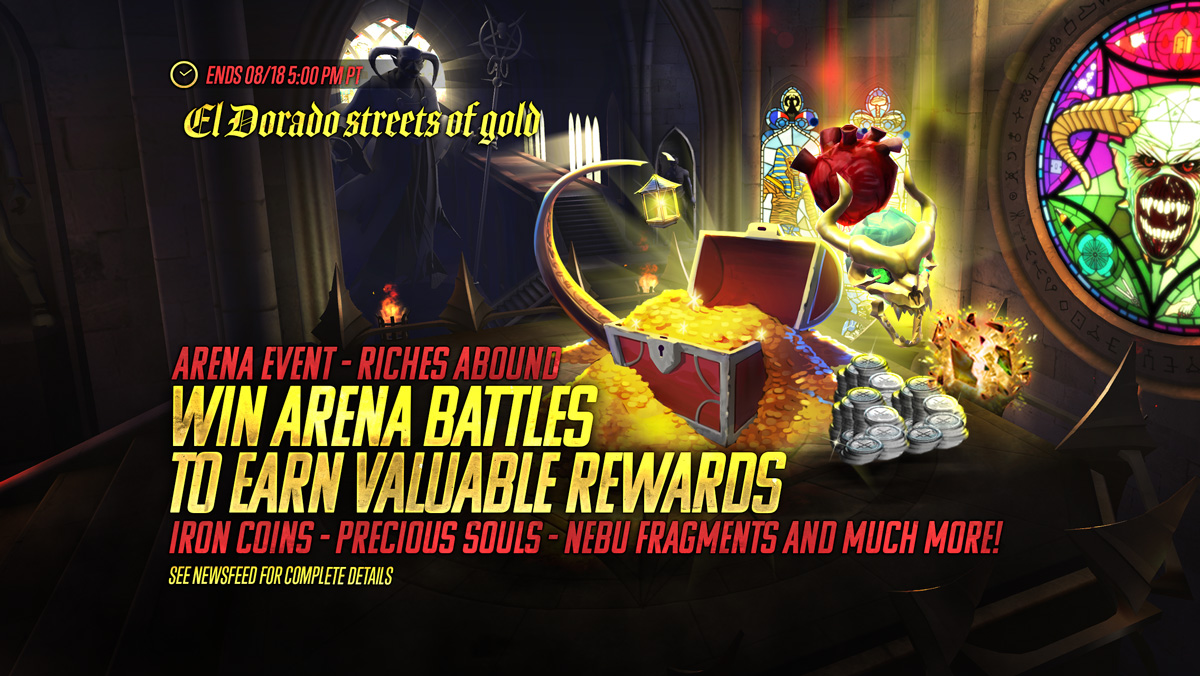 11 Aug

New Arena Event – Earn Nebu Fragments for Gods of Powerslave – Starts Today!

Riches Abound on NOW in the Arena!

From August 11th until August 18th, 5 PM PT earn Iron Coins, Precious Souls, Nebu Fragments, and more by achieving milestones in the Arena!

Meet the event objectives below to earn the corresponding rewards:
Tier 1
10 Arena Wins
Tier 2
30 Arena Wins
Tier 3
75 Arena Wins
Iron Coins x150
Precious Soul x1
Rare Soul x1
Nebu Fragments x10
Iron Coins x150
Precious Souls x3
Skill Shard x1
Iron Coins x300
Precious Soul x1
Legendary Soul x1
Nebu Fragments x20
Tier 4
150 Arena Wins
Tier 5
300 Arena Wins
Additional Rewards!
**400 Arena Wins
Iron Coins x400
Precious Souls x2
Skill Shards x3
Iron Coins x500
Precious Souls x5
Rare Souls x5
Nebu Fragments x20
Legendary Souls x2
Precious Souls x3
Skill Shards x2
**Keep on fighting! Every 100 wins past our Tier 5 reward will give you additional prizes. You can keep going until our reward cap of 1000 wins.
You'll notice that some of the tiers include Nebu Fragments. Save these up from previous and future events from this summer to purchase a God of Powerslave of your choice!
Track your Arena wins in the Event tab of the Challenge menu!
Go Ed to Ed now -> http://m.onelink.me/49d39710