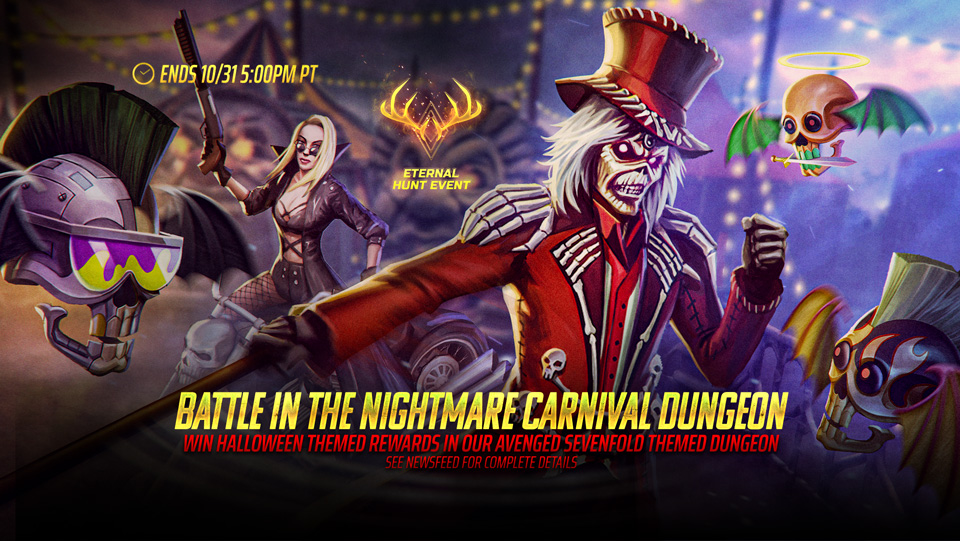 18 Oct

Nightmare Carnival (Dungeon) – Battle in our Avenged Sevenfold Themed Dungeon

We're teaming up with Avenged Sevenfold's Deathbats Club for an awesome in-game collaboration.

Introducing the Deathbats! These undead carnies and scoundrels inflict negative effects on enemies, working together to crush anyone who stands in their way – no matter how many lives it takes. The design for these characters were inspired by Avenged Sevenfold's iconic logo and NFT project.

The Deathbats rule the Nightmare Carnival. Available until October 31st this dungeon features an Avenged Sevenfold themed script, and 4 difficulty settings with epic rewards. The Nightmare Carnival was set to open soon and now a mysterious figure and his host of deadly and mischievous skulls known as the Deathbats have taken over the fairgrounds! It's up to Ringmaster Eddie to clear the way and save the Carnival.

Earlier this year, the Deathbats Club held an exclusive contest on the official Deathbats Club Discord channel for members of the DBC to have their bat featured in Legacy of the Beast! 25 semi-finalist were chosen but only 3 were turned into official playable characters in the game. Finally, keep your eyes peeled as you battle through the dungeon. Other Deathbat semi-finalist designs can be seen throughout the Nightmare Carnival!

You'll be able to earn the 3 winning Deathbats just by playing the event:
Complete the Nightmare Carnival on Normal to earn the Assassin Deathbat
Clear the Nightmare Carnival 10 Times to earn the Sentinel Deathbat
The 3rd Deathbat is earned for free from our newest login calendar! Log in any 7 days between October 18th and November 17th to earn awesome rewards including the Magus Deathbat on the 7th day!
The first time you complete Normal, Hard or Madness, you will earn set rewards including:
Halloween Souls
Moon (Arcane) Talismans
Lantern (Bulwark) Talismans
Your first Insanity run will grant a Catalyst Soul, 3★ T3 Evo Runes, and Talisman Epic Gold Red Soul Fragments.
All subsequent victories are guaranteed to provide:
Halloween Soul Fragments
Dungeon Fragments
A chance of up to 2 bonus rewards, including: Justice Talismans (Bulwark Subtype).
Completing Event Challenges will grant various other rewards, including more Halloween Soul Fragments, Gunner Souls, Dragon Talismans (Bulwark Subtype) and Wild Artifacts!
Halloween Soul Fragments can either be claimed as Souls or traded in-store for rewards such as Cosmic Paranoia Talismans, various Heroic Souls, X Factor Eddie and Fear to Eternity Eddie!
Wild Artifacts are the event currency of our Eternal Hunt event running until October 31st.
Trade your Wild Artifacts in the Event Store for rare rewards including the Cernunnos, Zodiac Talismans and more!
Halloween Soul Details!
The Halloween Soul is a limited time event soul which guarantees a 3★ to 5★ character of any class. This soul has an increased chance of summoning Halloween themed characters.
Each Halloween Soul summoned will also grant the following bonus rewards:
10 Mythical Halloween Soul Fragments
20 Talisman Gold Red Soul Fragments
500 Mythical Halloween Soul Fragments guarantees an exclusive chance at: Fear to Eternity Eddie, Cosmic Werewolf, Trash Can Mimic, the Duellist, X Factor Eddie or The Edless Horseman.
400 Talisman Gold Red Soul Fragments guarantees a Tier 1 to Tier 3 Gold or Red Cosmic Talisman and 5★ Gold Idol.