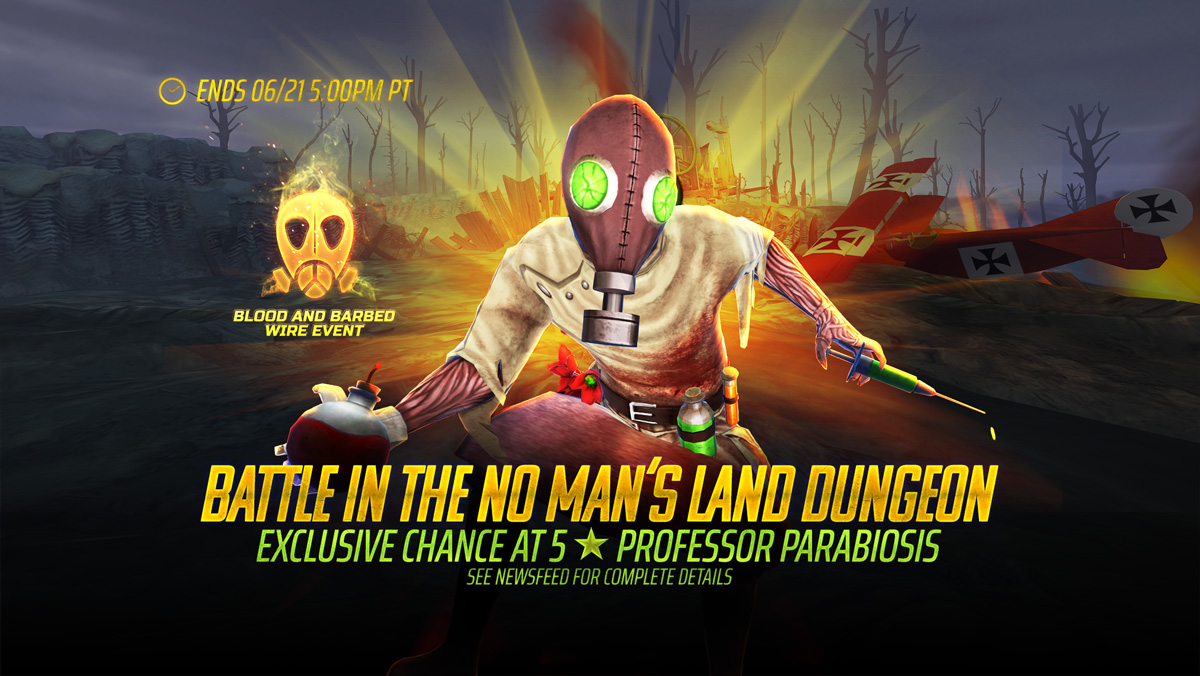 14 Jun

No Man's Land (Dungeon) – Exclusive Chance at 5★ Professor Parabiosis

From the lab to the battlefield! Professor Parabiosis is a new 5★ Magus who specializes in ladening his enemies with nasty negative effects. His sinister experimentations have given him an insight into how to weaken his opponents, and given him the ability to apply Time Bombs, Burn Effects, Crave, Silence and more…

Get full character details in the Compendium!

From now until June 21st, 5 PM PT, battle through 4 difficulty settings in the No Man's Land dungeon!

The first time you complete Normal, Hard or Madness, you will earn set rewards including:
Shrapnel Souls

Persecution Talismans (Bulwark Subtype)
Your first Insanity run will grant T3 2★ Cosmic Evo Runes and Talisman Epic Soul Fragments.
All subsequent victories are guaranteed to provide:
Crimson Cloak Currency

Dungeon Fragments

A chance of up to 2 bonus rewards, including: Space Talismans (Bulwark Subtype).
Crimson Cloak Currency can be traded in store for Shrapnel Souls in bundles of 1, 3 and 10, Nuclear Awakening Shards and Professor Parabiosis himself.
Note: At the end of this event, any unspent Currency will be automatically converted into Dungeon Soul Fragments at a 10% rate. See our Event Currency guide here for more details on the system overall:
Completing Event Challenges will grant various other rewards, including more Crimson Cloak Currency, Gunner Souls, new Capricorn Talismans (Bulwark Subtype) and Warfare Currency!
Capricorn Talismans are gold talismans with a 3-set effect. Equipping this set will do the following:
Grants one Random Golden Effect to each ally and inflicts one Random Silver Effect on each enemy every turn.  Remove a Negative Effect, including Silver effects, from self when you take damage.
Gain the following Ascendant Effect if any other Zodiacal Talismans are active on self:
Inflict Passive Disable for 1 turn on each enemy that lacks Silver Effects every action. Grant Endure and Innate Titan Shield for 1 turn to all allies and deal Additional Random Damage to all enemies based on your MISSING HP if Accuracy Down, Heal Block, Heal Reduction, Crave or Bleed effects, including Silver and Innate effects, are active on self when you take damage while at 50% HP or below.
Shrapnel Soul Details!
The Shrapnel Soul is a limited time event soul which guarantees a 3★ to 5★ character of any class and an increased chance of summoning certain Warfare themed characters (see Soul Drop Percentage page in the Book of Souls for full list). It also has an exclusive chance of summoning 5★ Magus Professor Parabiosis.
Each Shrapnel Soul summoned will also grant the following bonus rewards:
10

Professor Parabiosis Soul Fragments

10 Mythical Soul Fragments

20 Talisman Gold Red Soul Fragments
500 Professor Parabiosis Fragments guarantees 1 5★ Magus Professor Parabiosis.
400 Talisman Gold Red Soul Fragments guarantees a Tier 1 to Tier 3 Gold or Red Cosmic Talisman and 5★ Gold Idol.
Warfare Currency is the event currency of our Blood and Barbed Wire event running throughout June.
Trade your Warfare Currency in the Event Store for rare rewards including Paschendale Eddie, Cosmic Hellfire Ammunition Talismans and more!