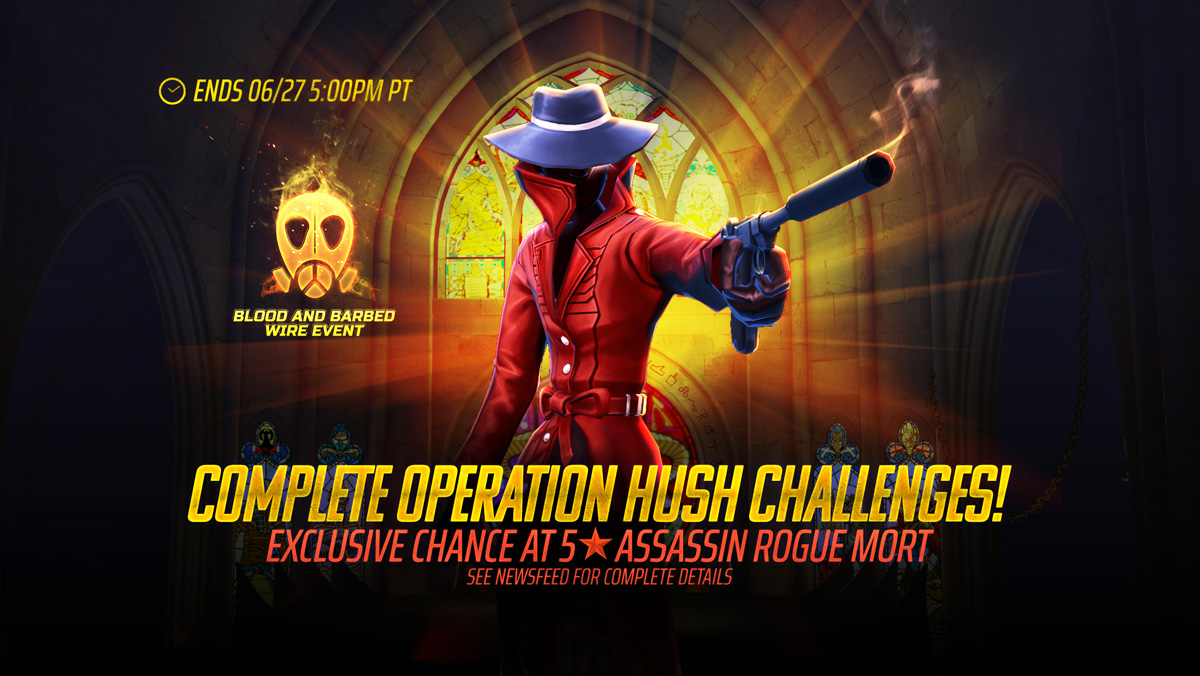 20 Jun

Operation Hush (Arena) – Exclusive chance at 5★ Assassin Rogue Mort!

Meld into the shadows with Rogue Mort. This 5★ Assassin is a master spy who seeks out her opponent's weaknesses and exploits them to her benefit. She Marks her opponents and is able to inflict Perfect Silence and Perfect Blind with a high chance to critically strike! 

Get full character details in the Compendium!

From now until June 27th at 5PM PT, complete Arena and Gauntlet event challenges for rewards including Tactical Souls, Iron Coins, Gold, Warfare Currency and more!

See the Challenge menu for full details!

Tactical Soul Details!

The Tactical Soul is a limited time event soul which guarantees a 3★ to 5★ character of any class. This soul has a 2x chance of summoning 5★ non-highlight characters, and has an exclusive chance of summoning the 5★ Assassin Rogue Mort.

Each Tactical Soul summoned will also grant the following bonus rewards:
10 Rogue Mort Soul Fragments

10 Mythical Soul Fragments

20 Talisman Gold Red Soul Fragments
Collecting 500 Rogue Mort Fragments guarantees one 5★ Rogue Mort!
400 Talisman Gold Red Soul Fragments guarantees a Tier 1 to Tier 3 Gold or Red Cosmic Talisman and 5★ Gold Idol.
Warfare Currency is the event currency of our Blood and Barbed Wire event running throughout June.
Trade your Warfare Currency in the Event Store for rare rewards including Paschendale Eddie, Cosmic Hellfire Ammunition Talismans and more!
**BONUS: For the duration of this event,  Eternity Soul Fragments you earn from the weekly Arena resets can be traded for Eternity Talismans!