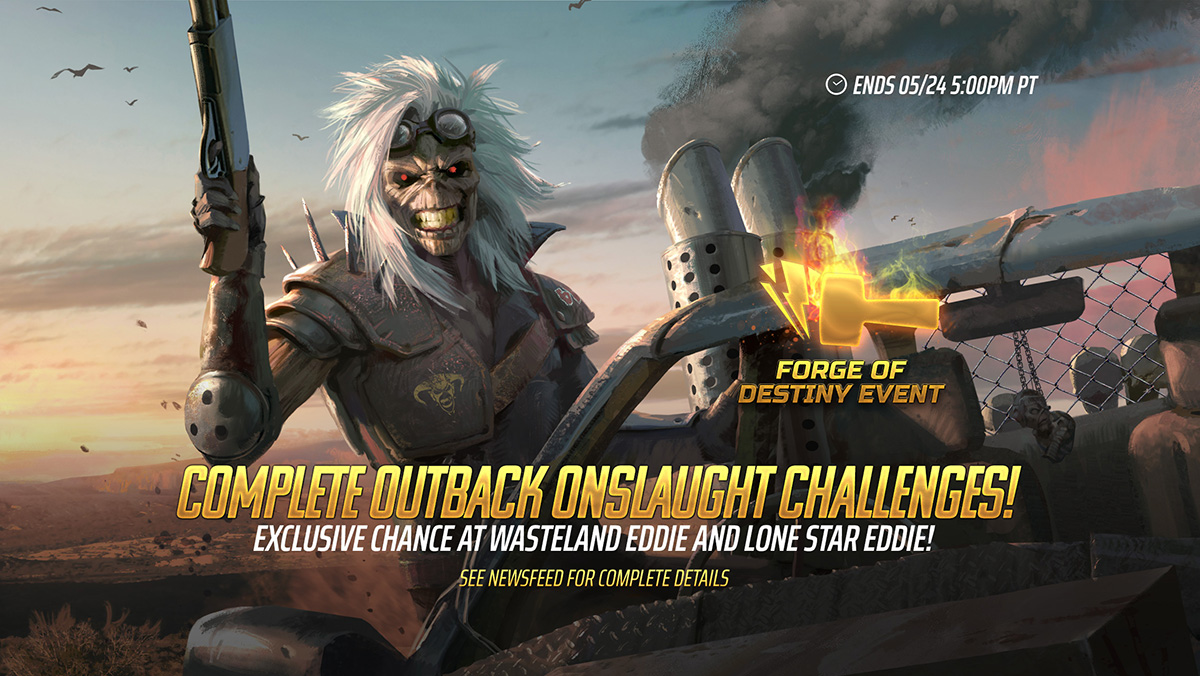 17 May

Outback Onslaught – Exclusive Chance at Wasteland Eddie and Lone Star Eddie!

Wasteland Eddie comes roaring into Legacy of the Beast!

Sitting atop his deadly desert rig, Wasteland Eddie brings a furious brand of outlaw justice. This 5★ Warrior deals masses of single target damage and strips his opponents of beneficial effects before curb stomping them into oblivion.

From now until May 24th at 5PM PDT, complete both regular and Clan event challenges to earn rewards such as Forged Fragments, Iron Coins, Gold, Trailblazer Soul Fragments and more!

Forged Fragments are the event currency of the Forge of Destiny Mega Event.

Trade your Forged Fragments in the Mega Store for rare rewards including Freya Cosmic Talismans and Odin himself!

Trailblazer Soul Details!

Collect 200 Trailblazer Fragments to create 1 Trailblazer Soul.

The Trailblazer Soul is a limited time event soul which guarantees a 3★ to 5★ character of any class, and has an exclusive chance of summoning Wasteland Eddie and Lone Star Eddie.

Lone Star Eddie is a sharpshooter out to serve justice! THIS 4★ GUNNER:
Passively applies Perfect Accuracy to himself and his allies
Applies a variety of negative effects to opponents, including Punishment and Perfect Bleed
Can grant random damage invulnerability to allies
Each Trailblazer Soul summoned will also grant the following bonus rewards:
10 Wasteland Eddie Soul Fragments
10 Heroic Mythical Soul Fragments
20 Talisman Gold Red Soul Fragments
Collecting 750 Wasteland Eddie Soul Fragments guarantees one 5★ Warrior Wasteland Eddie!
500 Heroic Mythical Soul Fragments guarantees a 5★ Highlight Character from the current Heroic Rotation!
400 Talisman Gold Red Soul Fragments guarantees a Tier 1 to Tier 3 Gold or Red Cosmic Talisman and 5★ Gold Idol.
Please note that Wasteland Eddie is not currently available in any other souls. After this event he will only be featured occasionally in Heroic Soul Rotations. If you miss your chance to recruit him, it may be a very long time until you get another chance!
Notes on Clan Event Challenges:
Players can join a Clan part way through an event in order to obtain these extra Event Challenges.
If you are removed from your Clan, or choose to Leave a Clan during the event, you will no longer be able to participate in the Clan Event Challenges. After the 24 hour cooldown you can then join a different Clan. This will give you access to any active Clan Event Challenges, and any Clan Group Challenges will be updated to the current total for your new Clan. If the Clan has already completed and claimed a Clan Group Challenge, the new member will not be able to claim that reward. Players will not gain double rewards by Clan hopping.