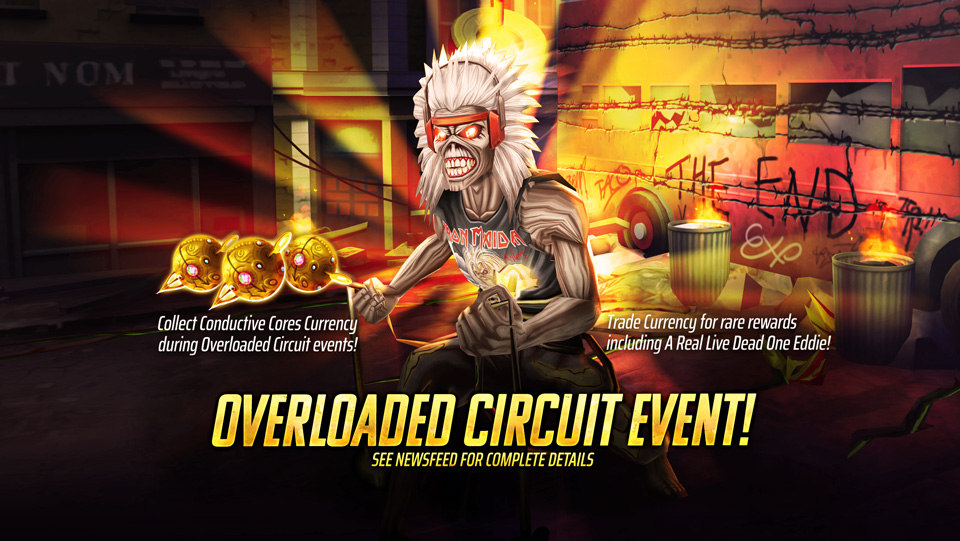 30 Apr

Overloaded Circuit – Info and Discussion

Overloaded Circuit is a series of events that will run through the month of May. These events will all grant the exact same currency type – Conductive Cores!

There will be a total of 9 Overloaded Circuit associated events.

Events where you are earn Conductive Cores Currency are as follows:

Wicker Rituals (Frontier)
Drifter (Fragment)
Chains of Misery (Book of Souls)**
Duel Advantage (Evolution)
Atomic Sunset (Dungeon)
Tides of Time (Time Rift)
Immortal Skirmish (Dungeon)
Savage Bloodshed (Raid Boss)**
Fight or Flight (Variety)

**Clan events! Extra event challenges will be available to players who belong to a Clan. Some of these Challenges will contain Solo or Group targets. Clan Solo event challenges count your progress alone (you still need to be in a Clan to see these challenges). Clan Group event challenges will count the efforts of all members of your Clan towards the ultimate goal!

BONUS: For the month of May, Conductive Cores will also be earnable through infinitely repeatable event challenges involving the Arcade Armageddon, Powerslave and Eternal Frontier Dungeons!

Trade your Conductive Cores in the Event Store for rare rewards including 5★ Gunner A Real Live Dead One Eddie, Cosmic High Virtue Humility and Cosmic Paranoia Talismans and more!

Supercharge your team's energy with this high voltage Eddie! A Real Live Dead One Eddie will ensure his allies never run out of juice by passively granting Increased Power Generation for the duration of battle. Get even more Power when you kill enemies!

Overloaded Circuit offers will be available in the Event store until 5PM PT on June 3rd 2022!

After this time, all Event store items will disappear and event currency will be automatically converted into Precious Soul Fragments at a 10% rate.