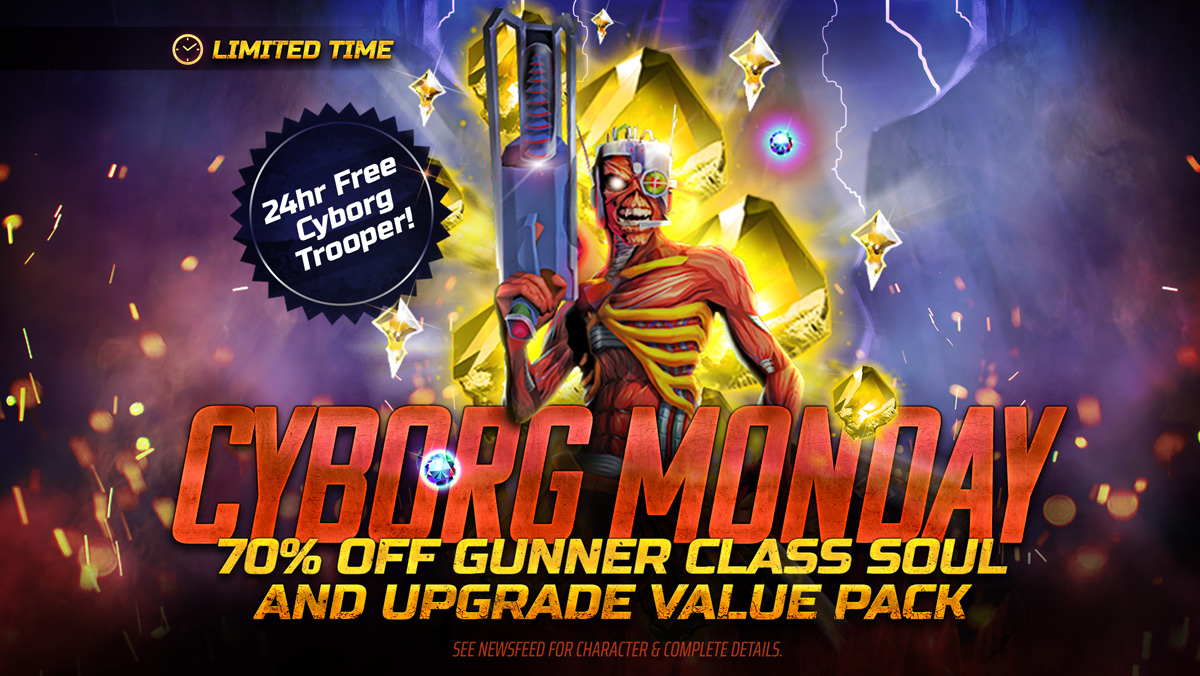 26 Nov

Play as Cyborg Eddie in LOTB TODAY!

Give Cyborg Eddie a test run!

Try out a 5⭐Cyborg Eddie using your NPC Troopers!

Our latest update added 3 NPC Troopers (Deathcleft, Captain, and Tomahawk) to each player's account. These Troopers do not count towards your limit, and can be rented once a day for Trooper Badges!

For the next 24 hours, all 3 NPCs have changed their champion from their normal Eddies to Cyborg Eddie!

Each NPC has a different set of talismans on their Cyborg Eddie, so try them out and see which one you like most!
Deathcleft's Eddie: 2 Resilience Talismans, 4 Immunity Talismans (Start battle with 2 turns of Immunity!)
Captain's Eddie: 3 Assassin Talismans, 3 Thief Talismans (Does high damage and can steal Fury!)
Tomahawk's Eddie: 3 Vampiric Talismans, 3 Invisibility Talismans (Can regain health and Vanish when attacking!)
br>
br>Play NOW-> http://m.onelink.me/49d39710
This event ends November 27 at 4pm PT.
Rare Gunner Soul available for 24 hours!
BRAND NEW SOUL OFFERING – Check the LOTB Store for our Cyborg Monday pack. This pack includes Ironite, Skill Shards and 10 Rare Gunner Souls which are guaranteed to give a you 3-5⭐ Gunner character! These Souls are not available anywhere else!
This offer is only available until November 27 at 4pm PT!